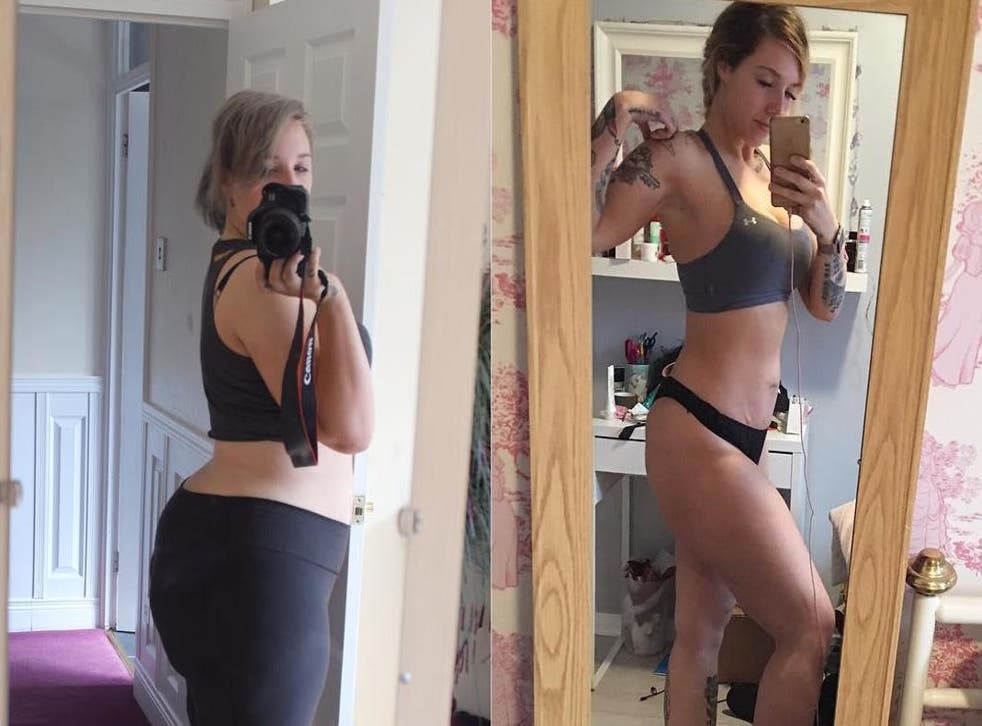 Woman loses seven stone purely by lifting weights
She's been eating more too
Rachel Hosie
Friday 03 November 2017 10:53 Comments
A woman has revealed how she transformed her body and lost seven stone purely by lifting weights.
26-year-old Sian Ryan shunned all cardio but over the course of two years, she slimmed down significantly, dropping six dress sizes and becoming a qualified personal trainer.
It was after her boyfriend of 18 months broke up with her that Ryan found the motivation she needed to hit the gym.
"At my largest, I was 19 stone and a size 26," she told Olivia Blair at Cosmopolitan.
"At first I went to the 24-hour-gym at night so no one could see me. I needed something to get me out of the house."
Like many people looking to shape up, Ryan turned to cardio first, forcing herself to slog it out on the treadmill.
But, like many people again, she hated it.
However, Ryan then discovered weights and resistance training, and it turned out that she loved it.
"I threw myself into it and was feeling so much better. I wasn't thinking about my ex, I was just getting stronger and better," she says.
"Weightlifting completely changed my whole thought process. I fell in love with it. The thought of getting stronger, more empowered and feeling better in myself was such a good feeling.
"I started focusing less on the weight loss, even though it was happening. I was focusing more on getting stronger."
And as any woman who works out with weights will tell you, getting stronger is incredibly satisfying and empowering.
Of course, Ryan has made sure her diet fuels her for fitness, but she hasn't done any cardio training.
Ryan counted macros, making sure to get her macronutrients (protein, fat and carbs) in the right ratio. But her diet is all about moderation, meaning she still has pizza sometimes.
"I actually lost more weight eating 2,000 calories than 1,000," she said - as you build muscle, your metabolism increases meaning you burn more calories over the course of the day but can also eat more.
And now Ryan wants to spread the message that if you, like she did, feel daunted by or simply hate the thought of running or spin classes, you shouldn't force yourself to do them because you'll only end up hating exercise.
To her 35,000 followers on Instagram, Ryan is an inspiration. The key to fat loss, she says, is consistency and not giving up just because you've had a less than healthy day.
"Don't be disheartened if you have a bad day," she says. "All my bad days built better days."
Register for free to continue reading
Registration is a free and easy way to support our truly independent journalism
By registering, you will also enjoy limited access to Premium articles, exclusive newsletters, commenting, and virtual events with our leading journalists
Already have an account? sign in
Join our new commenting forum
Join thought-provoking conversations, follow other Independent readers and see their replies