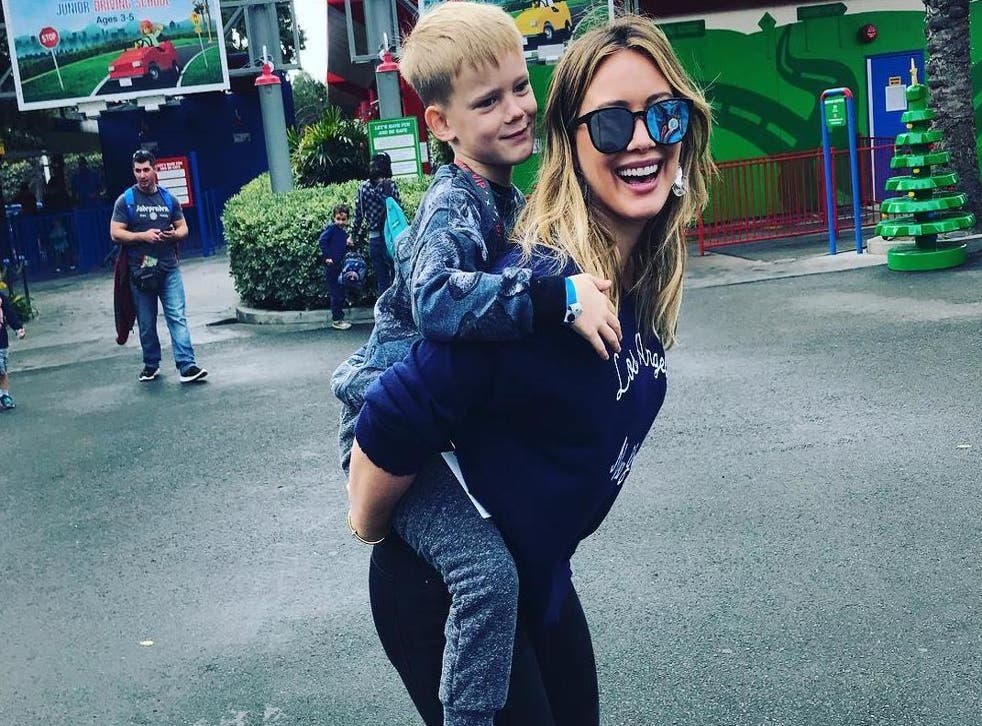 Hilary Duff offers advice to people who mum-shamed picture of her kissing her son
She says people called her 'disgusting' for kissing her then three-year-old son
Hilary Duff revealed that she does not tolerate mother-shaming of any kind - especially when it comes to negative opinions about kissing her child on the lips.
The Younger actress recently discussed criticism she'd faced after sharing a photo of her and her son Luca kissing at Disneyland - and her advice for mum-shamers.
According to Duff, people on social media called the gesture between her and her then three-year-old son "disgusting."
Now, three years later, Duff wants people to know that she is "not interested" in the judgement.
Speaking to InStyle about how she combats negativity and shaming, the expectant mother said: "First of all, he was three. Kiss your kids, and anyone who doesn't like it can hit unfollow.
"Not interested in what you have to say."
In the interview, Duff also revealed the mum-shaming she's experienced for other parenting choices, such as holding six-year-old Lucas - who she continues to give piggyback rides to.
"People just have all these crazy judgments," the 30-year-old said, before admitting that she thinks it's "best to not listen and laugh it off."
The actress previously defended kissing Luca on Instagram, where she wrote: "For anyone commenting that a kiss on the lips with my four-year-old is 'inappropriate' go ahead and click a quick unfollow with your warped minds and judgment."
According to the actress and singer, when faced with negativity and criticism, it is important to remember that parenting is about doing what you feel is right for your family.
The 10 best parenting books

Show all 10
"The only thing that matters is you and your family and whatever choices you're making, and how that choice feels for your family," she said.
You can read the full interview here.
Join our new commenting forum
Join thought-provoking conversations, follow other Independent readers and see their replies