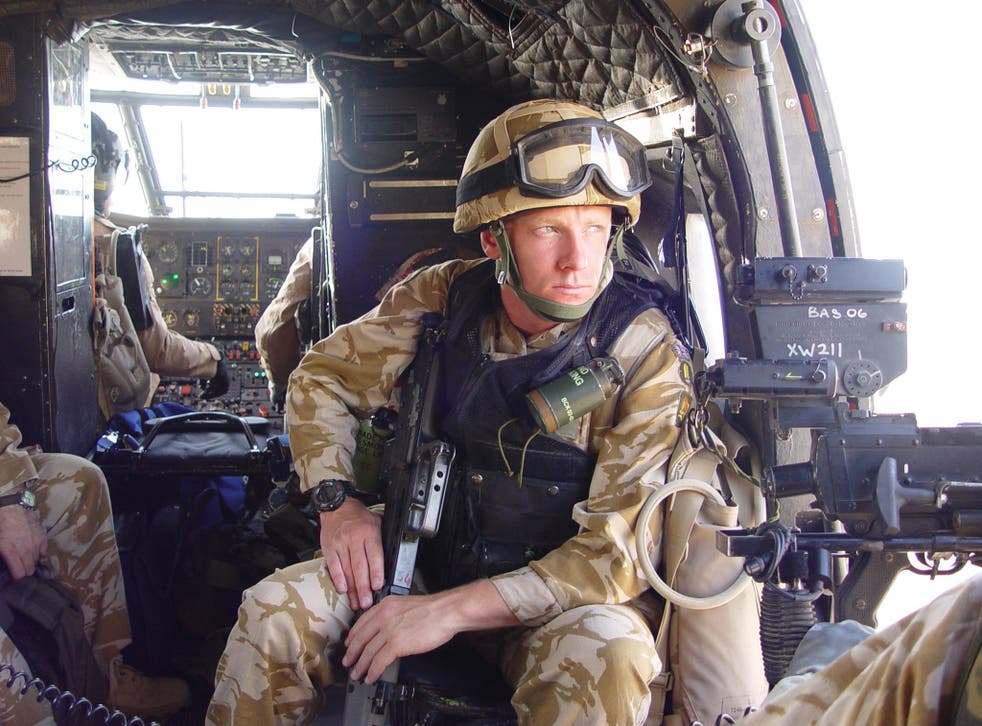 How to stay calm in stressful situations according to a bomb disposal expert
Preparation is key when staying calm when under pressure, according to adventurer Andy Torbet 
For almost half a decade of his life, Andy Torbet was a bomb disposal expert. But despite dealing with deadly weapons on a daily basis, he says he never felt stressed.
"Staying calm in bomb disposal was never really a problem," Torbert, who is 40-years-old and based in the Forest of Dean, tells The Independent. "All the guys who have done it and I have spoken to about this say the same thing."
After working in the British armed forces for a decade, with four years in the Explosive Ordnance Disposal, or bomb disposal unit, Torbet currently works are a presenter and writer, as well as an underwater explorer, deep and cave diver, skydiver, wingsuit pilot, climber and outdoorsman.
As a bomb disposal expert, he worked with the Royal Marines, Paratroopers and Special Forces.
Torbet says the intense training is what helped him to remain calm in life-threatening situations. He still uses the tactics he learned to remain calm on the frontline in day-to-day situations.
The training to become a bomb disposal expert was two months long. "It involved seven weeks of intense training followed by Test Week," recalls Torbet. "The training is mentally and academically gruelling, there is just so much information to learn, understand and retain."
"During Test Week you are given three real-life tasks and, to reflect real-life, it's Pass or Fail. If you fail but are deemed worth the effort you can re-sit. But you had to re-sit the full two month course. If you failed a second time then you'd never be allowed to return. The pressure is huge and the failure rate was high."
But, explains Torbet, the process of disarming a bomb wasn't frightening because of the huge team effort that went into securing the area surrounding the device before he went in. Like in any situation - from a job interview to a public speech - preparation was key to easing tense nerves.
"By the time you step into the cordoned off area, you are on your own. No one asking questions, giving opinions, demanding answers, nothing to co-ordinate just one the task in front of you. Nothing else in the world mattered or existed. I used to find it actually quite zen. I'd double check my kit and my plan, running through everything in my head, take a breath and walk forward.
"The effort and stress should come before this point, in the months spent getting good enough to do this job, in the weeks spent preparing for this operation and in the last few minute sorting out the plan, equipment and safety protocol," he says.
"Now is the time to get on with the work. It's all about hard work but not just in the moment but in the hours, weeks, months and years building up to that moment that gives you the abilities to deal with the problem, have the confidence in yourself and therefore not be, too, stressed out."
But that doesn't mean that Torbet has never had to deal with unexpected situations. In these instances, the coping mechanisms he learned in the army come into play.
"I've had things go wrong," he says. "I've floundered into flat spins when skydiving, had life support equipment fails on me when deep diving in flooded caves and taken big falls when climbing but I was never really scared. I may have sat down afterwards and thought about the 'what ifs' and then it hits you what the outcome could have been but I'd argue that I was never in any danger as I had the skills and kit to get me out.
"If my main source of breathing gas fails on a deep dive to 50 feet but I have the perfect back up system to hand and bail out onto so I can safely ascend is that a close call? I'd say no. I'd already identified the potential risk and had put a system in place to deal with it before it ever happened so when it did it seems like all just part of the plan."
"The two biggest thing I learned in the armed forces was accurate Threat Assessment: identify the risks and take care of them and the work that gets the job done and keeps you safe starts before most people think."
Revealed: The 12 Most Dangerous Countries in the World

Show all 12
"When you go cave diving and a piece of equipment fails on you you don't save your life in that split second. You save your life in the years building up the skills and attitude to deal with the situations, the months spent planning your Plan Bs should something go wrong, the weeks spent rehearsing those emergency drills, the days spent preparing your back up equipment and your actions in that split second."
What frightens him, he says, is a lack of purpose."I like to be busy but for that work to be productive and worthwhile and, if I'm honest, fun."
Join our new commenting forum
Join thought-provoking conversations, follow other Independent readers and see their replies