Instagram fashion influencer Jennifer Lake calls out another account for copying her brand
'A small part of your creative soul dies inside'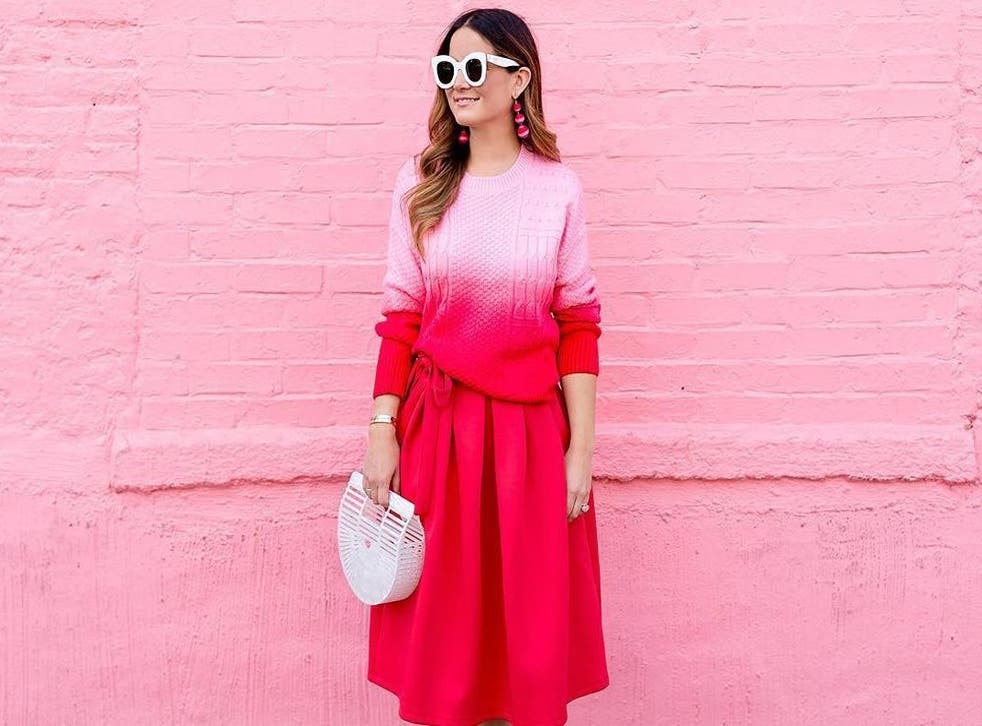 It is hard work building an Instagram following and social media brand as a fashion blogger - you have to be trendy, unique, and avoid posting the same outfit twice.
But for one Instagram influencer, the job appears to be even tougher, as she claims she has to deal with a nearly identical account which she claims copies her every move, outfit, and post.
So what do you do when you think you're being copied on Instagram?
Chicago-based Instagram star Jennifer Lake recently asked her followers the question on her fashion blog, Style Charade, stating "I've had enough," before revealing she's been dealing with an Instagram knock-off for more than three years.
And from Lake's reaction - in this case - imitation is not the sincerest form of flattery.
According to Lake, "to sum up the problem, someone has been using my Instagram account as a template for their own."
She continued, "This person has systematically copied my channel, captions, location concepts, and personal style for more than three years. I'm not talking about just a dress, a pose, a wall, etc. (although there's that too). It's about ongoing examples of copying (exact looks, images, and ideas)."
And while the imitation may not seem like a huge deal, especially considering the 149,000 Instagram followers Lake has, it turns out Instagrammer that Lake's fans think she's referring to has a rather large following herself, with 119,000 of her own.
Going into detail about her choice to keep the issue a secret for so long, Long explained that beyond being fed up, "Instagram is a business," and although she wholeheartedly believes "there's room for everyone to have success in the industry," when someone copies you, "they steal your ideas...they rob you of money and campaigns."
Although Lake made it a point to not disclose the name of the identical-Instagrammer in her blog post, instead asking readers for advice, her followers pointed the finger at Rosie Clayton, a fashion influencer also based in Chicago, and a former friend of Jennifer Lake.
According to Chicago magazine, they are two of the most popular Instagrammers in the city, but when you compare the accounts side-by-side, as they did over the last week, both accounts are similar.
Reaching out to Clayton for comment, the influencer denied the copycat claims, telling Chicago magazine, "Because I have less followers it looks like I'm the one copying" but the similarities are really just coincidence, as the clothing and accessories both women wear come from popular brands, and many other women wear the same styles. The Independent also combed through her photos, and found numerous instances where Clayton was actually the first of the pair to post a particular look or location.
The Independent has reached out to both fashion bloggers for comment.
Register for free to continue reading
Registration is a free and easy way to support our truly independent journalism
By registering, you will also enjoy limited access to Premium articles, exclusive newsletters, commenting, and virtual events with our leading journalists
Already have an account? sign in
Register for free to continue reading
Registration is a free and easy way to support our truly independent journalism
By registering, you will also enjoy limited access to Premium articles, exclusive newsletters, commenting, and virtual events with our leading journalists
Already have an account? sign in
Join our new commenting forum
Join thought-provoking conversations, follow other Independent readers and see their replies