The Independent's journalism is supported by our readers. When you purchase through links on our site, we may earn commission.
LIFESTYLE FEATURES
'Police were raiding gay bars wearing gloves and masks': What it was like to live through the Aids crisis in London
Four decades after the Aids epidemic, Russell T Davies' Channel 4 drama It's a Sin has moved viewers and received critical acclaim. Christobel Hastings meets those who lived through the crisis in London and asks how realistic the portrayal is
Friday 29 January 2021 14:06 GMT
Comments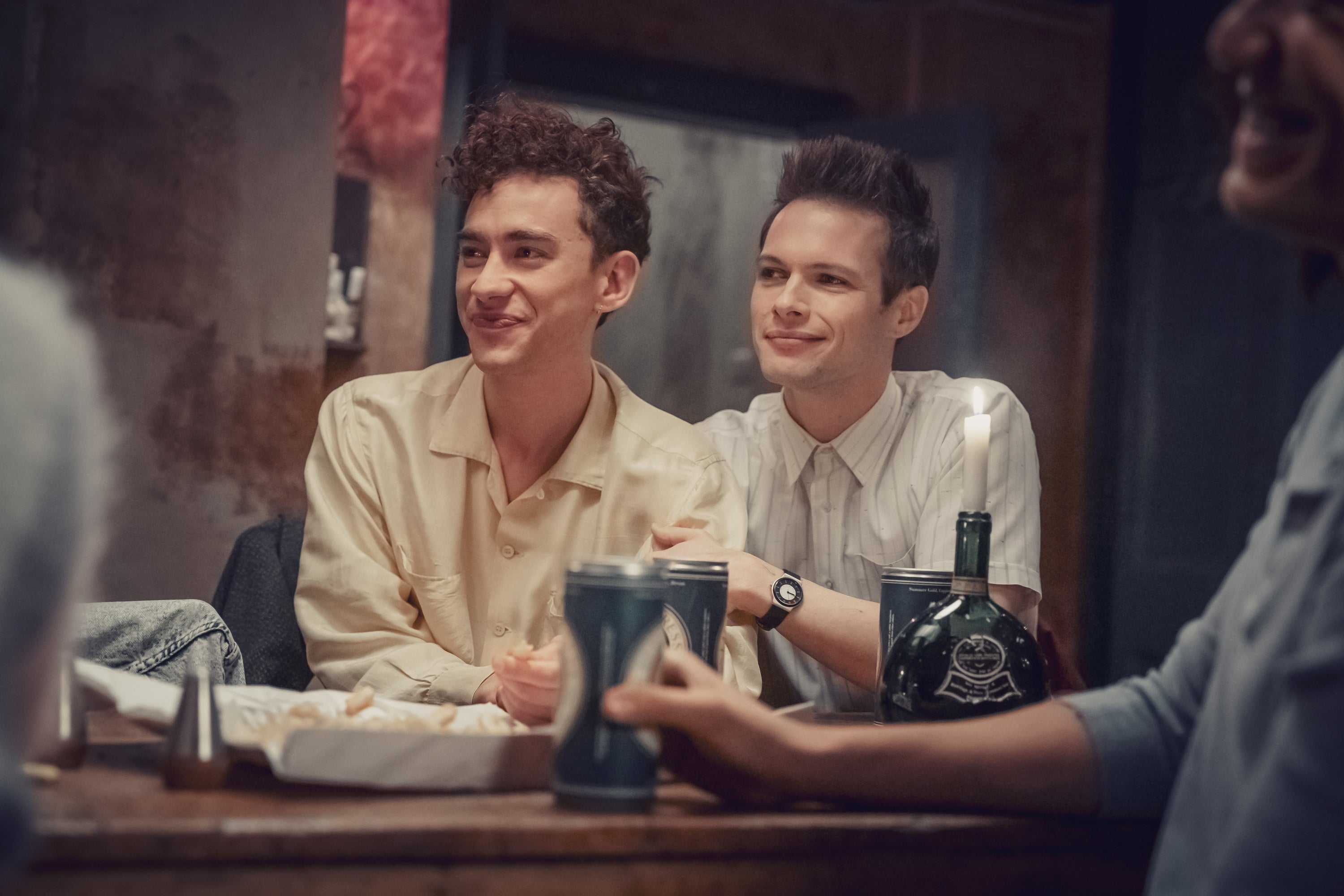 Forty years ago, reports of a mysterious new illness swept through the gay community. What started as a handful of cases in the US soon spiralled into a worldwide epidemic and, by the end of the 1980s, Acquired Immune Deficiency Syndrome (Aids) had claimed hundreds of thousands of lives. But decades later, stories exploring the impact on the British gay community have largely gone untold.
It was inevitable, then, that Russell T Davies would spark conversations with his powerful new drama, It's a Sin. The show follows the lives of three young gay men, Ritchie Tozer (Olly Alexander), Roscoe Babatunde (Omari Douglas) and Colin Morris-Jones (Callum Scott Howells) who move to London in 1981. Along with Ritchie's university best friend Jill (Lydia West), the group converges in a dilapidated flatshare and set out to explore everything the city has to offer: friendships, house parties, and plenty of wild sex. But as the chosen family embrace their newfound freedom, tragedy looms on the horizon.
To date, almost 33 million people around the world have died of Aids. However, four decades after the first clinical diagnosis, those who are HIV positive can live normal and happy lives and, if receiving treatment, they cannot pass on the infection to others. Today, over 100,000 people in the UK are living with the infection. But back then, virtually nothing was known about the virus that would decimate a generation of gay men. "I read about it in Gay News, they were talking about a new thing that was happening in America," recalls 62-year-old Russell Wharton, who moved to London from Lancashire in the 1980s. "I remember people talking in bars and clubs, not really knowing what it was anyway. You sort of heard about it, but it didn't seem real at that point."
As conspiracy theories swirled about poppers, meteorites and government programmes to wipe out gay men, people came to their own conclusions. "We thought, 'All you have to do is not have sex with Americans, and you'll be fine'," says 55-year-old Simon. In 1981, a 49-year-old gay man died of an Aids-related illness in a London hospital, becoming the first person to do so in the UK. "As HIV and Aids started spreading, we thought, 'Just don't have sex with someone from London'," says Simon. "As it got closer and closer, you just tried to put up as many boundaries as possible to try and protect yourself. It was only when we started to realise it was all of our problem that we had to own it."
As the crisis dawned in the UK, queer publications like Capital Gay "pretty much exclusively" disseminated useful information, according to 68-year-old author and activist Colin Clews. Meanwhile, the gay community launched campaigns and established systems to support people with HIV/Aids. "The London Gay Switchboard, the Gay Medical Association and a nascent Terrence Higgins Memorial Trust held a national conference," he recalls. "Switchboard had trained operators taking calls 24/7 and from 1983, the THT also ran a telephone helpline at night."
For Colin, the uncertainty around the disease fuelled an acute sense of anxiety. "From the minute I learned of the symptoms, I checked every day to see if I had any skin blemishes and, if I did, did they look as if they might be Kaposi's Sarcoma?" he recalls, referring to a rare type of cancer seen mostly in people with advanced HIV. "Every time I developed a cough there was the fear that it might be pneumocystis pneumonia [an infection that occurs in immune-suppressed people]. You tried to calculate which of your previous sex partners might have had it and remember what kind of sex you had with them."
Already public enemy number one, gay men were further stigmatised by the tabloids, which coloured public perception of the crisis. "Newspapers with a political agenda vilified gay men for the 'plague' so they could point at someone and therefore isolate it: 'It's just them'," says Simon, who recalls feeling "absolute terror" as a teenager after The Sun claimed gay people feared revenge attacks following a sexual assault on a young boy. "It was a beautiful sunny August day, I was walking past the newsagents, and I just stopped in my tracks thinking, 'What the hell does this mean for me, the future, and my life?'"
As HIV cases rose, Thatcher's government dragged its heels, emphasising the widespread belief that gay men were authors of their own misfortune. "There was a lack of funding for treatment, and there was an unspoken assumption that we queer people would manage 'our own'", says Colin. 
Under threat, the lesbian and gay community came together. Teresa, a 63-year-old then-HIV coordinator at Islington Council and counsellor at the London Lesbian and Gay Centre (LLGC), remembers the solidarity, especially from lesbians. "You had people volunteering at The London Lighthouse, the Mildmay and The Food Chain; a big wave of compassion and support and love." But at the same time, there was "bitterness, anger and prejudice". At her day job, there was open hostility from staff towards voluntary Aids workers. "People would say, 'You're the Aids home carer, are you? Why are you doing this? Are you queer?'"
By the time the UK government launched its infamous AIDS: Don't Die of Ignorance campaign in 1986, it was too late. "Because they hadn't been able to tell you how it was transmitted, there was no reason for you to stop doing what you were doing," says Russell. "It was terribly messed up." Meanwhile, people started to vanish. "You'd go into the pub every week and you'd see people there, you'd chat to them all the time. And then, suddenly, they just disappeared, and you never heard anything again". Teresa remembers the LLGC, usually thronging with people, growing eerily quiet. "We had to shut down the café because the people who were cooking and serving had died. It was very traumatic."
The darkest period was now upon the gay community. "You had the police raiding gay bars and putting on rubber gloves and masks," says Russell. "You had friends committing suicide rather than going through all of it. The hospitals were horrendous, you had to gown up to go and see someone, you couldn't touch them, and the bodies were being taken out in black plastic bags. A lot of funeral directors wouldn't accept HIV/Aids bodies, because they thought they could catch it". Terror engulfed the gay community. "It was a death sentence," says Simon. "There was no cure: you were going to die, it was just a matter of when."
United in rage and grief, many in the gay community threw themselves into activism, including Russell, who became a buddy at the Terrence Higgins Trust. "I was so angry at the newspapers, the Conservatives and society for making pariahs out of these poor people that were dying from something that, for a lot of them, they caught in total ignorance. They were being blamed because they were gay men, and therefore they deserved it. I thought, 'nobody deserves that'."  
By the late 1980s, activists were on the streets demanding accountability from the government. "The gay community had started to rally, things like Act Up came about, people had kiss-ins at Piccadilly Circus, and the Pride marches became more politicised," says Russell. Then came the history-changing intervention of Princess Diana, who publicly challenged stigma by shaking hands with an Aids patient at the London Middlesex hospital in 1987. "Once it was out in the open and we were talking intelligently about it, it became a different thing," says Simon.
It's no surprise that It's a Sin has stirred memories of such a traumatic period. "I'm amazed but really pleased that we are finally seeing on television a portrayal of the horrors of the early years of Aids – and it's made clear that many of these are manmade, not medical," says Colin. But for those who lived through the crisis, the suffering is impossible to forget. "It was a lot of very young people who had a lot of life to be living who were dying," says Teresa. "Those people were not just numbers; they were a face, a name, a friend."
For HIV testing, support and information, visit the Terence Higgins Trust's website 
Join our commenting forum
Join thought-provoking conversations, follow other Independent readers and see their replies