Bridgerton accused of glamorising toxic relationships – here's why that matters
The Netflix series has been hugely popular over the festive period, but its portrayal of relationships is concerning, writes Olivia Petter
Wednesday 30 December 2020 09:00 Comments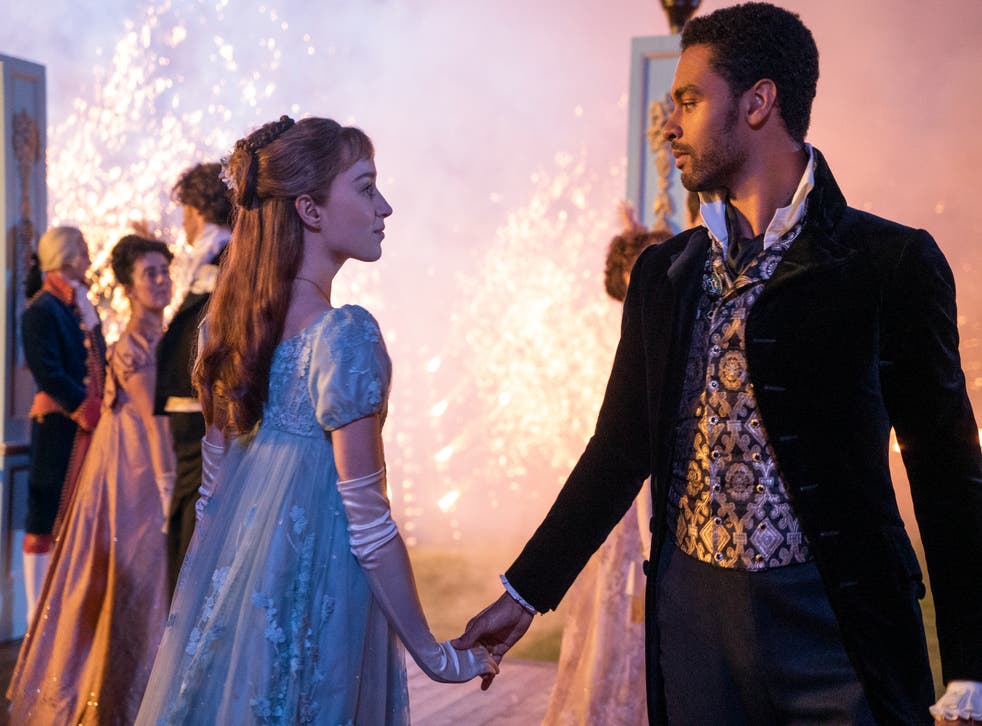 Leer en Español
It was only a matter of time until Netflix dropped a new period drama to fill the gaping Downton Abbey-shaped hole in our cultural calendars. This week, that series is Bridgerton, a glossy Regency-era series based on Julia Quinn's popular novels (published between 2000 and 2013) that blends Pride and Prejudice with Gossip Girl. But the show's central romance has come under scrutiny, with viewers accusing it of glamorising toxic relationships.
Set in early 19th-century London, where a wealthy woman's principal purpose was to marry and a wealthy man's was to, well, do as he pleases, Bridgerton sees the young and virginal Daphne jump into a faux romance with the brooding Duke of Hastings, Simon. The idea is that a fake relationship will benefit them both given that Daphne is keen to attract a husband (being with Simon makes her appear more desirable) and Simon is eager to fend off eager mothers from trying to set him up with their daughters.
But their pseudo-saccharine romance soon turns sour as societal pressures become increasingly burdensome and, rather predictably, Simon and Daphne's fake feelings become real. Before long, theirs is a relationship that possesses all of the typical traits of toxicity. Not only is it formed under pretence – making it somewhat doomed from the start – but it is based on conflicting intentions. Daphne wants to follow a traditional path of marriage and children while Simon wants to remain a free bachelor. And yet, as this becomes increasingly clear, their affections for one another only strengthen, as do their hopes that they change the other's mind.
Then there is Simon's character to consider. Arrogant, self-serving, and never revealing his true feelings, he would be referred to on the modern dating scene is a classic f*** boy. As Daphne's feelings towards Simon develop, he ricochets cruelly between fervour and indifference and frequently puts his own needs above hers. Take the time when a heated kiss between them jeopardises Daphne's social status and just a few scenes later, Simon states he would rather participate in a duel and potentially die than marry her. Or consider when Simon delivers a heartfelt speech about his feelings for Daphne shortly after saying he wants nothing to do with her.
This is known as "intermittent reinforcement", which, psychologist Seth Gillihan notes, is a classic trope of toxic relationships. "You might find that your partner builds you up at times, making you feel so good about yourself. Then at other times, they tear you down, criticising you, making you feel not good enough – and then they put you on a pedestal again. It's emotionally exhausting and bewildering," he writes. "In relationships, intermittent reinforcement is a push-pull dynamic where you never know when you'll get love or acceptance or validation."
All the while, Simon is withholding a key secret from Daphne: that he does not want to have children so as not to continue his family name out of hatred for his callous father. Of course, he does not tell Daphne this even after they have married. Instead, he claims to be impotent, a lie that is uncovered after Daphne forces Simon to ejaculate inside her against his will, a scene that has led viewers to accuse the show of belittling male rape.
Simon's secret also gives him a greater degree of control over the relationship than Daphne, something that life coach and author John Kim argues is one of the key signs you are in a toxic partnership. "It doesn't matter where it comes from: any dialogue, behaviour, or design, intended or not, that takes from one's truth and freedom is control," he writes in Psychology Today.
Like in all toxic relationships, the one between Daphne and Simon is intensely passionate. They are inexplicably drawn towards one another despite their obvious incompatibilities, which, paradoxically, serve as a turn on.
It is this dynamic that is perhaps the most troubling aspect of their relationship, and it's one that viewers will recognise all too well. If not from experience, then surely from one of the many other toxic yet highly sexually charged relationships in popular culture. It's Chuck and Blair in Gossip Girl, Marissa and Ryan in The OC, Allie and Noah in The Notebook.
This kind of relationship is rooted in the belief that the more barriers you create between two people, the more you hope they will end up together, as if the hurdles they face equate to transcendental meaning. None of this provides an ideal basis for a healthy relationship, but it certainly makes it more sexually exciting. And, of course, it makes for very compelling television.
But this is a very damaging narrative to apply to real-life relationships, as Bridgerton viewers have astutely noted. "So yeah, I enjoyed Bridgerton, but I'm glad that people are acknowledging that Simon and Daphne's relationship is toxic and kinda horrible," tweeted one person.
"Tried to watch #Bridgerton but ended up turning it off – after episode one – I don't want to spend my leisure time on toxic relationships," added another.
The trouble, however, is that while many viewers have recognised the toxicity of the show's central relationship, they have also confessed a desire of wanting to replicate it themselves. As one viewer tweeted: "Me: It's so weird in 2020 to show a man who didn't want marriage and kids suddenly have a change of heart. It's so toxic to young women, who will think you can change a man. Also me: I finished it in two days, where's season 2?"
Another added: "Simon and Daphne's relationship is so toxic so why do I still want it?"
Bridgerton certainly isn't the first programme to romanticise toxic relationships – and it won't be the last. Popular culture has long fetishised push and pull dynamics between couples to the degree that it's largely considered a plot device in its own right. Take Normal People, the bestselling Sally Rooney novel that was adapted for a BBC series in April. Like Bridgerton, the series was a hit and prompted viewers to pine for a relationship like Marianne and Connell's, despite how emotionally draining their on-again, off-again dynamic seemed.
There's no disputing that the relationship between Simon and Daphne is unhealthy, but it's promising that viewers have quickly recognised this and pointed it out on social media. And while no one should seek out these kinds of relationships in real life, there's no harm in enjoying watching them play out on screen if we acknowledge this. Besides, when the stakes are this high and the cast is so good looking, it's hard to look away.
Register for free to continue reading
Registration is a free and easy way to support our truly independent journalism
By registering, you will also enjoy limited access to Premium articles, exclusive newsletters, commenting, and virtual events with our leading journalists
Already have an account? sign in
Register for free to continue reading
Registration is a free and easy way to support our truly independent journalism
By registering, you will also enjoy limited access to Premium articles, exclusive newsletters, commenting, and virtual events with our leading journalists
Already have an account? sign in
Join our new commenting forum
Join thought-provoking conversations, follow other Independent readers and see their replies