The Independent's journalism is supported by our readers. When you purchase through links on our site, we may earn commission.
LIFESTYLE FEATURE
Normal People: The enduring appeal of will-they-won't-they relationships in pop culture
As the UK obsesses over the TV adaptation of Sally Rooney's bestselling novel, Olivia Petter explores our curious fascination with on-off relationships Comments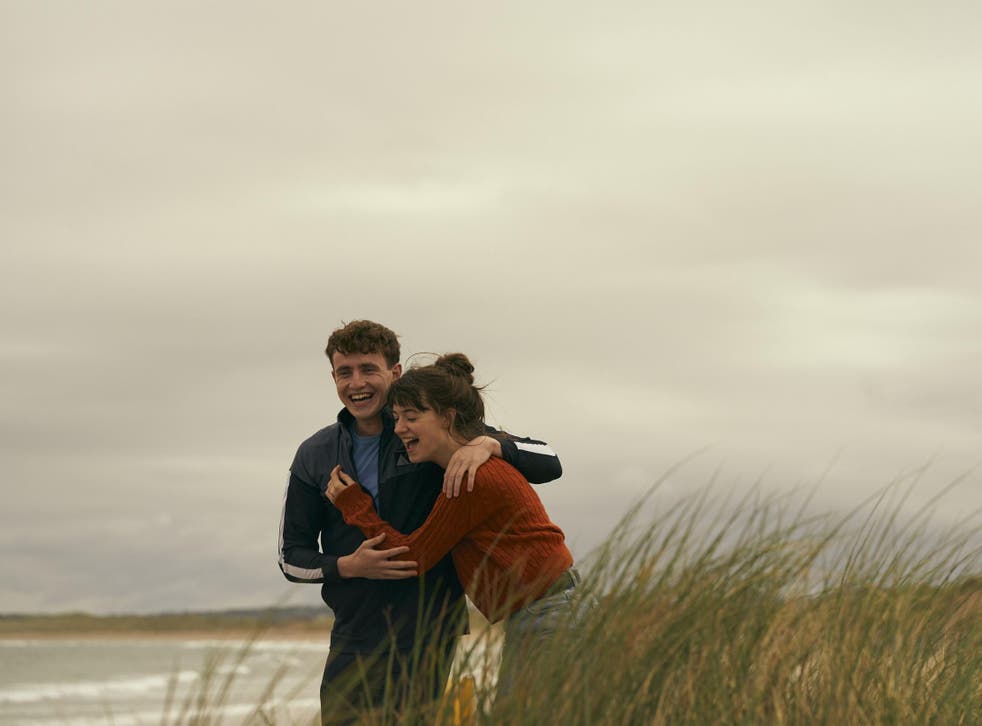 Love isn't supposed to be easy. At least, that's what we've been told. Think about it: Sex and the City would be dull if Carrie and Big stayed together, Gossip Girl wouldn't have been as compelling were it not for the toxic back and forth between Chuck and Blair, even Friends would be flattened if Ross and Rachel hadn't gone on a break.
Other people's relationships are fascinating on-screen fodder, but much more so when they are complicated by countless breakups and reconciliations, each one more dramatic than the next. That push-pull dynamic is the premise for Normal People, Sally Rooney's bestselling novel that has become one of the most hyped TV adaptations of the year. The BBC Three series, like the book, follows the ebbs and flows of the relationship between Marianne and Connell through their school years into young adulthood.
The duo navigate class and social differences – Marianne is wealthy and severe; Connell working-class and popular – and weave in and out of one another's lives with beautiful symmetry, always finding themselves back in each other's arms. The series has been hailed by viewers for its realistic sex scenes and uncanny casting, with actors Daisy Edgar Jones and Paul Mescal slotting neatly into fans' high expectations. But what makes the series so absorbing is the will-they-won't-they relationship between Marianne and Connell, leaving the viewer in a perpetual state of fulfilment and frustration.
"There's no drama in falling in love and then staying that way for ever," says sociologist and cultural critic Ellis Cashmore, who believes that the reason we enjoy watching or reading about on-off relationships taps into a very basic human paradox about love. "The staccato relationship with separations and raging rows is much more entertaining because it makes us feel more secure about our own relationships while also feeding our craving for excitement and the very lack of stability we're glad to have."
This, Cashmore explains, is why the relationship between Elizabeth Taylor and Richard Burton, who famously married and divorced twice, is widely considered one of the greatest love affairs of the 20th century. "Their romance was played out as if it had been scripted for a major drama, and we lapped it up like we do with others because we don't have to endure their torment, but can yearn for their all-consuming passion from afar, one that will lift us like a tornado and whisk us away from our mundane lives."
In the midst of a pandemic, it's safe to say that people need whisking away now more than ever before. The timing, then, for Normal People could not have been better, giving us an opportunity to sink into a love story so intense that it provides a temporary distraction from the chaos unfolding around us. But why does it lure us in so much? Do we simply like to watch these relationships, or do we also want to emulate them?
If the latter is indeed the case, perhaps we would be wise to go against our instincts. A 2018 study by researchers at the University of Missouri found that on-off relationships can be toxic for our mental wellbeing, linking them to higher rates of abuse, low levels of commitment and poor communication.
Normal People first trailer
We see this play out in Normal People. Connell's social rejection of Marianne – he insists they keep their relationship hidden from their friends – leaves long-term scars and validates her own sense of worthlessness, feelings that later manifest in submissive sexual predilections. Then, when the pair reunite as university students, there are torturous "off" and "on" periods largely fuelled by their failure to communicate their feelings to one another. The characters behave dysfunctionally in both. In the off periods, one is usually secretly pining after the other despite being in a relationship with someone else. In the on periods, their passion is fervid, frantic, and unsustainable. And yet, it seems like this is a relationship we are supposed to want, because what Marianne and Connell have, Rooney's book suggests, is a life-altering love. And as destructive as it is, it's hard not to long for such transcendental passion.
The idea that love is validated when it is hard-earned is nothing new. Whether you're reading Shakespeare, watching a Richard Curtis film, or listening to Adele, popular culture perpetuates the myth that in romance, turbulence is a sign of a more meaningful relationship. And no relationship is more turbulent than one that is constantly stopping and starting, which is why these partnerships are often fetishised. Chartered psychologist Daria Kuss explains that we romanticise on-off relationships because so many of us subscribe to the popular belief that we should find "the one", another concept that is frequently propagated in music, film and TV. "We think of this person as someone you're meant to be with against all odds," she says.
Of course, some people feed off the drama that surrounds on-off relationships. In fact, sometimes, it's the reason why they seek them out. "There's a constant thrill and excitement to on-off relationships because of the anticipation," explains Dee Holmes, a counsellor at the relationships charity Relate. "An on off-relationship is certainly never dull." There's also a common fear of reaching a plateau in a relationship – think less sex, more discussions about the dishwasher – so some people might choose to start rifts that could then lead to an "off" period in the hope of eventually reigniting some of the sparks you felt for one another in the beginning, a period often referred to as the "honeymoon phase".
But there are deeper psychological reasons as to why someone might be seduced into a volatile relationship, says psychologist and dating coach Jo Hemmings. "They are fuelled by a mutual sexual attraction and an emotional imbalance," she says. "The very nature of on-off relationships very often means that one partner feels a deeper emotional attachment than the other. The one who feels the deepest often believes their partner will eventually come around to their way of thinking and express a desire to be permanently 'on'. Others, who are especially insecure or have low self-esteem, might feel, sadly, that this is what they deserve." This is very much the case for Marianne, whose deep-rooted feelings of inadequacy might explain why, when Connell suggests they don't tell anyone about their courtship, she doesn't question it.
When you're in an on-off relationship, it's hard not to recognise it as problematic. Becky*, 28, was in one for four years. "I would have preferred it to be always 'on'," she says. "It never really felt equal to me, and the on-off nature of it played havoc with my confidence, making me think he didn't really want to be with me even when he was." But Becky never told her partner how she was feeling. "I just put up with how he treated me because I loved it so much when we were together. I told myself that we had this really strong connection and I was willing to adopt the 'cool girl' role who didn't want a serious relationship in order to maintain that," she says.
There are long-term psychological ramifications to being in an on-off relationship. Luke*, 35, explains how he could not move forward with other people because of an on-off relationship over 18 months. "I found myself feeling so lonely after every breakup but whenever I tried to move on, I couldn't quite do it. She told me it was the same for her. So we would always end up getting back together and filling that gap in one another's lives. It would never last long, but it felt like falling back into an old habit that neither of us could shake."
Even in an "off" period, it can be incredibly difficult to think of anyone else other than your on-off partner. "You will have less headspace to fully engage in getting to know a new person," explains psychologist and dating coach Madeleine Mason Roantree. And if you do find someone else, you might then start to compare them to your on-off partner, or worse, talk about them to the new person, which will inevitably only drive them away.
As for those who are currently in on-off relationships, it might be worth reassessing whether or not the rollercoaster of emotions is worth it. Ask yourself: is the juice worth the squeeze? Spend some time really considering the pros and cons, Holmes advises. "You may want to consider seeing a relationship counsellor (either together or as an individual), who can help you to work on your communication, look at the reasons behind why the relationship is so on and off and help you decide if this is definitely the right relationship for you," she says.
Ultimately, Rooney puts an end to the on-off relationship between her lead characters. Connell is offered a place to study creative writing in New York; Marianne chooses to stay home in Ireland. Perhaps this is a suggestion that even the master puppeteer of on-off relationships knows when it's time to call it quits. But, of course, that depends on how you choose to interpret the ending.
*Names have been changed
Register for free to continue reading
Registration is a free and easy way to support our truly independent journalism
By registering, you will also enjoy limited access to Premium articles, exclusive newsletters, commenting, and virtual events with our leading journalists
Already have an account? sign in
Join our new commenting forum
Join thought-provoking conversations, follow other Independent readers and see their replies