The Independent's journalism is supported by our readers. When you purchase through links on our site, we may earn commission.
Fitness influencer shares photo of bloated stomach following IVF procedure
She has been struggling with infertility for almost two years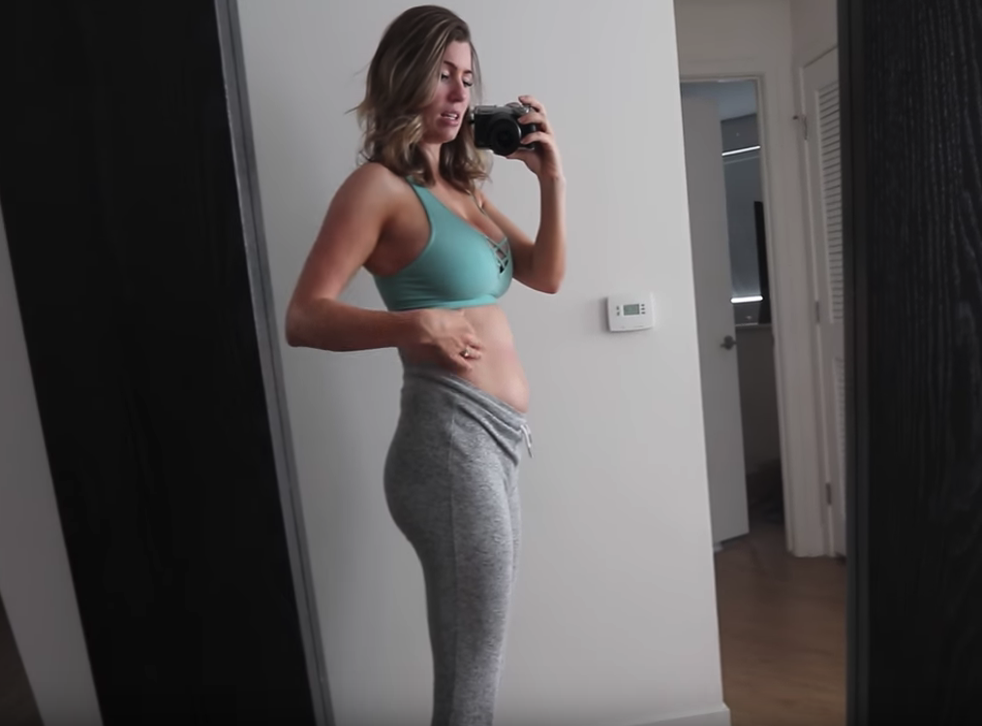 A fitness influencer who has been documenting her attempts to get pregnant has shared a photo of her bloated stomach to show a lesser-known side effect of IVF.
Anna Victoria has been sharing her IVF progress on Instagram, where she has more than 1.2m followers since she started the infertility treatments almost two years ago alongside her husband Luca Ferretti.
In a recent post following her egg retrieval, the 31-year-old posted a photo of her stomach. In the caption, she revealed the pain and bloating she is experiencing as a result of the procedure.
"First, I want to preface this by saying that when I took this photo, I didn't realise how much of a prego pose this was," she wrote. "So no, this isn't what it seems.
"This is actually the bloating that lasted five solid DAYS from the egg retrieval. A part of me isn't sure what was more painful, the procedure itself or the bloating that resulted from it. The answer is probably both."
During egg retrieval, which is done so that the eggs can be fertilised by a man's sperm, a woman is sedated and an ultrasound probe is inserted into the vagina to identify follicles, before a thin needle is inserted into the follicles to retrieve the eggs, according to the Mayo Clinic.
Women typically experience cramping and feelings of fullness after the procedure.
But, according to Victoria, the bloating was just part of the recovery, as she also experienced intense pain following the procedure and couldn't "sit or stand or even move for the first three days without wincing in pain or bracing myself".
"I know it doesn't look that bad, but it felt a lot worse than it looked," she said.
In the caption, she explained that she decided to share her honest experience on Instagram as part of the #whatimgoingthru online campaign, which reflects on the impacts social media has on mental health.
"There have been so many physical, mental, and emotional ups and downs this last year. And while I'm resilient AF, I'm not going to pretend it's been easy, and I don't want to pretend," Victoria wrote.
In response to her post, which has been liked more than 21,000 times, Victoria's followers have praised her for her transparency and honesty.
"Thank you for sharing! I struggle with infertility too and love seeing the truth behind all of the options," one woman wrote.
Another commented: "Thank you so much for posting this… I went through the exact same thing about a month ago… I was unpleasantly surprised how bloated and painful my post-retrieval was as well.
Support free-thinking journalism and attend Independent events
"I am a labour and delivery nurse and I wish I had been given more knowledge about the difficult recoveries that some of us have."
Register for free to continue reading
Registration is a free and easy way to support our truly independent journalism
By registering, you will also enjoy limited access to Premium articles, exclusive newsletters, commenting, and virtual events with our leading journalists
Already have an account? sign in
Register for free to continue reading
Registration is a free and easy way to support our truly independent journalism
By registering, you will also enjoy limited access to Premium articles, exclusive newsletters, commenting, and virtual events with our leading journalists
Already have an account? sign in
Join our new commenting forum
Join thought-provoking conversations, follow other Independent readers and see their replies