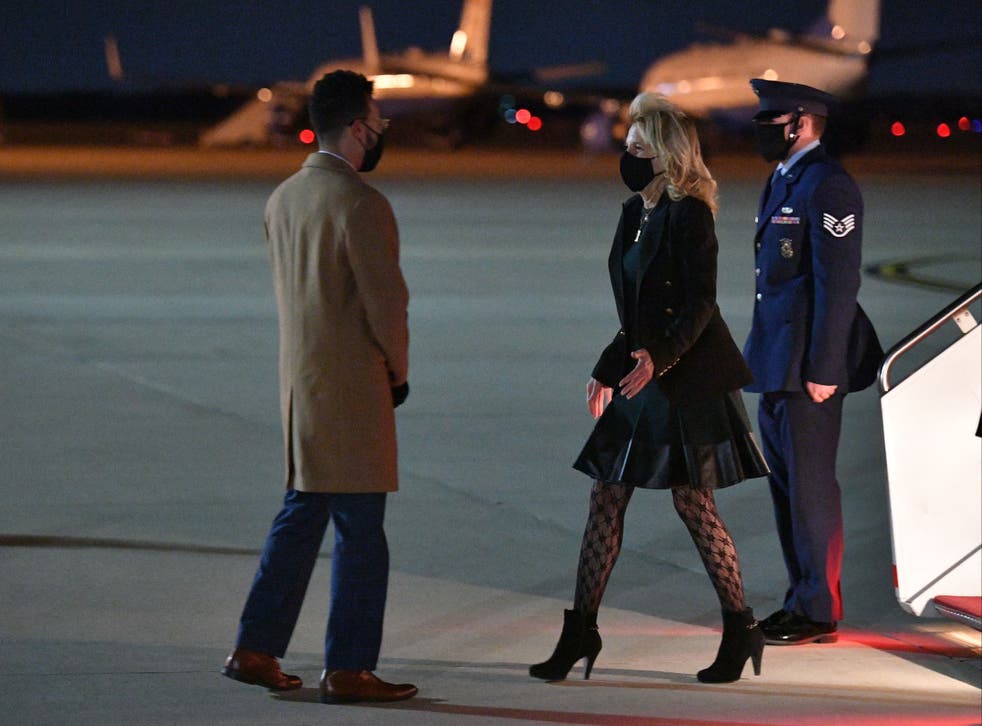 Women defend Jill Biden after conservatives attack first lady over fishnet outfit
First lady wore a pair of patterned tights and heeled booties to depart Air Force One
Women are defending Dr Jill Biden after conservatives took issue with the first lady's recent outfit, which included a pair of patterned "fishnet" tights.
On Thursday, after playing an April Fool's Day joke on the staff and reporters aboard Air Force One, Dr Biden stepped off the plane in an entirely black outfit, which included a pair of heeled black booties, a leather skirt and a black blazer, which she completed with a pair of black fishnet-esque stockings. 
As is typical of the first lady's wardrobe, the outfit was met with near-immediate responses, with many praising Dr Biden for taking chances with the punk-inspired look.
"Dr @Flotus looks terrific in this outfit! Wow!" one person tweeted, while another said: "Fishnet tights are in style for spring 2021 and our loving, intelligent, compassionate @FLOTUS looks beautiful and fashionable."
However, the first lady's tights received a different reaction from conservatives, who criticised the outfit as being unbefitting of Dr Biden's role, despite the stockings more closely resembling patterned tights than fishnets.
Read more:
In response to the outrage, many women came to Dr Biden's defense, with one woman writing: "If my legs looked as good as Dr Jill Biden in those fishnets & booties, I'd be a wearing exactly the same outfit #FLOTUS."
Another said: "Apparently Republicans are losing their sh*t over fishnet stockings ... @FLOTUS looks amazing. Old misogynist Republicans can't handle strong, intelligent women."
A significant number also pointed out that former first lady Melania Trump had her fair share of controversial outfits during her time in the White House, such as her I really don't care, do you? jacket.
"BREAKING NEWS: @FLOTUS wore black lacy hose. I Really Don't Care. Do U?" someone else tweeted in response to the backlash over Dr Biden's outfit.
Others took the opportunity to point out that the tights aren't actually fishnets, but that the point doesn't change, with one person writing: "Excuse me, they're not fishnets, they're patterned tights and she looks gorgeous in them!"
Join our new commenting forum
Join thought-provoking conversations, follow other Independent readers and see their replies