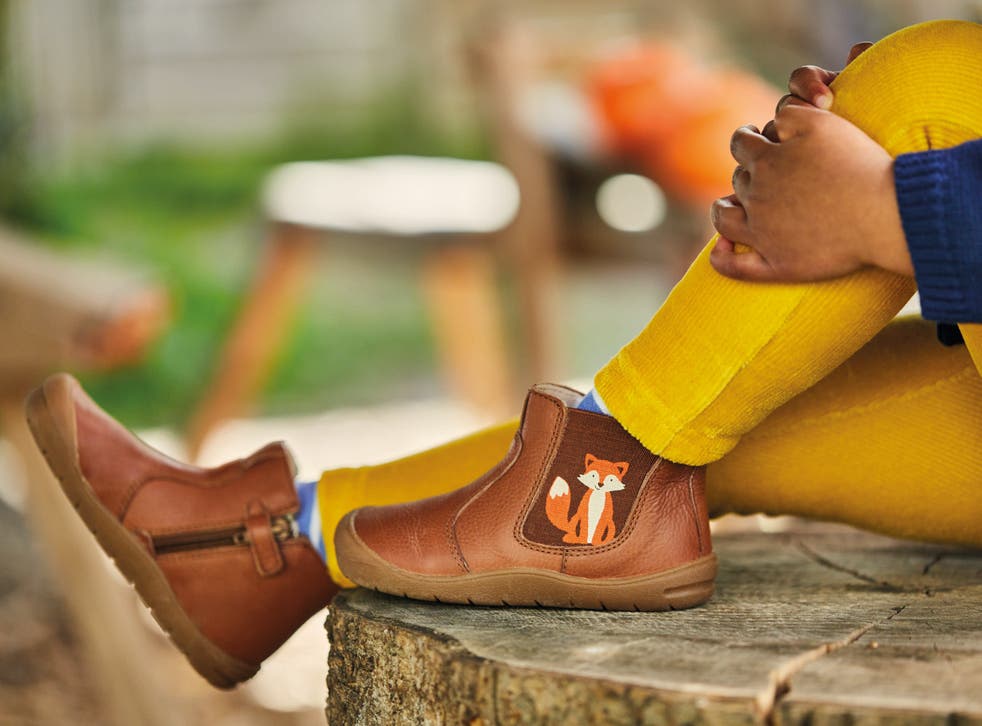 Get kids off on the right foot with JoJo Maman Bébé x Start-Rite's new shoes
Almost half of parents are unsure of their children's shoe size, so let the experts step in with a helping hand
Friday 08 October 2021 15:54
As your little ones find their footing, give them a solid base with properly fitted shoes from the experts.
Heritage footwear brand Start-Rite has teamed up with mum and baby specialists JoJo Maman Bébé on a range of shoes sure to put a spring in their new-found steps. Adorned with simple and fun animal motifs and playful patterns from both labels, the co-branded collection will be a shoe-in for discerning mini fashionistas featuring tractors, mice, foxes, hedgehogs and penguins set on navy, berry, tan, teal and mustard colourways.
Why choose Start-Rite?
Discover the collection at jojomamanbebe.co.uk/start-rite
Prices begin at £32.99 and in sizes 3 to 9 with added flexibility from multi-width fittings. For those parents reluctant to invest in shoes that their child will grow out of almost immediately, you're in luck. These models have been crafted to ensure longevity with room inside for additional growth and for adventures to come. As with the entire Start-Rite range, innovation plays into every design choice where biomechanics experts craft the silhouettes taking into consideration your child's developmental needs. There's cushioning to protect their little feet and the right amount of structure for their young, soft bones.
The collaboration comes at the perfect time for new parents everywhere. According to research undertaken by Start-Rite, there is a lot of confusion surrounding the shoe shopping process. Only half (57 per cent) of parents with toddlers are confident they know the size of their children's feet and 61 percent of them have found their little ones are wearing the wrong size.
Their ever-growing feet should be measured every six weeks and for busy parents, this is not always feasible. Enter the next step in the two British brand's collaborative journey. You will now be able to make the most of Start-Rite's 229 years of expertise with fitting specialists in 38 JoJo Maman Bébé high street stores who are full of information to get them putting their best foot forward and prevent blisters and sores from occurring. You can book an appointment in store here.
Which shoes do you need?
Start-Rite has three types of shoes, depending on where your child is at, and each is helpfully explained below.
Start-Rite Pre Walker shoes
They may not yet be exploring the world but that shouldn't stop you from protecting their little feet with the appropriate shoes. Start-Rite's Pre Walker offering is crafted from a buttery soft leather for all the flexibility they need without sacrificing on sensory feedback. Other helpful design features include a square toe for stability and a cosy cushioned insole.
Buy now £32.99, jojomamanbebe.co.uk
Start-Rite First Steps shoes
Once they're up and ready to take on the world, the sole of the shoe they need slightly changes in order to offer grip and support their movements. A bumper toe protects their tootsies from any inevitable bumps and it has a rounded shape to allow for growing room.
Buy now£39.99, jojomamanbebe.co.uk
Start-Rite Boots
The winter weather is fast approaching so keep their feet cosy and warm, enter the co-branded boots that will have them ready for any cold temperature adventure – especially when you layer fluffy socks within. The leather boots have an inside zip for ease in taking on and off as well as heel and toe bumpers for protection.
Buy now £42.99, jojomamanbebe.co.uk
For more information, to buy shoes or book an appointment, visit jojomamanbebe.co.uk/start-rite
Discover more #JoJoLovesStartRite