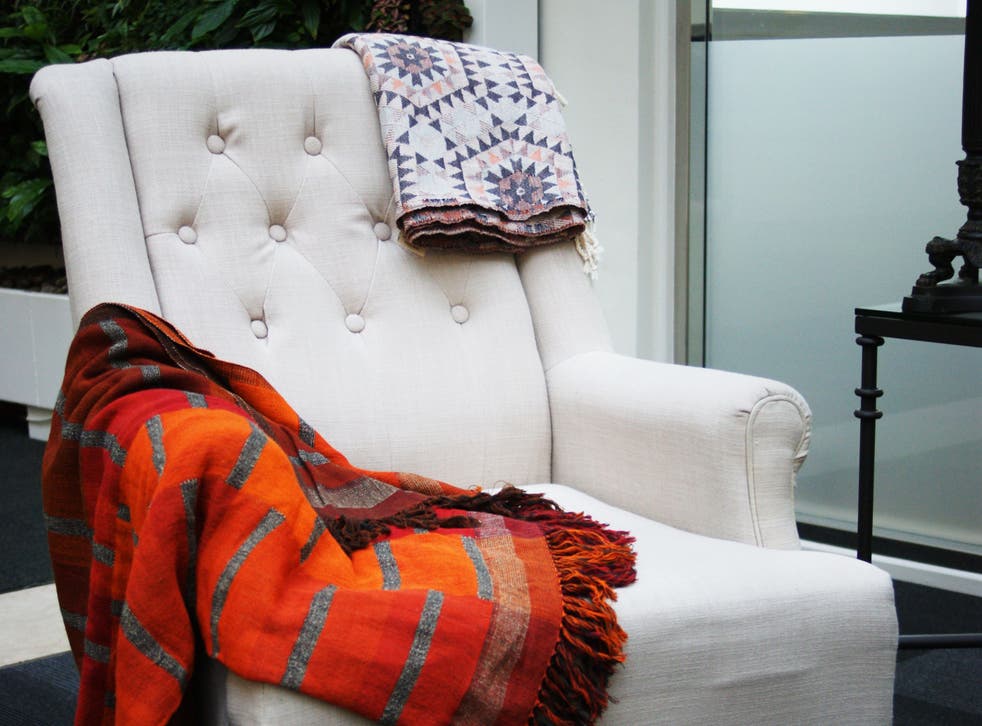 10 best throws
Brighten up your room with one of these stylish throws
The days are getting shorter and the nights are getting colder as we once again greet winter reluctantly from under our duvets. Whether you're looking for something to brighten your room during the dark winter days or an extra layer to snuggle under at night, we've picked the most stylish throws to get you through until next summer.
1. Paulista Black and white quilted bedspread: £120, habitat.co.uk
For anyone who likes to keep their home simple but stylish, the simple geometric design is a subtle way to make black and white appear homely. This soft cotton bedspread is also ideal for adding an extra comfy layer to your bed.
2. Zatti Red patterned reversible double bedspread: £95, habitat.co.uk
Light and cosy, the reversible double bedspread is the easiest way to give your bedroom or living room a new makeover. The cotton material makes it ideal for warming you up in the winter weather but light enough to replace your duvet in the summer.
3. Purple Multi-Coloured Woven Throw: £30, bhs.co.uk
This multi-coloured woven throw in lovely purple jewel toned colours is perfect for adding colour and brightening up your bedroom or living room. With such a beautiful array of colours, this throw will bring character to even the most minimalist of rooms.
4. Adeen Red wool and silk throw: £80, habitat.co.uk
If you're already missing the warmer months, the hot colours of this throw will remind you of sitting out on a hot summer's day. If your imagination fails you, wrap yourself up in this snug wool and silk throw.
5. Scion Mr Fox Throw Blanket, Grey: £95, johnlewis.com
Again, if your taste is simpler, this modern and stylish-looking throw adds colour to your room with the boldly contrasting yellow stripe on a light grey background. It's perfect to wrap around yourself during a quiet night in.
6. Chevron Throw: £49, oliverbonas.com
A slightly bolder option with neon coloured stripes contrasting to the grey zigzag design. The frayed edges compliment the simple design, perfect to throw over your armchairs and couches.
7. Blue super-soft Herringbone throw: £75, frenchconnection.com
What is it about wool that just screams out winter? This blue woollen throw with long frayed edges seems like just the thing every house should have this winter. Its calming colours are just what you need when you spend your winter nights at home.
8. Cable: £39, made.com
A sure way to brighten up any room is with this hand-knitted, Firecracker Red throw. This home accessory is multi-functional as a decorative throw for your couch or bed, a warm wrap for nights in front of the T.V. or a picnic blanket to take with you for those summer picnics.
9. Tonal Faux Fur Throw: £70-90, next.co.uk
This Faux Fur Throw has matching cushions if you feel like giving your room a bit of a theme. If you need some extra help warming up this winter, this throw is big enough to be thrown over a king size bed.
10. Grey Honeycomb Throw: £69, grahamandgreen
Remarkable geometric colours with tassel trim and earthy colours provides a soft throw to display in your living room or drape across your bed this winter.
Verdict
If you prefer bright and bold designs that will bring the warm summer colours into your home this winter our favourites are BHS' Purple, multi coloured woven throw and Habitat's red wool and silk throw. If subtle décor is more your style then our preference goes to French Connection's Blue Super soft Herringbone Throw and Habitat's Paulista black and white quilted bedspread.