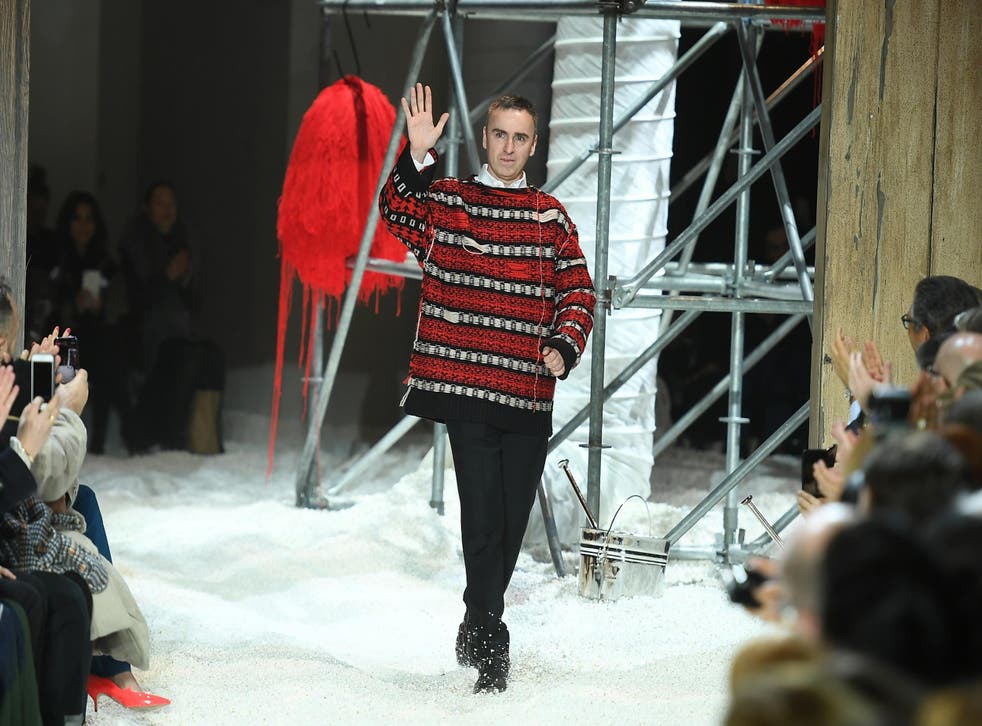 Lifestyle Barometer: Your guide to what's hot and what's not this week, from Nick Jonas to Calvin Klein
From roast potatoes to hunting and Lord Sugar, this is our guide to what's hot and what's not
Going up:
Nick Jonas
Nick Jonas has officially been named the "most stylish man" of the year by GQ magazine.
The singer was awarded the title after fans voted in a poll on the publication's website, with the majority choosing him from a list of 64 other men including Ryan Reynolds, John Legend and Jeff Goldblum.
Jonas was praised by the magazine for his "under-the-radar" aesthetic, with a recent highlight being his wedding to actor Priyanka Chopra, which was described as a "never-ending fashion show" thanks to the musician's numerous outfit changes.
He made a number of changes on the big day, from custom-tailored suits to traditional Indian garments in honour of his new wife's heritage.
Jonas was also lauded for his ensemble at May's Met Gala, where he wore a three-piece suit from Dolce & Gabbana's super-swish haute couture line, Alta Sartoria.
Roast potatoes
Students from the Edge Hotel School at the University of Essex have created a mathematical formula they believe can be used to cook the perfect roast potato.
Pupils from the school collaborated with the Samuel Whitbread School in Bedfordshire to develop what they've named the "Edge Hotel School Method".
The key, they say, is to maximise the surface area of the potatoes by cutting them at a 30-degree angle.
This increases the potato's surface area by 65 per cent, in turn making them more crispy and even more delicious.
Miley Cyrus and Liam Hemsworth
Miley Cyrus married her longtime boyfriend Liam Hemsworth this week in a secret ceremony in her hometown of Nashville.
For the wedding, which took place on 23 December, the singer wore an off-the-shoulder gown designed by Vivienne Westwood.
Cyrus shared the news with her fans three days after the event on Instagram by uploading a series of black and white photographs of her and her new husband at the wedding.
The first is a selfie, which shows the pair kissing and is captioned: "This is probably our one – millionth kiss ...."
This was followed by two full-length snaps of the couple embracing, which reveal the back of Cyrus' gown that appears to have been made from the ivory silk fabric that Westwood's bridal designs are known for.
Christmas dinner for strangers
In a bid to combat loneliness at Christmas, two women hosted special Christmas Day dinners for people in their local towns, serving up three course meals and organising games with the help of volunteers.
One of them was Mo Fayose, 44, who invited more than 100 people to a dinner she and 20 volunteers had arranged at Fenton Court in Nottingham.
The full-time charity worker from Basford whipped up an extensive menu for the occasion, consisting of butternut squash and swede soup, roast turkey and an array of canapes.
Taylor Barnes, 21, hosted a similar event at her local community centre in Inverclyde, Scotland.
The mother-of-one, who is pregnant with her second child, organised a sitdown dinner for 70 people in the area who had nowhere else to go on Christmas Day.
In addition to serving up a three course meal, Barnes bought presents for everyone from Boots using her own money and recruited Scottish comedian Hardeep SIngh Kohli to entertain the guests.
That Iceland advert
Iceland's festive film about the devastating effects of palm oil plantations has been named the UK's favourite Christmas advert for 2018.
The research into Christmas adverts, which was conducted by YouGov's ad testing service, assessed several factors, including which ones were liked the most and which were most in keeping with its brand's identity.
According to the survey, four in five people said they liked Iceland's advert, 83 per cent said they thought it stood out among others, and 87 per cent found the message easy to comprehend.
The TV commercial, which focused on the story of an animated orangutan that has lost its home and family to deforestation, was released in collaboration with environmental organisation Greenpeace.
It was initially reported that the advert had been banned from TV for being "too political".
However, advertising industry advisory body Clearcast later clarified this had been a "misunderstanding", saying it could not be shown on TV due to the supermarket's collaboration with Greenpeace, as opposed to the supposed political nature of the advert itself.
Going down:
Hunting
Annual Boxing Day hunts have caused clashes across the country this year with animal rights activists coming together to protest the sport.
While fox hunting has been banned in England and Wales since 2005, it continues in a legal form known as "trail hunting", whereby an artificial animal-based scent is left somewhere for hounds to track while hunters ride alongside them on horseback.
But campaigners say this still leads to foxes being mutilated and often killed, resulting in an illegal practice that sees animals being hurt for sport.
This year, violence broke out at meets in Sussex, Wales, Kent and Leicestershire, with video footage circulating online showing hunters riding through villages while protesters attempt to block their paths and chant anti-hunting slogans at them.
Many campaigners are also seen holding up placards, bearing phrases such as "you have blood on your hands" and "stop the killing of animals by hunts".
Calvin Klein
Calvin Klein has revealed its chief creative officer, Raf Simons, is stepping down from his role, less than two years after assuming the position.
PVH Corp, the clothing company that owns brands including Calvin Klein, Tommy Hilfiger and Geoffrey Beene, made the announcement on 21 December.
Stating that Simons and Calvin Klein have "amicably decided to part ways", the company explained the American retailer has made the decision to move in a direction that "differs from Simons' creative vision".
Further to the news that Simons is leaving Calvin Klein, PVH Corp revealed the fashion house will not be present at New York Fashion Week in February 2019.
Lord Sugar
Last week, Lord Sugar was accused of making a homophobic slur on Twitter.
The Apprentice boss made the offending remark in response to a tweet featuring a photoshopped image of his face on a box of Sugar Puffs cereal, with a fan saying: "I found your next business venture."
Sugar wrote, "hah… I have enough puffs who come through my boardroom [sic]".
He has since said in a subsequent tweet that by using the word "puffs", he was referring to "people full of hot air" – but his comment has sparked a backlash on Twitter.
Some people accused the businessman of "casual homophobia" while others said the remark was "disappointing" and "below the belt".
Others believed that Sugar meant no harm with the reference, with some people asking whether using the word "puff" could be considered homophobic.
Disappointing Christmas presents
A new survey conducted by consumer services company Which? has revealed some of the worst presents people have ever received for Christmas.
A total of 1,373 members of the public were questioned for the Which? Connect survey, which revealed people had been gifted everything from sanitary products to out-of-date gift vouchers, handknitted willy warmers and a book about drainpipes.
Some of the answers also demonstrated the lack of thought that can go into Christmas presents when buying with a certain individual in mind.
These inconsiderate gifts included a box of chocolates given to a diabetic, aftershave bought for a person with a beard, and a bottle of champagne presented to a non-drinker.
Another study commissioned by Which? and carried out by Populus asked 2,095 people in the UK to describe how they felt about the presents they received last year for Christmas.
A quarter of the people who had received gifts said they had been given at least one they weren't happy with.
Single-use plastic
Schools are being urged to stop using single-use plastic by 2022 in an effort to combat plastic pollution.
Education secretary Damian Hinds is encouraging schools to replace plastic products such as carrier bags, straws and food containers with sustainable alternatives.
Hinds believes all schools in England should be following in the footsteps of Georgeham Primary School in Devon, which became the first school in the UK to become completely single-use plastic free in early 2018.
The Conservative MP for East Hampshire, who was previously exchequer secretary to the treasury and employment minister, explains that while it's "not always easy" to stop using plastic, it is a necessary change.
"In my first school visit as education secretary almost a year ago, the very first question I was asked by a pupil was what we can do to limit the damage of plastic on the environment," he says.
"Reducing our use of plastic clearly is an important and timely issue which has captured the interest and the imagination of everyone in society."
Join our new commenting forum
Join thought-provoking conversations, follow other Independent readers and see their replies