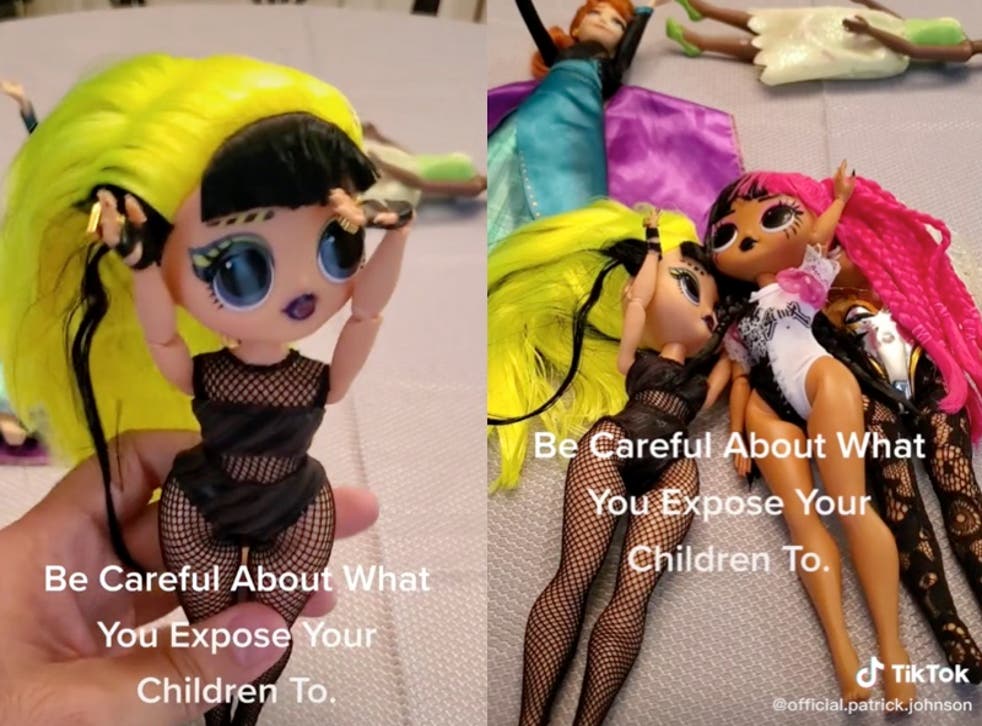 Father sparks debate with TikTok about clothing choices for LOL Surprise! dolls: 'What are we doing America?'
'Be careful about what you expose your children to,' father says
Chelsea Ritschel
New York
Friday 01 October 2021 16:00 Comments
Leer en Español
A father has sparked a debate about children's toys after he criticised the outfits worn by popular LOL Surprise! dolls as "inappropriate" in a viral TikTok.
Last month, Patrick Johnson, who goes by the username @official.patrick.johnson on TikTok and who describes himself as a pastor, addressed the design choices for the dolls, as some come dressed in fishnets and other trendy outfits, in a video shared to the platform.
He began the video by holding up his daughter's Disney princess Tiana doll, which can be seen in her classic green dress, and a doll from Frozen, who he described as a "wholesome little Barbie," before comparing the dolls to his daughter's new toys.
"Y'all, I don't know what we doing these days. Listen, my baby wants LOL dolls, I said ok," he said as he showed the Disney princess dolls, before throwing them to the side and insisting: "I'm upset!"
Johnson then held up one of the LOL Surprise! dolls he purchased for his daughter, which has neon green and black hair and can be seen dressed in a fishnet bodysuit, a pair of black shorts and a black cropped shirt.
"Look at these dolls they're giving our babies," Johnson continued. "What is we doing? She thick with it and everything, she got pantyhose on."
According to Johnson, he originally assumed that maybe it was just the one doll, however, he then explained that each of the four LOL Surprise! dolls that had come in the box were dressed in a way that he deemed inappropriate, with all of the dolls showing their legs or stomach.
"What are we doing to our children y'all?" the father asked as he continued to hold up the dolls he purchased for his daughter, before noting that he had told his daughter to find the doll's clothes as he assumed that you had to put the clothes on yourself. "We got to be careful what we're giving our children," he added.
Johnson's outrage continued as he showed the baby dolls that came with the box of LOL Surprise! dolls, which can be seen in similar punk-inspired outfits, with one doll's shirt reading: "Bad" and the other's emblazoned with "Baby".
"What are we doing to our kids? You got to be careful what you bring around our kids," the father reiterated, adding that his daughter "loves" the dolls and that he doesn't think he can take them away from her, but that he doesn't want her "thinking this is the way women dress".
The father then asked why we "can't just go back to Tiana" as he held up the Disney princess before concluding: "What's going on? Help me America. What are we doing? Is this what we're doing?!"
The TikTok, which Johnson captioned: "I can't believe I bought this for my daughter" and "Be careful about what you expose your children to," has since been viewed more than 10.9m times and sparked a debate about the appropriateness of the dolls.
In the comments, many viewers agreed with Johnson's criticism of the dolls, with one person writing: "People said Bratz dolls were bad, the LOL Surprise! dolls are 100 times worse."
Another person commented: "My baby just asked me for some of these dolls for her birthday! She will not be getting them though."
According to other viewers, the issue with the dolls is not their clothes but their proportions, as one person noted: "Less concerned about the clothes and more concerned about the unreasonable body expectations of those dolls."
Someone else asked: "Is that… a thigh gap on a doll?!"
The video also prompted comments from viewers pointing out that the dolls were previously condemned by parents after it was learned that, when dunking some of the "colour-changing" dolls into water, their clothes changed into lingerie-like attire.
"I refuse to buy those for my kids. Once you see what happens in cold water (the mini ones at least) you'll throw them in the trash for sure," one user wrote.
However, the viral video also prompted many to defend the dolls on the basis that children should not be taught to judge based on clothing choice.
"It's just clothes. I see nothing wrong with it. If y'all don't like it, don't buy," one person commented, while another said: "It's literally just clothes, let's teach kids not to judge others based on what they have on but based on their character."
Someone else added that they didn't know if Johnson was "joking or not," as they pointed out that the dolls are "MEANT TO BE GOTHIC AND EDGY".
This is not the first time that parents have complained about the clothing choices for the popular toys, as a mother recently described her issues with the dolls to WRAL, explaining that "you open it, and the doll is wearing provocative lingerie" and describing the dolls as "sexualised".
MGA Entertainment, the company behind the toys, previously described LOL Surprise! as "a fashion-forward doll brand designed to be fun and expressive," WRAL reports.
The Independent has contacted MGA Entertainment and Johnson for comment.
Register for free to continue reading
Registration is a free and easy way to support our truly independent journalism
By registering, you will also enjoy limited access to Premium articles, exclusive newsletters, commenting, and virtual events with our leading journalists
Already have an account? sign in
Join our new commenting forum
Join thought-provoking conversations, follow other Independent readers and see their replies