The Independent's journalism is supported by our readers. When you purchase through links on our site, we may earn commission.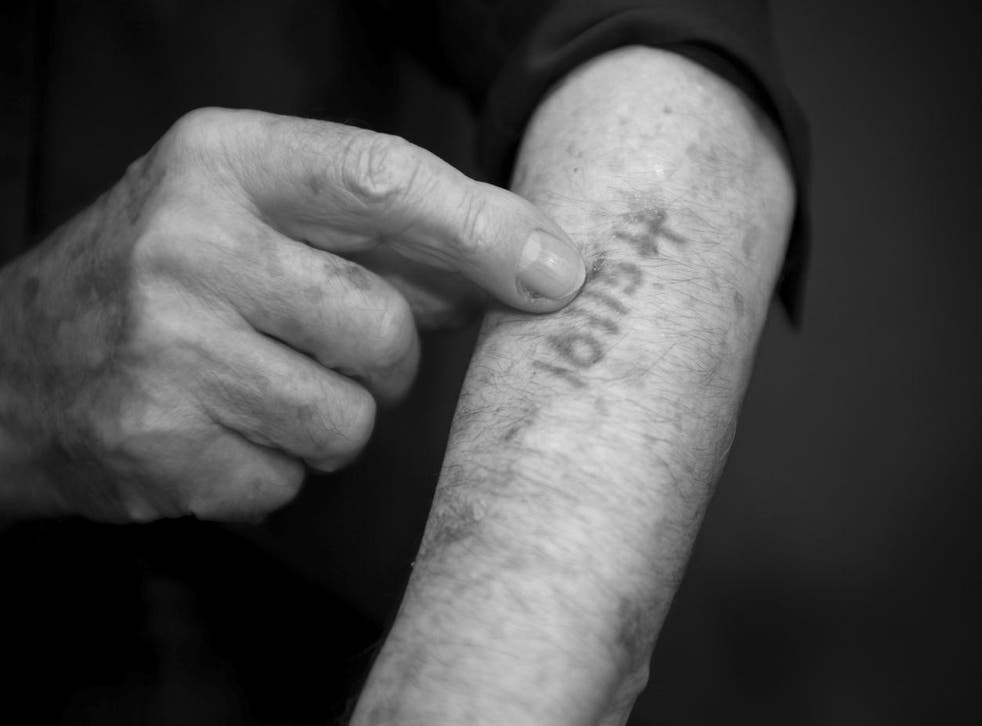 Extraordinary love story of the tattooist of Auschwitz
Amid the horrors of the concentration camp, Lale and Gita Sokolov fell in love
Sabrina Barr
Tuesday 09 January 2018 10:34 Comments
The incredible story of how the tattooist of Auschwitz found love in the concentration camp has been told in a heart-wrenching new book.
Lale Sokolov, born Ludwig "Lale" Eisenberg to Jewish parents in Slovakia in 1916, was admitted to Auschwitz concentration camp in 1942.
He offered himself to the Nazis to spare the rest of his family, without knowing the horrors that lay within the soul-destroying death camp.
Lale, now identified as prisoner number 32407, was forced to work in construction in the camp before contracting typhoid.
A French academic called Pepan took care of Lale while he was ill. Pepan, who had given Lale his numerical prisoner tattoo, made Lale his assistant and showed him the ropes with the tattoo supplies.
When Pepan disappeared one day, Lale was made the predominant tattooist of Auschwitz.
While Lale was still a prisoner of Auschwitz, being the chief tattooist afforded him privileges such as extra rations and a single room.
However, he knew that he was lucky every day just to be alive.
"He did what he did to survive," Heather Morris, author of The Tattooist of Auschwitz, told the BBC.
"He said you took whatever was being offered. You took it and you were grateful because it meant that you might wake up the next morning."
Of all the people that Lale was forced to tattoo, one made a remarkable impression on the tenacious man.
In July 1942, Lale was presented with the arm of a young girl, now to be known as prisoner number 34902.
Decades later as he recollected his first encounter with his one true love, Lale told Morris that "as he tattooed her number on her left arm, she tattooed her number in his heart."
The girl in question was Gita Fuhrmannova, an inmate of the Birkenau women's camp.
Lale enlisted the help of an SS guard to smuggle letters to Gita and was even able to sneak extra rations to her and her friends.
Lale used his advantageous position as chief tattooist to help as many people as he could.
He was able to trade goods with local villagers so that he could afford more rations for those in need.
When the Nazis began shipping prisoners out of Auschwitz in 1945, Gita disappeared without a trace.
However, Lale never lost hope of reuniting with his long lost love.
After being liberated from Auschwitz and returning to his family home, Lale made his way to Bratislava, a common place for concentration camp survivors to pass through on their way back to Czechoslovakia.
He was advised to try going to the Red Cross instead. However, he didn't make it the whole way there.
While en route, lo and behold a familiar young woman stepped in front of his horse in the middle of the street.
Lale and Gita had found each other again at last and married in October 1945.
After being imprisoned by the government for sending financial support for an Israeli state, the Sokolovs eventually made their way to Melbourne. The couple had a son, Gary, in 1961.
The origins of their love story remained a secret that only a few friends were aware of up until Gita's death in 2003.
Lale passed away three years later in 2006, with the knowledge that people all over the world would finally learn of the extraordinary story of his and his wife's enduring love.
Register for free to continue reading
Registration is a free and easy way to support our truly independent journalism
By registering, you will also enjoy limited access to Premium articles, exclusive newsletters, commenting, and virtual events with our leading journalists
Already have an account? sign in
Join our new commenting forum
Join thought-provoking conversations, follow other Independent readers and see their replies