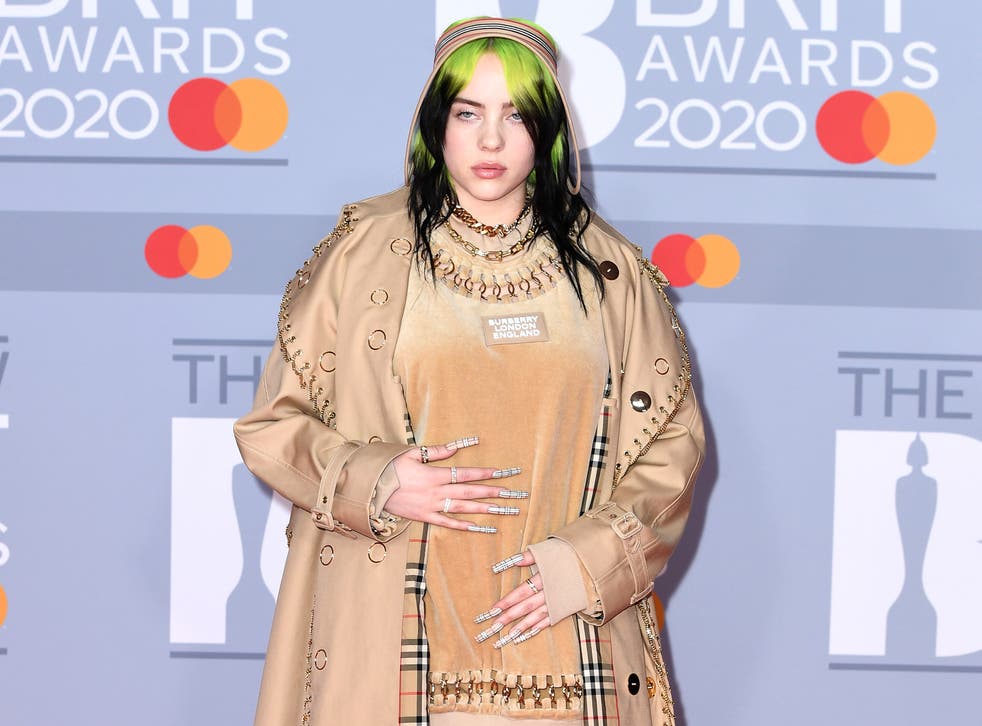 Billie Eilish opens up about break-up with rapper ex-boyfriend: 'There was just a lack of effort'
'I just wasn't happy,' said the singer
Natasha Preskey
Sunday 28 February 2021 16:01 Comments
Leer en Español
Billie Eilish has opened up about her split from her rapper ex-boyfriend Brandon Quention Adams.
Eilish and Adams, whose stage name is 7:AMP but the singer refers to as Q, never publicly confirmed they were dating.
In her new Apple TV+ documentary Billie Eilish: The World's a Little Blurry, the singer spoke candidly about her relationship and break-up with the musician.
It isn't known when the couple got together but Adams first appears in the documentary in scenes filmed in 2018 when Eilish was 16.
At the start of the documentary, Eilish, 19, is seen speaking to Adams, 24, on the phone, telling him: "I love you and I'm in love with you."
By the end, the couple are broken up, even though Eilish says she still loves Adams.
"I just wasn't happy. I didn't want the same things he wanted and I don't think that's fair for him. I don't think you should be in a relationship super excited about things that the other person couldn't care less about," the 19-year-old said.
"I don't think that's fair to you. I don't think that's fair to him. There was just a lack of effort. I was literally like, 'Dude, you don't have enough love to love yourself so you can't love me, dude. And you don't. [laughs] You think you do.'"
The singer said she couldn't "fix" the rapper, and felt she was missing out on other things because of the relationship.
"I do love him though, which made it harder. I'm not over him, I didn't find someone else," she said.
"I didn't stop having love for him. I just spent time away from him for a little bit and I was like, 'Wow I'm missing so much because I'm worried about you all the time and I don't want what you want and you don't want what I want.' I don't want to fix him. I can't fix him. I tried."
Later in the documentary, Eilish calls her boyfriend "self-destructive" after he breaks his hand hitting a wall.
She tells a friend: "I'm trying to get him to go to therapy. He's so self-destructive."
Eilish also speaks about Adams going away with his friends during Valentine's Day and not buying her a gift.
The singer said her boyfriend had been "really weird and distant" the night before Valentine's Day.
Speaking about him going away without her, she said: "I was just like, 'You know what? Have fun. Don't worry about me."
She continued: "'I'm miserable, and I miss you, and I wish you would talk to me, and I have no one else to talk to.'"
Eilish has spoken in the past about wanting to keep her relationships private.
"I can't even imagine," she said on Capital Breakfast. 
"I think about it sometimes. I think about the people that have made their relationships public...and then they break up and it's like, 'What if it goes back?'"
The star said she didn't like the idea of people forming opinions on her relationships, as they "have no idea about" them.
She also revealed that she regretted the "tiny amount" of her relationships that she'd shared in the past. 
Register for free to continue reading
Registration is a free and easy way to support our truly independent journalism
By registering, you will also enjoy limited access to Premium articles, exclusive newsletters, commenting, and virtual events with our leading journalists
Already have an account? sign in
Join our new commenting forum
Join thought-provoking conversations, follow other Independent readers and see their replies