Chelsea Flower Show hosts first wedding with same-sex couple
Garden designer Manoj Malde married Clive Gillmor in his own Eastern Eye Garden of Unity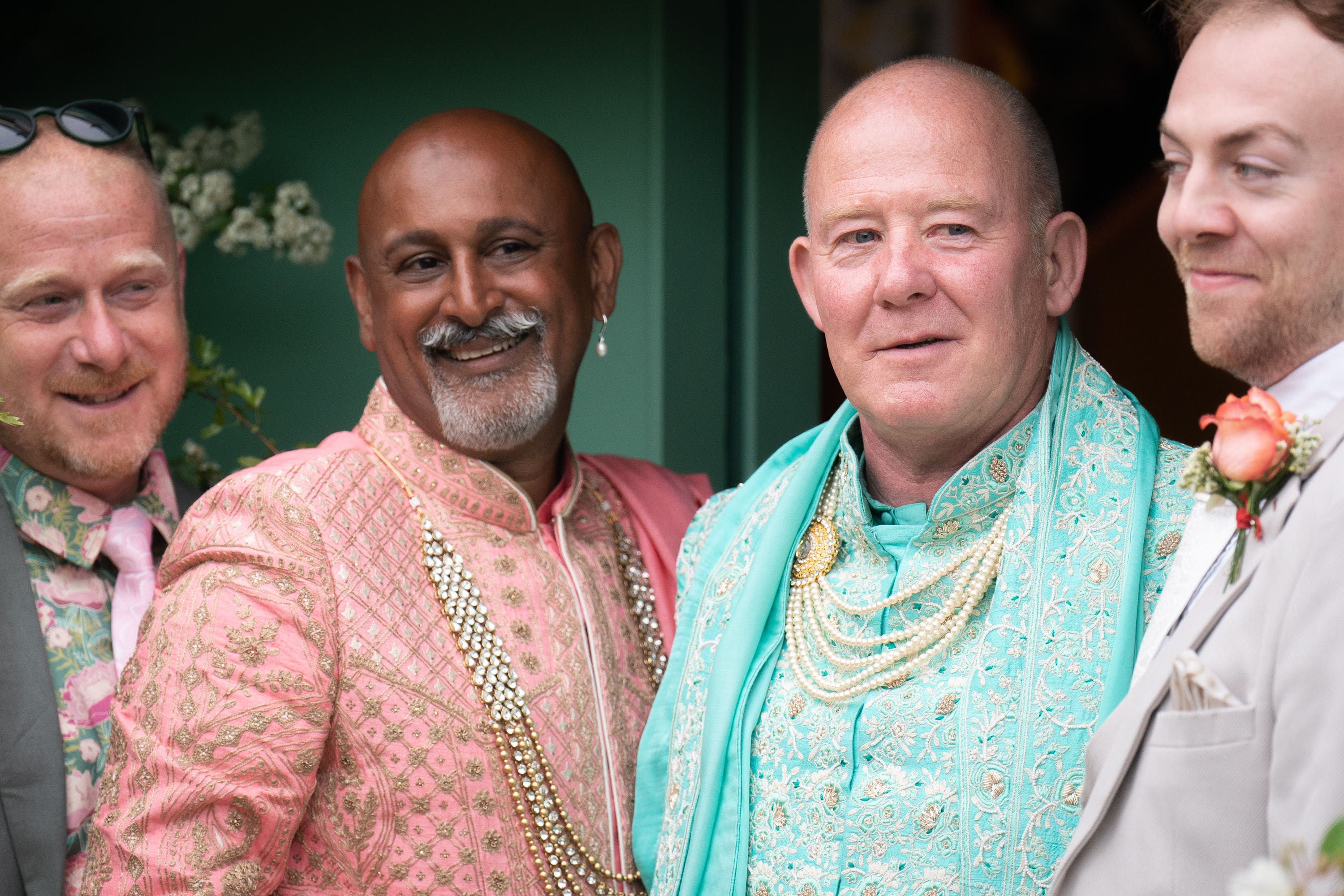 The Chelsea Flower Show has hosted its first wedding, between the RHS ambassador for inclusivity and diversity and his husband.
Manoj Malde and Clive Gillmor held a traditional HinduIndian wedding in the RHS and Eastern Eye Garden of Unity, which Malde designed himself.
It was also the first time the show hosted a same-sex marriage, which was legalised in the UK in 2014.
Surrounded by plants including Japanese cherry, cardoon and oregano, with floral beads and decorations dangling from pink and orange beams, the couple married in front of a colourfully-dressed crowd of onlookers, friends and family.
Recorded music from a sitar and flute wafted over the wood smoke from a fire pit in the centre of the garden while bees bobbed among the flowers.
James Alexander-Sinclair, an RHS judge who introduced the ceremony, told guests to bless the kalash, a metal pot with a coconut on top which also held the rings, while the the now-married couple walked around the fire.
After donning white floral garlands, the couple said their vows with Kensington and Chelsea registrar Steven Lord officiating.
Speaking to the PA news agency after the ceremony, Alexander-Sinclair said: "It's a Chelsea first and Chelsea one-off – it's not something you expect to happen at a flower show.
"Isn't it a glorious idea? Somebody who actually designs this garden about bringing people together, and then gets married on it. It's just a really nice way to connect the whole thing together."
The Eastern Eye garden contains Asian fruit and vegetables to celebrate Asian household cooking and drought-resistant plants to represent the UK's increasingly hot summers.
It is also paved with hexagonal slabs which represent a broken society, Malde told the RHS.
He added: "But when a broken society comes together, it is stronger. So those slabs, although they are separated, together they act as a path, representing that stronger society."
Malde, who was born in Mombasa, Kenya, wants to open up gardening to people who have traditionally been excluded.
He said planting food and highlighting diverse stories will help to attract a greater variety of people and that in his garden there are posts with messages in Braille so that blind people can enjoy it.
Alexander-Sinclair said: "Chelsea has been about a lot of things over the years, but it's really about everybody coming together and looking at something that they love and that they enjoy, which is gardening and flowers and the natural world and loving each other.
"So that's pretty much what that was all about.
"It shows that something that has been previously thought to be rather sort of stuffy and elitist is actually here for everybody.
"Gardening is there for everybody enjoy."