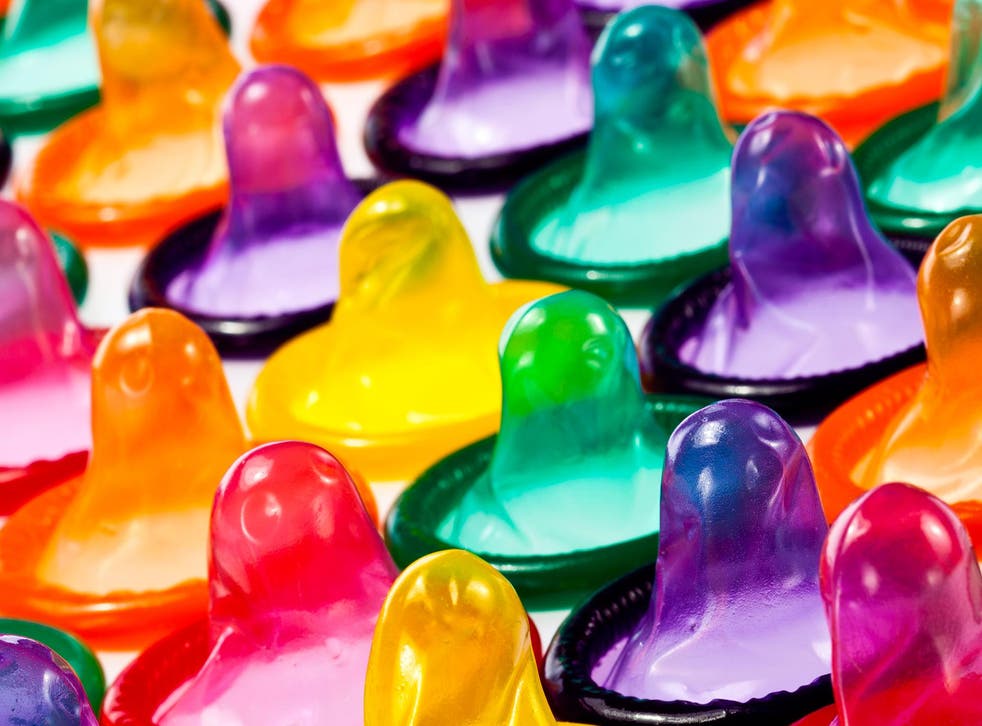 Condoms are getting bigger...and smaller – and it's causing a lot of problems
Whether you're below or above the average penis size, some men feel embarrassed buying the correct fit condom. So what are the options available, and why does it matter?
Kashmira Gander
Thursday 13 August 2015 11:50 Comments
When a teenage girl shoved her forearm into a condom, took a photo and told women on Twitter not to believe men who say they are "too big" to use protection, her post was retweeted over 25,000 times.
"If a boy ever tells you he's too big for a condom, please send him this", advised Emily, an 18-year-old from Utah, striking a chord with men who know better and partners fed up of being asked to risk STIs and pregnancy for another's pleasure. (And as they say, a small condom might be uncomfortable, but nothing kills pleasure quite like an unexpected baby).
But her post also poses a question about our obsession with, for want of a better phrase, large penises, which is also in turn a source of deep anxiety for many males.
The condom is arguably the most literal manifestation of such worries, and the size you are - or tell your friends you are - buying. So, what options are there for men who really are too big to use regular condoms? Equally, where do men with smaller penises turn in their search for protection?
Amazingly, males and their partners have been enduring ill-fitting condoms for millennia – they were first used in Ancient Egypt, and from at least 100AD in Europe.
Different sized condoms have been widely manufactured for only around 15 years. Durex launched its Close Fit range of varying widths in the UK in 2002, two years after its lesser known rival Pasante began offering different sized condoms due to customer demand.
"At that time no other condom company offered different sized condoms, it was a 'one size fits all' range from all manufacturers. Unfortunately condoms are not a 'one size fits all' product as some people prefer them tight, some prefer more room, and some are just plain bragging!" jokes Paul Boon, Pasante's UK marketing director.
Now, large and king size condoms have dominance over regular or trim sizes in parts of Europe, particularly Scandinavian countries, while smaller condoms sell better in the Far East, he explains, but doesn't elaborate on whether this is to do with size, a preference in fit or down to different types of social pressure. Earlier this year Thai officials pleaded with young males to stop buying unnecessarily large condoms after STI and pregnancies rates rose. Whatever the reason, the sale of bigger condoms is increasingly globally.
"People are starting to discover us and realise that they don't have to try and fit into something that is not comfortable for them," Boon says.
"Just as people are all different shapes and sizes, with different neck to shirt sizes, different hand to glove sizes, different foot to shoe sizes, the penis is no different."
Therefore, although condoms are very stretchy, friction during sex can cause condoms to split. Too short or narrow and the condom could break under the strain; too big and it can slip off, leaving users exposed to STIs and risking pregnancy.
Boon advises using a water-based lubricant to prevent friction even if the man is wearing the correct size, to prevent the condom from being damaged and to make sex more pleasurable for both partners.
Pasante plans to capitalise on the rise in demand for larger condoms by launching a new Super King range which measures at 69mm wide (the diameter of the penis) .
To put this into perspective, the firm currently offers trim at 49mm wide, regular measuring 54mm, and a 55mm large size. According to the NHS the average penis size in the UK is between 5.5 - 6.3 inches (14 to 16cm) when erect, and 4.7 to 5.1 inches (12 - 13cm) in girth, or circumference.
In turn, newly fitting condoms have ushered in a new level of anxiety for males, both with bigger and smaller penises. So what of the men who don't quite measure up to the average size?
Ant Smith, a 48-year-old engineering manager from London hit headlines last year after his poem 'My Small Penis' went viral - prompting him to organise a party for men with similarly sized genitals. He explains that he was always shy, but it was a passing comment from a friend which faced him with the prospect of being smaller, as his penis measures an inch when flaccid, and four inches when erect.
"I was never very self-aware growing up, so I don't think I knew (or admitted) my body image anxiety was related to my penis until I was in my late teens. A friend said quite matter of factly: 'not much there, is there?".
Did having a smaller than average penis affect Smith's life?
"Very much. Too much," he said. "I've avoided changing rooms - so not been involved so much in sports. I've avoided getting intimate with girls, so my early relationships were pretty fraught."
And buying condoms only made matters worse, he admits.
"Growing up it was a one size fits all mentality - we didn't have the internet then so it was a matter of what was on the chemist's shelf, or in the pub vending machine. They were always far too loose and once one came off, getting left behind, they just caused even more anxiety. It isn't easy to be sexy while you're groping around trying to ensure the condom stays on."
Asked what's to blame for society's fixation with big penises, Smith is reluctant to blame porn but sees it as a symptom of a wider problem.
"Every guy on the internet is at least 7" it seems. The borders between fantasy and reality are breaking down. There's no issue with admiring or desiring a big cock. The issue lies in the perception that they abound and that if you don't have one you're abnormal, alone.
"It's too simple to say size doesn't matter. Don't tell me size doesn't matter. I love my one inch wonder. It's a part of who I am. I won't deny it."
"Initially it felt deeply shaming [to admit to having a small penis]. But now there's almost a rebellious kick to it. 'My dick is small, and so? Why do you care?'"
In a world where large penises are valued above all other sizes, it might be surprising then that Smith, after much painful soul-searching, is happy to have his name published, but a man with a 7.5 inch penis asks to remain anonymous to avoid unwanted attention and has only once discussed it with his friends.
"I remember reading an article on penis size and seeing a diagram of an average erect penis, and mine was bigger by three or so inches," the 27-year-old professional from London recalls.
"I never discuss it with friends at all. One of my closest friends once found a pack of XL condoms in my room, and then we briefly discussed the matter. It's definitely not something I would discuss with friends or brag about. It would be like bragging about something you never achieved, and it seems everyone likes to brag about penis size so nobody would believe me anyway."
Like Smith, he agrees that the huge phalluses featured in porn have a part to play. "I think men want to believe they are good at sex and therefore believe if you have a bigger penis then you're automatically some kind of Casanova. I think a lot of that desire comes from wanting to perform like porn star who do have bigger penises than normal."
"The reality is, having a bigger penis does make having sex more complicated and there is a high chance you could hurt the other person if you don't use enough lubrication, and it can be quite intimidating for some women."
He's certainly not alone in his concerns, as the frankly named The Big Dick Problems forum on community website Reddit lays bare.
Topics range from how to hide erections, buying correctly fitting trousers, and requests for advice on how to prevent painful sex, as the average depth of a vagina is between three and four inches when aroused, with less being as long as seven.
The average penis size revealed - Media coverage in pictures

Show all 16
The 27-year-old bought his first pack of XL condoms when he and his first girlfriend experienced discomfort. As the too-tight condom wasn't wide enough to roll down his penis fully, the excess latex rubbed against his girlfriend's vagina. But buying them hasn't always been the easiest task, he says.
"If they aren't in stock I wouldn't want to ask a shop assistant. I only would buy them in the supermarket as I can hide it amongst my shopping and I can be more discreet about them."
"The embarrassment comes from what other people might be thinking, or the idea that it's some kind of ploy to flirt with the cashier in some weird way".
In a cautionary tale against buying big condoms that others might scoff at, he says the fiddly security boxes on condoms are a larger man's worst nightmare.
"On one occasion a manager at the supermarket had to be called to open up the security box, and after a minute or so of struggling and then getting other co-workers to help, a large queue had formed behind me and people were getting annoyed. By this time everyone behind me had seen what was causing the problem and some made comments."
Kerry Martin, a pharmacy dispenser in Brighton, is all too familiar with the tactics of red-faced condom buyers.
"Sometimes people fill a basket of random cheap items and then causally chuck a packet of condoms in and head to the till."
She adds that she's never even considered checking the size of a packet, and she's stopped noticing when people buy them.
"There really is nothing to be embarrassed about. We've all had to buy them at some point. Trust me, there are far more embarrassing things you could buy and we literally don't blink an eye at someone buying condoms."
It begs the question then, is such deep anxiety around sexuality and size merely down to social pressure, or is there an underlying biological or medical cause that men should be worried about?
Professor Dave Hosken, an evolutionary biologist at Exeter University, explains that penis size appears to have increased since humans diverged from our last common ancestor with chimpanzees and the other great apes. This suggests that when humans diverged from great apes, there must have been either positive selection for enlarged penis size in humans, or other evolutionary forces, such as genetic drift, in play.
"That does not mean that now or in the relatively recent past selection is still favouring larger penises ," he said.
And as penises are ultimately sperm transporting units, males must fit females as best they can. "And the best thing to do is to fit the average sized female so there is probably selection for intermediate penis size," explains Professor Hosken.
As for the future of penis size, Professor Hosken says it is hard to predict as measures of selection are imprecise and very difficult over long periods, and we don't know how genes will change over the long term.
Dr David Delvin, a consultant to the Sex & Relationships section of the leading health site Netdoctor, stresses that there is no medical basis for any male to worry about penis size. If a penis is unable to become larger than 6cm when erect, a male may have a 'micropenis', which can be caused by conditions such as Klinefelter's syndrome. Others with conditions such as sickle cell anaemia can have penises which grow to the size of a rugby balls. If a male is still concerned, Dr Delvin advises them to visit a sexual health centre, such as a the Brook Advisory Clinic.
"Why is 'feeling small' so important to boys and men? That's difficult to say. But it may be something innate in males. Also, when lads get to adolescence, there is often a lot of male banter about the importance of having 'a big cock' – the implication being that the bigger you are, the more women will like it. Which is wrong!"
Dr Delvin highlights two important factors of penis size anxiety that have become clear: many man are concerned about it, yet partners rarely complain. He has received over 10,000 queries from men who were convinced that their penises were too small. On rare occasions, men will approach him with fears their penis is too big.
He stresses that he has never received a letter or email from a male's partner about their lack of penile length.
So, as a self-confessed rebel and the leader of the penis size revolution, what is Smith's advice for those who still struggle with their size? "Own it. You are who you are. You're human. You're beautiful."
Register for free to continue reading
Registration is a free and easy way to support our truly independent journalism
By registering, you will also enjoy limited access to Premium articles, exclusive newsletters, commenting, and virtual events with our leading journalists
Already have an account? sign in
Join our new commenting forum
Join thought-provoking conversations, follow other Independent readers and see their replies