LIFESTYLE FEATURES
The 4 July wedding club: We're getting married after 100 days in lockdown
People in England can now tie the knot but will it be the big white wedding they envisioned? Sarah Young speaks to couples about how their plans have had to change to accommodate a pandemic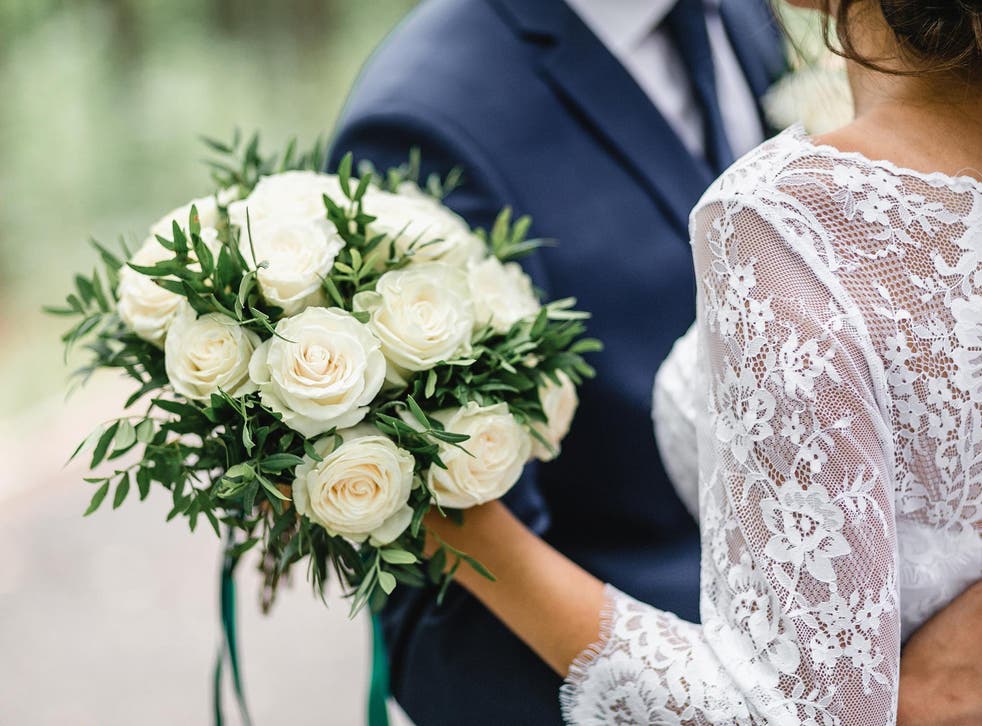 James Doc, 29, from London, was meant to be married to his fiancée [who chose not to be named] on Saturday 2 May. But like thousands of couples across the UK, they were forced to cancel their wedding plans after the coronavirus pandemic and subsequent UK lockdown stopped all mass gatherings and, eventually, weddings. Unlike others, who have pushed their wedding back 365 days to be safe, the couple did not commit to a new date and instead promised each other they would get married as soon as the law changed.
Following Boris Johnson's announcement on 23 June that weddings would be given the green light in England for Saturday 4 July, the couple felt "absolute relief" and quickly contacted their local parish church to get a slot. Now, after months of uncertainty, their nuptials will take place within the first 12 hours of the new rules.
James says that the last two months since their original wedding date have been a "time limbo" and that it felt "crushing" to be unable to walk down the aisle as planned. Now they are finally getting their big day, the couple are trying to be positive despite the compromises they will have to make (including a maximum of 30 guests, as per the new rules).
"It is okay to grieve the things that you might not be getting [and] remember this day is more than the party," James tells The Independent. "The day is about the promises you make to each other, the commitment that you are making today and for the future. It will be different, and it has forced us to think about what is important. He continues: "For us, that is about saying our vows to each other in the sight of God and our family and friends, then walking out into the world committed to living as husband and wife. We want to start our married life together, and it starts by making this commitment."
James and his fiancée aren't the only couple not wanting to wait around. Emily Smith, 29, and her husband-to-be Ben, 35, spent months planning their four-day long wedding at The Ash Barton Estate in North Devon, which was originally scheduled to take place between 2 and 6 July. Throughout lockdown, the couple held out in hope that their big day would be able to go ahead and couldn't believe their luck when they heard that the rules were changing. Playing the waiting game had paid off.
"Our first reaction was excitement. Ben and I had come around to the conclusion that our wedding wasn't going to happen, so when we found out that we could have an intimate wedding, we just felt sheer joy," Emily says, adding that while they were thrilled they would finally be able to tie the knot, the government's strict new rules meant they had to rethink their plans "drastically".
In England, weddings have been given the go ahead, with the devolved nations (which are now following their own roadmap out of lockdown) also permitting small ceremonies. In Northern Ireland and Scotland nuptials must take place outdoors, and in Wales weddings are allowed at official register offices and places of worship.
While this is ultimately good news, couples who are desperate to get married are having to completely overhaul their initial plans to suit new government guidelines, which prohibit a host of big day traditions, such as singing, drinking and being escorted down the aisle.
According to the rules, weddings in England can have a maximum of 30 attendees (including staff and celebrants) and traditional touches like champagne toasts have been banned to reduce the risk of virus spread. Other rules include social distancing of at least two metres, or one metre with risk mitigation, while couples are being forced to find a way to wash their hands before and after exchanging rings without killing the mood.
While Emily is happy to adhere to government guidelines, she admits there are some aspects of the traditional wedding she will miss, like being walked down the aisle or hugging relations. "Knowing that we cannot give our family hugs on the big day is difficult and walking down the aisle," she says. "We can keep this in some form, but it will be like walking near each other as opposed to next to each other. It is all those small details that we take for granted." Emily says they are planning "virtual hugs", which will involve mirroring guests to express their love.
They have also had to severely cut their guest list. "We are having our immediate family plus one or two guests. It's going to be really intimate, but we will return in June 2021 for a larger celebration."
Jo Lea, 27, and Nick Birch, 28, from Sandbach in Cheshire will also be getting married this weekend – on Sunday 5 July – which marks their two-and-a-half-year anniversary. The sentimental date had always been their planned wedding day and throughout lockdown the pair were convinced, like thousands of other engaged couples across the UK, that they would be forced to cancel and rearrange until after the pandemic.
Second wedding for couple after husband with dementia forgets first

Show all 5
When she heard the news that weddings could take place, Jo says she felt delighted but couldn't help but worry whether a mid-lockdown ceremony could really compare to the big white wedding they originally envisioned.
"I'm sure we'll still have a wonderful day and, as everyone keeps saying, it's a story to tell the grandkids, but I do think the ceremony will be more stressful than it would normally be," Jo says, explaining that her bridesmaids are only permitted to walk down the aisle as far as their pre-assigned pews, and that she will have to walk in alone.
"Nick will have to stand at the front on his own, we won't be able to get any group photos at the end and guests will be sat in every other pew, and only one household per pew at that. It's all going to feel quite detached," she adds.
"Our reception is also now a small garden party of six. We're borrowing a gazebo, cooking our wedding breakfast ourselves and still having a cake but I'm just quite sad that my sister, uncle and nan can't celebrate with us in the afternoon. I wish they could."
Other couples have decided that they can't face the limits the new rules require and will be sticking to a 2021 date instead. Francesca Meyrick-Cole, 33, and her fiancé, Ryan Gillett, 30, both from London, have decided to go ahead with moving their wedding to next year and say they have felt "disheartened" by the limitations on guest numbers being imposed by the government.
"The way weddings can go ahead as of July sounds like they'd be void of all of the fun and sparkle you'd want it to have," Francesca says. "Weddings are such a heart-felt, love filled day and a hugely emotional event to plan as you want it all to be near perfect, in the way you imagined. So, without a vaccine widely available, we don't feel like we can take a chance on such an important day and risk it having to be called off at the last minute."
Whether any of us will be able to attend a "traditional wedding" anytime soon remains unclear but perhaps a re-evaluation of what really matters has been long overdue. When you're planning a wedding day, it is easy to get caught up in the desire for perfection and obsess over every minor detail but with most people's realities already upended by coronavirus, getting hitched without worrying about Pinterest boards doesn't necessarily have to be a bad thing.
Register for free to continue reading
Registration is a free and easy way to support our truly independent journalism
By registering, you will also enjoy limited access to Premium articles, exclusive newsletters, commenting, and virtual events with our leading journalists
Already have an account? sign in
Register for free to continue reading
Registration is a free and easy way to support our truly independent journalism
By registering, you will also enjoy limited access to Premium articles, exclusive newsletters, commenting, and virtual events with our leading journalists
Already have an account? sign in
Join our new commenting forum
Join thought-provoking conversations, follow other Independent readers and see their replies