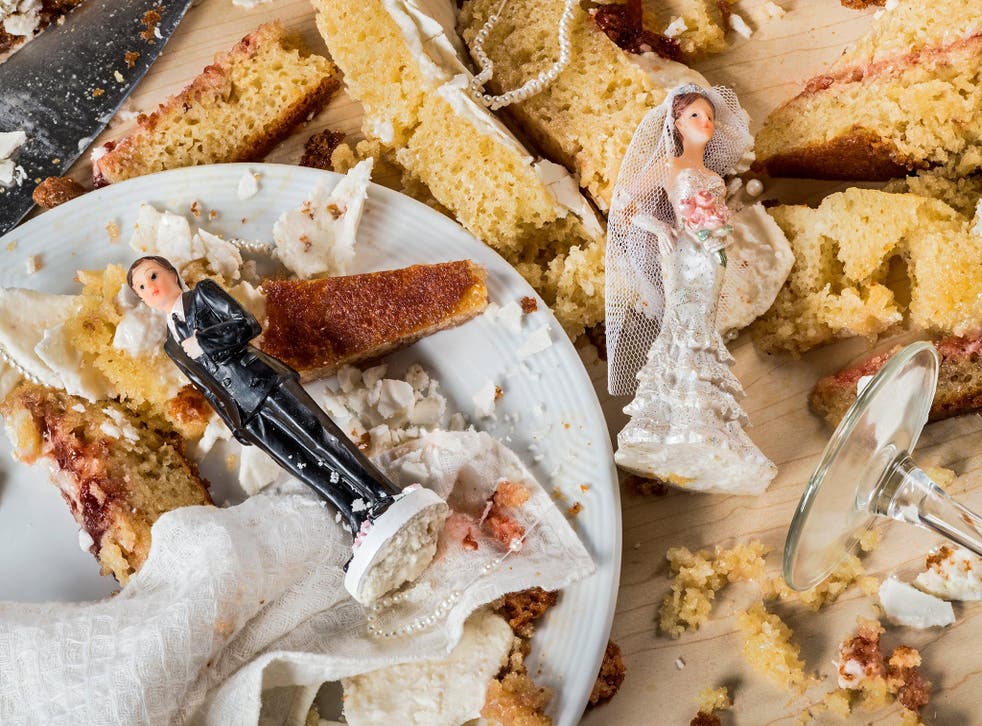 What it's like to be a Director of Romance at a luxury hotel
'I've had to get red wine out of a wedding dress and lipstick off collars'
Kashmira Gander
Thursday 02 March 2017 11:36 Comments
"I had to carry a coffin at a Halloween wedding once," recalls Amy Thorne. "It was quite bizarre."
But as a Director of Romance at a hotel, Thorne knows that whatever a couple wants goes - no matter how odd it may sound to her.
Thorne, 42, has worked as the Director of Romance at the grade two listed 18th century Washingborough Hall boutique hotel in Lincoln for two-and-a-half years. She cut her teeth in 'romance' running an independent wedding planning business for half a decade. Before that, she was a press representative for a high-end events company.
Day-to-day she is tasked with making what couples hope will be some of the most memorable days of their lives run without fault. That means helping nervous brides and grooms to plan their weddings; arrange flawless engagement proposals, and welcome newlyweds into married life with perfect honeymoons.
That can involve co-ordinating the minute details of timing on a wedding day, down to the colour of rose petals sprinkled on bed sheets, to offering advice to nerve-wracked soon-to-be-spouses. Since starting at the hotel, she has helped well over 100 couples.
It's safe to say, Thorne knows a thing or two about dealing with stress in a job where customers can be understandably irrational in their demands and tensions can run high.
"We always want to please our couples," Thorne tells The Independent. "On at least two occasions I've been stood in the garden trying to light over a hundred tea lights in a howling gale. Gas lighters are great but not with the British weather."
Magical wedding proposals created by The Proposers

Show all 8
"It's not just the classical times of year that people want to get married these days," she explains. "Traditionally lots of people liked to get married around Christmas, Valentine's Day and summer like you might expect. But we increasingly see people wanting to get married at other times of the year including Halloween and all that entails.
"We decorated with skulls, bats and it culminated with me helping to carry a coffin with a moaning skeleton in it to complete the scene. Not typical of a country house wedding. This is something I never envisaged having to do being a director of romance."
"An emergency kit is always to hand," she goes on. "I've had to get red wine out of a wedding dress on one occasion, and get lipstick off collars," she says without elaborating on why a groom had lipstick on his collar on his wedding day. "One bride likened me to Mary Poppins," she adds.
"At face value it might sound glamorous and easy, but to make people's dreams comes true takes a lot of hard work and dedication."
On a couple's big day, Thorne is on-call for 12 hours straight. While she says a wedding is a joy to be involved in, she admits that getting a work-life balance can be a challenge.
"You need to be a good listener and at times a bit of an agony aunt as weddings can naturally be stressful for couples and it always helps if they have somebody to talk to."
"But assisting couples with their wedding is a nice thing to be involved in. The start of their new chapter together is a real pleasure to share in."
"I am naturally calm," she says, adding that most of her job involves managing people. And after almost a decade make weddings perfect, she's learned that nothing works quite like a big hug to calm anxious members of the wedding party.
Register for free to continue reading
Registration is a free and easy way to support our truly independent journalism
By registering, you will also enjoy limited access to Premium articles, exclusive newsletters, commenting, and virtual events with our leading journalists
Already have an account? sign in
Register for free to continue reading
Registration is a free and easy way to support our truly independent journalism
By registering, you will also enjoy limited access to Premium articles, exclusive newsletters, commenting, and virtual events with our leading journalists
Already have an account? sign in
Join our new commenting forum
Join thought-provoking conversations, follow other Independent readers and see their replies