Couple attempt Dirty Dancing lift and knock themselves out
They've not had the time of their lives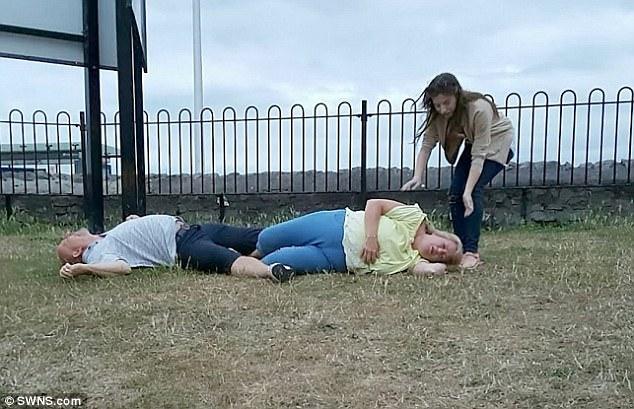 A couple tried to recreate an infamous scene from Dirty Dancing – and ended up in hospital.
Andy and Sharon Price were left unconscious after their attempt failed and they collided, leading to a blue-light dash in an ambulance to A&E.
The engaged pair had watched the 80s movie more than 30 times and wanted to do the famous life on their big day.
But practicing their moves in a pub garden wasn't the best idea – Andy, 51, was knocked out cold and Sharon, 52, was bruised and severely winded.
Jennifer Grey made leaping into the arms of Patrick Swayze so much easier, but for the Price's it ended in drama.
At first, their family members thought they were messing around, but realised it was serious and dialled 999.
Sharon said: "I have always loved Dirty Dancing and it is one of my all-time favourite films.
"We were in the beer garden and my niece and nephew were messing around trying to do the lift.
"So I looked at Andy and suggested that we have it as our first dance at our wedding.
"We immediately set about trying to recreate that iconic moment. But it's fair to say it didn't go to plan.
"When I ran at Andy he tried to lift me, but we just collided.
"At first our family thought we were just messing about but they soon realised we had actually really hurt ourselves."
Sharon said doctors at Southmead Hospital in Bristol laughed when they discovered how they'd got their injuries.
The couple say they're still in pain – Andy has a bruised back and Sharon's still hurts.
They've known each other for 18 months and plan to tie the knot later this year. But now, instead of dancefloor acrobatics, they'll be settling for a "slow one" for their first dance instead.
Andy's niece Kerry, 21, who took the photos, said: "We didn't know how serious it was until we saw them on the floor."
Join our commenting forum
Join thought-provoking conversations, follow other Independent readers and see their replies