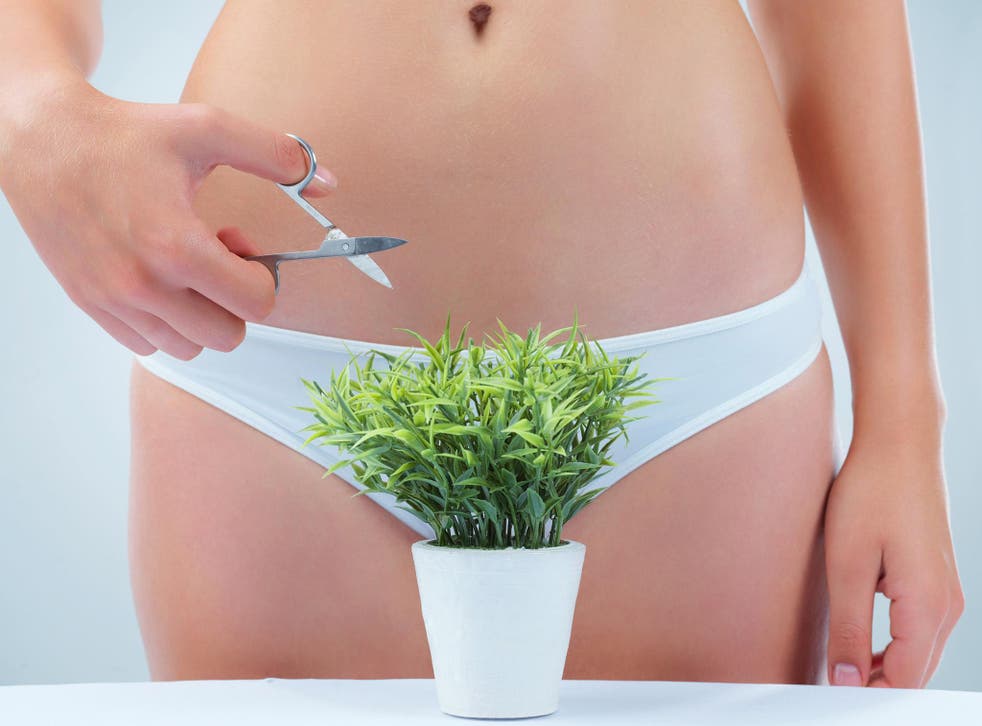 Is pubic hair finally back in fashion?
Pubes have been enemy number one when it comes to grooming for years - but that might be about to change 
Kashmira Gander
Friday 07 July 2017 12:16 Comments
"Did pubic hair go extinct while I wasn't looking?" a confused viewer recently asked when watching the dating gameshow Naked Attraction on Channel 4. "What's so wrong about pubes?" chimed another.
Almost two decades after the hairless Hollywood wax became the only acceptable state for the genitalia of women - and to a lesser extent men - is pubic hair finally making a comeback?
It's a question that model Amber Rose posed when she Instagrammed a nude photo of herself reclined in a chair with her pubes on show captioned "#bringbackthebush", which was later removed from the platform. It sparked an intense debate proving how controversial a few tendrils of hair can still be. Commenting on the photo, she told Refinery 29: "I feel like as women, we always feel like we need to shave or wax — and if we don't, then we're considered unkempt or unclean or we're gonna smell funny. I believe that it's natural and we shouldn't be ashamed of it."
Below: A post Amber Rose shared after her #bringbackthebush image was deleted
A video released in December 2016 by students at Bristol University entitled 'How do you shape your bush' similarly made headlines in the UK, further confirming that hair-down-there is a topic ripe for discussion. And, as Vice recently reported, pubes are even back in porn, which has long been blamed for women having to go hairless in the first place.
It's a change in attitudes that the founders of Fur, believed to be the first ever premium pubic hair grooming product, are betting on. Their products include their best-selling stubble cream, fur oil, and ingrown concentrate.
"Fur started as a conversation between sisters. We were discussing exciting trends in beauty towards natural products and defining your own beauty, and away from prescribed standards," Laura Schubert, co-founder of Fur tells The Independent. "As we talked, we realised available body hair products were not in line with this movement - the ingredients were harsh, the packaging was unsophisticated, and they focused only on removal – hair as a problem."
While some might argue that the market is already saturated with grooming products, Schubert says Fur, which was recently featured in Vogue, is designed to care for the "unique environment of body hair and skin" in the pubic area "to treat it like your fur, which is what it is, not an embarrassing growth."
"The unnecessary shame around having them, or even discussing them, is being challenged more and more," she adds. "Whether or not you choose to shave all your pubes, groom them, or grow them out, everyone should be entitled to make that choice."
But choice is a prickly subject in this debate. A recent survey showed that 46 per cent of heterosexual men still prefer women to be completely bare, 30 per cent want their partner's hair trimmed hair, and 12 like to see a landing strip-style Brazillian. More shocking, however, was that 30 per cent said that pubic hair is a deal breaker in a relationship. A few thousand strands of keratin can totally eclipse every other aspect of a person. Nevermind the fact that people with no pubes are 80 per cent more likely to catch a sexually transmitted disease, according to research.
So, sure, it's easy to say that we all have a choice over whether or not we should go bald like a baby or having a fully blooming lady garden, but less of us than would perhaps like to admit have the confidence to stand in front of their partner with their pubes as nature intended and say "yeah, and what?" knowing full well it might make them shudder.
"Oh my god YES!" says Shannon, a 25-year-old living in London who asked not to be fully identified, when asked whether she feels pressure to go completely bare.
"I was seeing this guy a few months ago and when we were lying in bed after sex, he asked me what my thoughts were on pubic hair," she recalls. "I replied that I literally didn't care, whether on a guy or a girl. He replied basically saying he prefers a girl to be hairless or at least have minimal public hair. Seeing as I was not in such a state, it's safe to say that knocked my confidence a bit. It wasn't until afterwards that I realised I was really angry that he'd said that."
Period euphemisms around the World

Show all 8
"However, I've slept with other guys who don't seem to give a f*ck that I've had a pretty full bush, so that's cool."
Shannon adds that cost is also a factor. Although her friends say they prefer the feeling of being waxed, few can afford to fork out for treatments that can cost up to £35 a month.
"There's a belief that if you're hairy, he won't go down there - but I'm trying to only care about what I think, not what they think. I think removing all hair is a bit weird because you look like a prepubescent girl," she adds.
Alexandra Heal, 23, who filmed 'How do you shape your bush' with fellow former Bristol University student Jessica Sartenaer, 21, chimes with Shannon's experience.
"The defining moment for me when it comes to pubic hair was the first night of a holiday with two childhood friends when I was 19," she tells The Independent. "I hadn't had any reason to 'garden' since a breakup a few months before, and it was looking pretty wild, but I didn't care at all - until the friends noticed it as I was getting into the shower. They couldn't believe their eyes, I had provided solid entertainment for a good ten minutes," she says. "They were jokingly disgusted and soon I was too; I was promptly in a salon having it all waxed off."
Now, she's more relaxed and switches between a Brazilian in the summer and a trimmed bush the rest of the year. "I've flirted with the idea of growing out my armpits and legs and am ashamed when I still squirm at the idea of publicly visible body hair, but this shows how socially conditioned even us self-proclaimed feminists are."
As with many areas of sex research the politics of pubes is often framed in a heteronormative way, and there are few stats on the pubes of people identify as lesbian, gay, bisexual trans, assexal and queer (LGBTQ). But the weight of having stark naked genitalia seems just as pervasive among people who aren't straight or cisgender. Stevie, a 25-year-old bar manager in Norfolk who identifies as non-binary, queer and uses the pronoun "they", says they have felt that the state of their body hair wasn't simply their own choice to make.
"I used to feel a lot more pressure, for instance in my earlier relationships, to present my body in a certain way. My first serious partner didn't like for me to remove body hair at all. I imagine he - consciously or otherwise - perceived it as a threat, believing that the only justification for the removal of hair was to attract another person, a new sexual partner.
"I have also had partners that did not understand why I was so hair-friendly. Basically, it's taken a little while to get here, but I don't date oppressive types any more and I am both hairier and happier for it."
"Public hair is definitely a fashion thing and it depends on what 'scene' you're in," says Paul Bloomfield, a 33-year-old PR Consultant living in London who identifies as gay, and has been told by partners to shave off his pubes. "What I think is interesting is that for men it seems tonnage totally swapped over. Straight guys in the 1980s were hairy and gay men shaved everything. Now it's the opposite. Maybe because hair is thought of as being masculine."
"I've had past sexual partners who wanted me to shave and when I was younger I did it but then it got irritable and took too long to come back so I don't tend to do it anymore. Again...if you don't like it sod off."
Stevie is similarly ignoring negativity towards their hair. "I began to contextualise my own hair into a wider context, and relinquished all of those previously constructed insecurities to pave the way for a lot of not giving a f*ck anymore about what people think and occasionally even enjoying their repulsion. I'm saving time, saving money, being more environmentally in-tune, and being more my hairy grown-up self."
"There is always a danger of reversing the fetishisation of a cultural modus operandi such as grooming when you try to reveal the faults in it," they argue. "Whilst a lot more people seem to be reading and writing about hair - indeed, to some avail) - as always there are going to be people who are going to point at you and snicker, whether you are rocking some next-day stubble or a fully-fledged jungle, because people are stupid."
Their advice is simple: "the key is pretending you don't care what other's think until you genuinely don't care. Only then do you learn where your own limitations and comfort zones lie, and start making decisions based on what makes you feel good and suits your schedule and routine and your body, instead of on whether someone who isn't you thinks you fit into the cultural ideal enough to be one of the ones with snickering privileges."
The choice, it seems, isn't about whether you prefer to resemble a jungle or a beach ball, but if you can easily toss aside the jibes of others. And those who can might just lead the way towards a very fuzzy future.
Register for free to continue reading
Registration is a free and easy way to support our truly independent journalism
By registering, you will also enjoy limited access to Premium articles, exclusive newsletters, commenting, and virtual events with our leading journalists
Already have an account? sign in
Join our new commenting forum
Join thought-provoking conversations, follow other Independent readers and see their replies