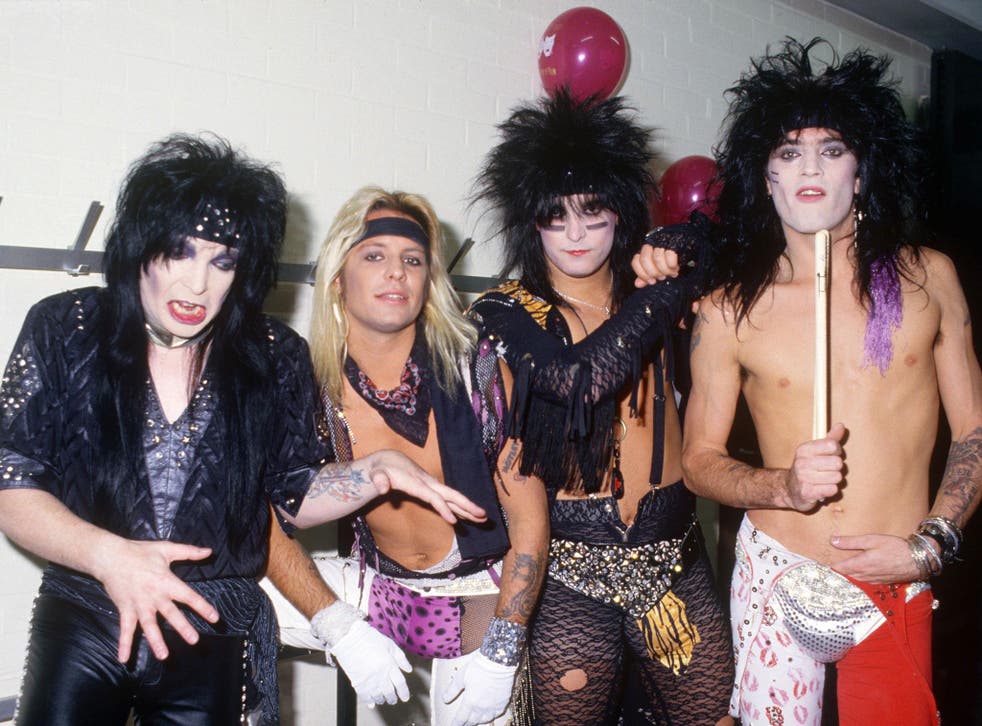 Mötley Crüe vibrators: How branded sex toys can sexually liberate fans
What kind of motley crew would want to put its name on a new range of vibrators? Kashmira Gander reports on the latest spin-off from 'hair metal'
Noise. Sweat. Black leather. Thrusting. The links between sex and "hair metal" are all too obvious; it's the blatant expression of a taboo-busting sexuality that began with Elvis the Pelvis, developed under such masters as Mick Jagger and James Brown and ended up with Rihanna singing an ode to S&M.
Now US metallists Mötley Crüe have made the connection more concrete still – with characteristic subtlety releasing a set of sex toys next month, in collaboration with the erotic retailer Lovehoney. The collection features eight mini and medium-sized vibrators, all cheerfully decorated with band's artwork and named after such of their songs as "Dr Feelgood", "Girls Girls Girls", "Shout and the Devil" and "Too Fast for Love". (I would have done "Same Ol' Situation" to tap into the market of people fed up with their non-existent sex lives, but perhaps that's why I'm not in marketing).
However, the Crue are not the first to get into this line of business. The band's foray into sex toys follows a similar collaboration between Lovehoney and the British rock band Motorhead, who last autumn launched the Ace of Spades and Overkill vibrators, which sold out overnight. Emboldened by theat success, Lovehoney now plans to release two glass dildos and an "extremely powerful" wand vibrator topped with a "War Pig" stimulator. Brace yourself.
Both products have been rolled out following the success of the "novel" Fifty Shades of Grey, which Lovehoney cleverly tapped into in 2012 and as a result saw 30 per cent rise in their sales of sex toys. And – while some in the old BDSM community (that's bondage, dominance, sadism, masochism) may have claimed that they were at best sexist and at worst dangerous, Lovehoney is delighted. "Linking sex toys to the names of household celebrities is a great way of introducing popular sex toys such as vibrators and cheaper bullet vibrators to a mainstream audience," says a Lovehoney spokeswoman. "This kind of product licensing has enabled us to introduce the brand to a new audience - many of whom may be experiencing sex toys for the first time."
Even so, there have been trailblazers. In 2009, the German industrial rock band Rammstein took the title of their 2009 album Liebe Ist Für Alle Da ("Love is for Everyone") to a new level of literalness by releasing a special edition with extra tracks and six dildos. The American glam rockers Kiss have licensed their name to, among many other products, condoms. (Their frontman Gene Simmons is open about the fact that he lives to make money.) Meanwhile, the condom firm Durex has collaborated with artists including JLS and Daft Punk. Marvin Humes of JLS, who split in 2013, said at the time: "We came up with the idea of 'Just Love Safe' [spot the initial capitals], because we wanted to send a clear message out to fans who are over 16 and sexually active - and that is to always use a condom during sex.
At the more unsettling end of the spectrum, for both artists and publicists, are unofficial sex products. Madonna famously had her image hi-jacked for a range in 2001. And now, an Etsy seller, GeekySexToys, is capitalising on the Pokemon Go craze with a "Pokemoan" range of naughty toys, whose names include Bulby, Charmy, Squirty and Piky (based on the beloved children's characters Bulbasaur, Charmander, Squirtle and Pikachu).
Where tech meets sex

Show all 6
But really, other than being a little eyebrow-raising for the more prudish among us, is there anything wrong with such products? Granted, rock stars are hardly bastions of women's rights; groupie culture actually inspired the Rock Against Sexism movement of the late 1970s and 1980s. However, such accessories are also symbols sexual liberation: think of the waves, or vibrations, after Sex and the City discussed the Rabbit dildo in 1998. And researchers at Indiana University recently found that using vibrators is linked to positive sexual functions such as desire and the ability to orgasm, as well as maintaining an erection in men; and that users were likely to care for their sexual health, for example by self-examining or visiting the doctor.
"The intention of the JLS rage was to make the consideration of safer sex more appealing to younger people, and to help make conversations about protection as normal as conversations about the latest chart music," says Durex Sex and Relationships expert Alix Fox. However, she cautions fans to ensure they are buy branded accessories that are safe and offer effective protection.
Now, in an age when sex is less shocking than ever, we should welcome such dvelopments, argues the author and public relations expert Mark Borkowski. "Richard Branson was the first to do it when he launched Mates condoms during the rise of AIDS awareness in the Eighties," he says. "Likewise, the Rabbit phenomenon became a genuine conversation about women taking control. And then Ann Summers and their product parties had a big cultural effect on people. It was no longer thought odd to keep a vibrator in your bottom drawer. If a woman had even said that in the 1980s and 1990s, she'd have been seen as weird. That's genuine self-help."
However, he adds: "Mötley Crüe is a slightly boorish middle-aged white male version of it." Quite. And probably unintended, too.
Join our new commenting forum
Join thought-provoking conversations, follow other Independent readers and see their replies