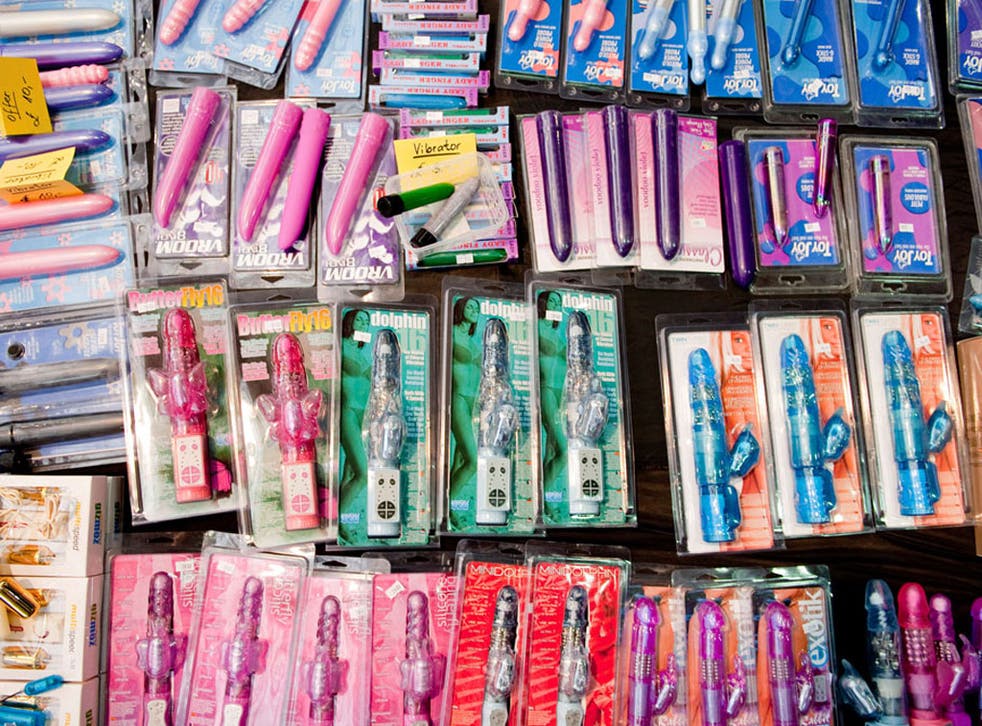 Hardcore, hard-wired: How the prevalence of porn is changing our everyday lives
It's everywhere – from pop videos to fashion magazines to the theatrical stage. But is the creeping ubiquity of pornography in our popular culture changing the way we behave towards each other?
Lena Corner Comments
So, Sarah Ruhl's play 'In The Next Room', commonly knows as 'The Vibrator Play', has finally arrived on these shores for its UK premiere. It has come from Broadway via Peru, Sydney and Nantucket, picking up three Tony nominations and polarising opinion along the way. It will be interesting to see what the genteel patrons of the Theatre Royal in Bath, where it opened a few weeks ago, make of what is essentially a play about the marvels of a good vibrator.
The opening of Ruhl's play followed hot on the heels of the screening of Channel Four's More Sex Please, We're British, a prime-time, behind-the-scenes documentary at sex-toy firm Lovehoney (featuring, as The Sun so elegantly put it, Britain's worst job – sniffing returned sex toys to see if they have been used). And now we hear that chart high-flyer Grimes, aka Claire Boucher, current darling of the indie-electronica scene, has just launched a range of "pussy rings" – essentially large plastic replications of female genitalia – to be worn loud and proud on any digit you choose.
But, of course, all this is nothing new. Explicit imagery has been seeping into the mainstream for years and this just happens to be a random sample of things that are going on this month. We've only just stopped talking about Tulisa's sex tape, Rihanna's X-rated crotch-slapping on Saturday Night Live (YouTube it) and the success of EL James's erotic Fifty Shades... trilogy. Still, it seems the pace of the pornification of our pop culture has just stepped up a notch.
"Pornography manifests itself in movies, TV, music videos, fashion – it's absolutely everywhere," says advertising consultant Cindy Gallop. "Nobody quite knows how all this is going to play out because it's never happened in the history of humankind before. There is a complete lack of open, healthy dialogue around porn in our society. It's everywhere, yet nobody ever talks about it."
Gallop's frustration with what she sees as our refusal to address the "creeping ubiquity of hardcore pornography in pop culture" drove her to create a website called Make Love Not Porn. It's a site that is born out of personal experience because Gallop, who is a 52-year-old former executive at the advertising agency Bartle Bogle Hegarty, has spent the past decade casually and recreationally dating lots of different men in their twenties. As such, she is particularly well placed to witness first-hand the impact this pornography binge is having on our youth.
"I am, if you like, my own research material," she says. "This is an issue that would never have crossed my mind if I hadn't encountered it very directly through having sex with these men. I realised the ubiquity of online porn and its ease of access is having a huge impact on our sex lives."
What Gallop started to notice is that the men she was having sex with were learning everything they did by watching porn: "Almost all mainstream porn is made by men for men," she says. "The entire raison d'être of these sex scenes is to get the man off. So, as a result, an entire generation of guys and girls are growing up believing that is the be-all-and-end-all of sex. Pornography does not teach women to expect their own pleasure, or ask for their own pleasure, and it certainly doesn't show them how to achieve their own pleasure."
Jessica Coen, editor-in-chief of women's sex and fashion website Jezebel, agrees: "It has become increasingly common for young men to request things during sex that they have learnt from hardcore porn – this wasn't happening before porn became so widely available. We have to teach young men how to temper their expectations, how to treat women properly and that there is a big gap between pornography and reality."
It used to be that the line between what constitutes porn and what doesn't was clearly defined. Porn existed in the sticky pages of Razzle magazine. But now it's more blurred. In our post-internet culture, we live in a world where porn stars make the crossover into the mainstream and fledgling actresses further their careers by getting their tits out in FHM. Witness, for example, the career of Sasha Grey: once the proud recipient of "best three-way sex scene" at the Adult Movie Awards, she has now acted in a Steven Soderbergh film and appeared in the hit TV series Entourage.
There has long been a blurring of boundaries in the fashion industry, too, and it seems, porn stars are the current must-have accessory. Iconic fashion designer Marc Jacobs recently showed off his Brazilian porn actor boyfriend Harry Louis on the beach in Rio; Calvin Klein had one, too – 22-year old Nick Gruber – although it's been a bit off and on, especially since Gruber was arrested recently for possession of cocaine.
As we all know, sex sells – it's estimated that the UK sex-toy market is now worth £250m a year – so it's not surprising that American Apparel, the supplier of block-colour cotton clothing to an unashamedly youthful market, regularly uses porn actors in its ad campaigns. But it is because of these blurred boundaries that confusion arises and American Apparel founder, Dov Charney, has also found himself on the receiving end of several lawsuits for sexual harassment. One of fashion's most in-demand photographers, Terry Richardson, meanwhile, has mixed things up on set to such an extent that he has been accused of inappropriate behaviour. "He takes girls who are young, manipulates them to take their clothes off and takes pictures they will be ashamed of," Danish model Rie Rasmussen told the New York Post.
Yet that hasn't lessened his impact. "I think the Terry Richardson-style shoot – that kind of seedy back-alley thing that he does – is everywhere right now," says Coen. "The images are very suggestive and the models get younger and younger and the female form gets taller and lankier and further away from what you would associate with traditional womanhood. But is that because of the porn industry or the fashion industry? I don't know. It's a can of worms."
These days, a glance at any rack of fashion magazines shows that a whole new genre seems to have sprung up which sits somewhere between i-D, Vogue and the top shelf. There's Lovecat, which takes the "sexy pin-up" approach and features hot new models often in various states of undress. There's Tissue, a new launch, featuring umpteen fanny shots and a naked girl locked in a cage. "Are we feminism gone wrong?" asks the introduction. "We hope not. It's just that to us, sex is always on, sex is it."
There's also Treats! magazine, a coffee-table tome which retails at $20, now on its third issue. It was created by the US-based, Cheshire-born photographer Steve Shaw and is due to launch over here in the next month or so. It's been called porn chic, high-end erotica and compared to Playboy at the height of its game in the 1970s. "The best way to describe it is as the magazine version of the Pirelli calendar," says Shaw. "It's a bit like a Helmut Newton photo – not sexually arousing, just visually pleasing. I think people have been subjected to FHM, Maxim and other lads' mags for far too long. Having to look at some girl in a horribly naff bikini with her boobs sticking out is not where it's at. That's been done. People want something different now."
If you had been reading the Daily Mail recently you could be forgiven for thinking that all this sexual imagery has swept over us and turned us all into hardcore-porn addicts. At the end of April the paper devoted no fewer than three front-page stories to the subject and launched a campaign for automatic blocks on online porn. And now TalkTalk, one of Britain's biggest internet providers, has just announced it will be offering its four million subscribers a blanket opt-out for pornography sites.
"Utterly pointless," says Gallop. "They are simply looking in the wrong place for the solution. It is absolutely not about banning porn. It simply can't be done." Indeed, a 2010 White Paper called The History of Modern Pornography concluded by saying, "Censorship and opposition to pornography have had little effect in stemming the tide: the biological chemistry of sexual desire has outlived all censorship attempts and will continue to do so."
But there is an important issue we need to address here. With online porn being so ubiquitous, we are just one or two clicks away from it; increasingly, this means that our children's introduction to graphic imagery comes before they have even reached their teens. "A study done a few years ago by an internet service provider showed the average age at which kids first view hardcore porn online was 11," says Gallop. "That age is now deemed to have dropped to eight. This isn't because eight-year-olds go looking for it, it's because someone shows them on a phone in the playground, or when they go round to a friend's house."
And Gallop has seen first-hand what too much porn can do. "When you are watching, say, five or six hours a day or night and you are masturbating ferociously all the way through you can become sensitised to the way you handle yourself," she says. "I've encountered this myself. I dated one guy who had begun watching porn at the age of 12 and had lost his virginity at the age of 18. So for six or so years he'd been watching vast amounts of porn. He's now 23 and there is nothing that any real-life woman can do for him. It's a syndrome called idiosyncratic masturbatory syndrome."
But, she points out, such cases are few and far between and the main problem is that we may be producing a generation whose sex education is composed solely of viewing pornography. In a country where sex education is lacking to say the least, this could be a big problem. Justin Hancock is the creator of Bish UK, a sex-education programme for teens which is realistic about their exposure to porn and teaches a more critical understanding of it.
"What we need to do is provide kids with a sex education so when they do come across porn they are educated enough to be able to see it in context and see it's not real," he says. "But young people are more nuanced and intelligent about the internet and porn than we give them credit for. They are not just passive consumers of the stuff."
Recently there has been a shift towards a somewhat less hysterical view on all this (the Daily Mail excepted). Next month Gallop is planning to launch Make Love Not Porn TV, an online video channel that which will take a realistic approach to our appetite for erotica. Dr Brooke Magnanti, aka Belle de Jour, has a book just out called The Sex Myth, which questions this so-called epidemic of sex addiction and the sexualisation of our youth. And the 29-year-old Australian writer Rachel Hills has spent the past three years travelling to three continents, interviewing more than 150 young people to see how realistic our current views of sex and porn actually are.
"I started the book [a study of generation Y, sex and identity] because I became frustrated by media portrayals of contemporary sexual cultures," says Hills. "It seemed that there was this kind of compulsory sexual activity imposed on us – that we've all got to be interested in it, we've all got to be doing it and we've all got to be skilled at it. Well, as a younger person, it certainly didn't apply to my life, or my friends' lives, and once I started doing my interviews I realised it didn't apply to many of their lives either."
"Just as there was a fear of TV, a fear of video nasties, and a fear of computer games, now we have a fear of the internet and the pornography it offers," concludes Hancock. "The main problem with the porn debate is the media wanting to present it in very binary terms, about porn being either harmful or not – and that's created a bit of a moral panic. But we shouldn't jump to conclusions. It's way more complicated than that."
For more makelovenotporn.com; bishuk.com. 'In the Next Room (or The Vibrator Play)' is at Theatre Royal Bath, until 9 June, theatreroyal.org.uk
Register for free to continue reading
Registration is a free and easy way to support our truly independent journalism
By registering, you will also enjoy limited access to Premium articles, exclusive newsletters, commenting, and virtual events with our leading journalists
Already have an account? sign in
Join our new commenting forum
Join thought-provoking conversations, follow other Independent readers and see their replies