The Independent's journalism is supported by our readers. When you purchase through links on our site, we may earn commission.
Try a blindfold and no more pyjamas: How to spice up your sex life in lockdown
With a constant backdrop of anxiety and too much time together, couples may find quarantine isn't quite the aphrodisiac they were hoping for. Helen Coffey finds out how to kick-start your lovelife during a global pandemic
Wednesday 10 June 2020 16:00 BST
Comments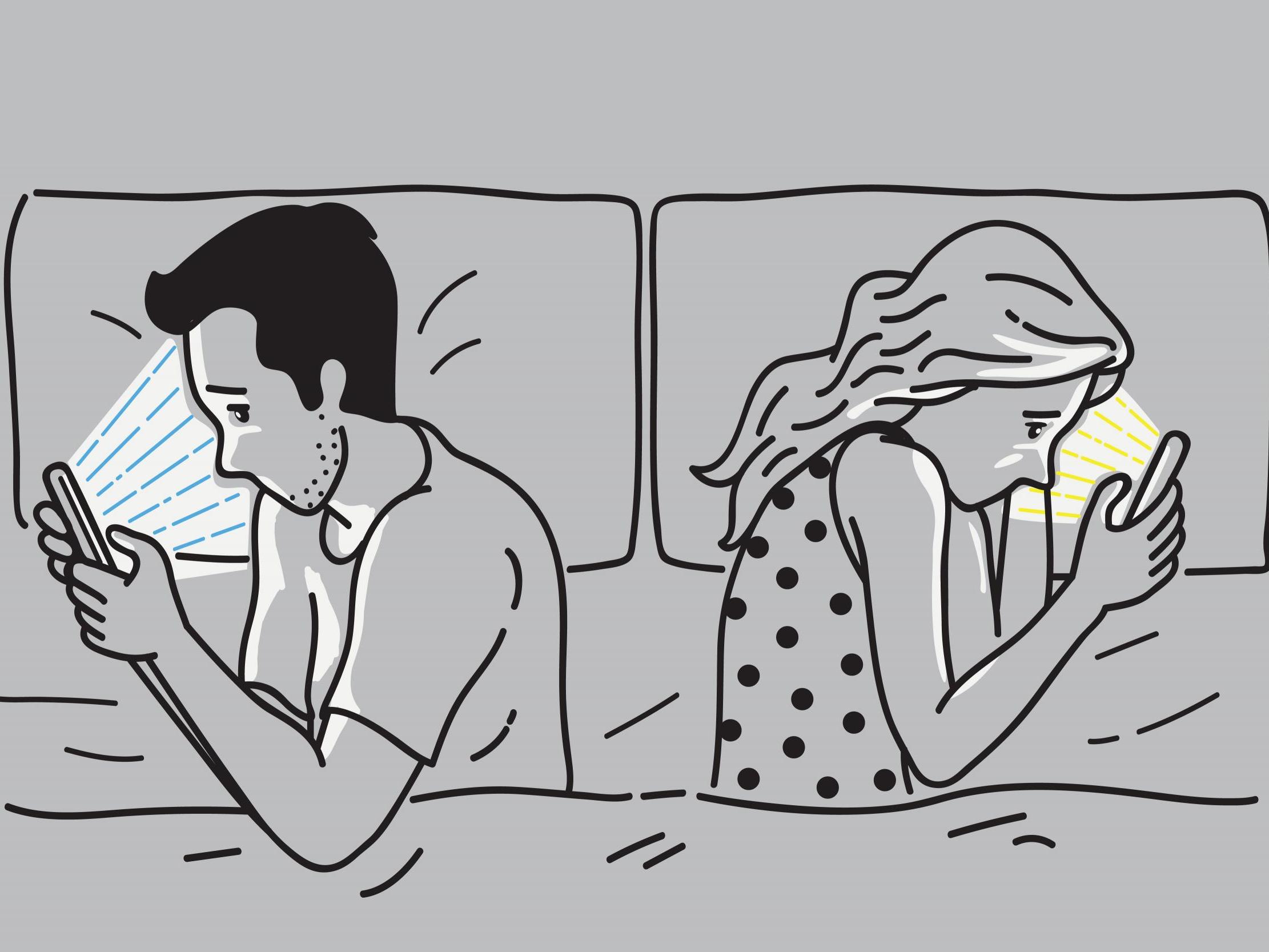 Experts predict baby boom next year," the headlines screeched at the end of March. We were just one week into lockdown, and the assumption was that couples stuck at home with each other would be at it like rabbits. After all, what else was there to do? But to many, it soon became clear that life under the shadow of a global pandemic was not actually the aphrodisiac they were promised.
Almost half of couples isolating together said they were having less sex since lockdown began, according to a research conducted by OnBuy. The survey of 1,360 18 to 45-year-olds also found that 41 per cent of women were currently unhappy with their sex life, while 60 per cent believed it needed spicing up.
Meanwhile, condom sales have dropped dramatically due to fewer people having sex during lockdown, according to Durex. Social distancing is negatively affecting "intimate occasions", said Laxman Narasimhan, chief executive of Reckitt Benckiser, the company that owns the condom brand. Narasimhan claimed that people in the UK were having "significantly" less sex than before lockdown, adding that the number of people having intercourse in Italy had also "gone down a lot".
Narasimhan added that even established couples seemed to be having less sex due to "increased anxiety".
It's a theory that holds up, according to psychosexual therapist Janice Hiller. "It's a neurochemical thing," she tells The Independent. "When we feel fear and anxiety, our nervous system prepares us for a fight, flight or freeze response – we go into protection mode. We need a different part of the nervous system to engage for us to feel aroused and want to have sex."
Then there's the familiarity aspect – the fact that couples isolating together have no space or time apart in which to miss and desire one another. "There's not enough distance," says Hiller, "and on top of that, we're missing out on the feel-good aspects of going out and seeing friends. We feel happier and more motivated, and then we bring that feeling back and want to share it with our partner. Feeling sexual has a lot to do with how we feel about ourselves as well as our relationships – and we don't feel as good when we haven't had those experiences."
Sex expert Alix Fox, a writer and broadcaster who acts as a script consultant for Netflix series Sex Education, agrees that many have found their sex drives taking a nosedive during quarantine due to stress. "Worrying about the health and wellbeing of loved ones, financial instability, job insecurity, and... well, total global upheaval and pandemic panic is not exactly an aphrodisiac," she says.
Contraceptive concerns could well be having an impact, too. "Women have reported to me that they're worried about not being able to get supplies of their usual contraceptive pill, or are concerned that their implant or coil is coming to the end of its recommended lifespan but they're struggling to get an appointment to replace it – so they're either using condoms as back-up, or avoiding penetrative sex altogether because they don't want to risk pregnancy," says Fox.
The good news is that many sexual health clinics and GPs are still offering online, telephone and postal pill renewal services to avoid people having to visit clinics, while some pharmacy chains, for example Superdrug, are offering several common pill brands for direct delivery.
But contraception issues aside, how can we jumpstart our love-lives under lockdown?
The 17 worst sex scenes in film
Show all 17
Don't stop making an effort
It may sound obvious, but completely giving up on your personal appearance is not exactly a turn on. And yet it can be very tempting when we're not leaving the house for days at a time. "Stop hanging around in pyjamas or exercise clothes all day," advises Hiller.
"Don't get into a habit of not bothering. It can be quite unappealing if you stop making any effort at all. Grooming, appearance, hygiene – it may sound superficial but these things do matter, and you want to reduce the number of turnoffs as much as possible.
"It's also about you – the better we feel about ourselves, the more likely we are to feel good about sex."
Start talking
If you're not in a good place with your partner emotionally, that's likely to be reflected in your sex life. Fox advises starting with a compassionate conversation to get things back into more positive, connected and comfortable territory. "Excellent sex therapist Sarah Berry taught me how useful it can be for couples to separate different emotions into 'jugs', to help them 'pour out' their feelings in a calm, structured way that's less likely to end in tears or yet another blazing row," she says. "First, discuss the things you respectively feel scared about. Next, 'empty the jug' of all the stuff that's making you mad; then sad; and finally, glad.
"Pragmatically categorising your feelings, and the reasons behind them, like this can help you get your head straight, and make it easier to avoid accidentally taking out your fear about lack of vaccines or ventilators, for example, on your partner."
Fox recommends always finishing with a discussion of things you're glad about to finish on a high and leave both parties feeling soothed and hopeful.
Forget penetration
Well, you don't have to forget it completely. But it's important to remember that there's far more to sex than genitals, according to Fox. "Exchanging massages can be relaxing, sensual and bonding, but for a playful twist, try a 'texture tour'. Blindfold your partner, then gently stroke, roll, tap and press the skin all over their body with items you've gathered from around the house that have different textures: a chilly metal fork; a velvet cushion; the tie from a silky robe; a leather glove; a spiked tumble drier ball; one of those frothy shower puffs..."
Sex Education star says she thought masturbation 'was only a boy thing'
The blindfold heightens the other senses and creates an element of anticipation, plus takes the pressure off you to "perform". "This is a cost-free way to bring an element of curious exploration back to your love life, and to have a much-needed tension-breaking giggle," adds Ms Fox. "It's OK to laugh during sex! It's OK not to actually have sex, but to enjoy some other physical fun instead!"
Surprise each other
It's easier than ever to get stuck in a rut under lockdown. Days blur into weeks, which blur into months. According to Hiller, injecting some surprise into your relationship with curated date nights can help reignite the magic.
"One of the couples I see for therapy has decided to take it in turns to surprise each other with a meal. They cook it, set the scene and even officially invite their partner," she says.
Get playful
Sales of sex toys have gone through the roof according to Fox: "For example, German brand Womanizer – famous for inventing a type of clitoral stimulator that uses pulses of air rather than traditional vibration to create sensation – tell me they've seen an 88 per cent surge in UK trade compared to their projections."
In particular, toys that can be controlled remotely via an app, which could appeal to couples who are separated from one another during quarantine, have seen a sales boost. Items connected to role play and BDSM, "which speak to bored couples looking for something fresh or couples finally crossing off adventures that have long been on their 'F*** it bucket list'", have also experienced a popularity spike. Sales of a 10-piece beginners' bondage set from online sex shop Bondara, for example, have skyrocketed by 4,541 per cent.
It's never too late to invest in your own accessories to help get things going.
Join our commenting forum
Join thought-provoking conversations, follow other Independent readers and see their replies