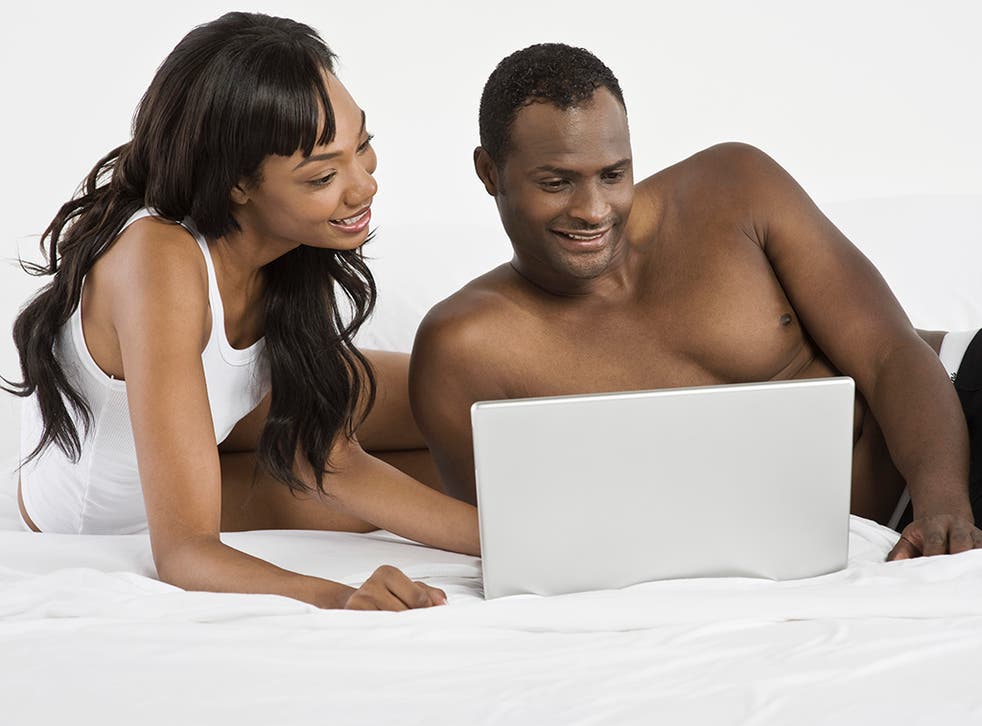 Watching porn as a couple: the pros and cons
It can be a useful way of increasing arousal or getting ideas to introduce to your sexual repertoire, but try not to compare yourself with people in porn films - it's their job
Ammanda Major
Tuesday 23 June 2015 08:25 Comments
Porn used to be restricted to the top shelves of newsagents and back street sex shops, but these days it's available at the click of a button. Large numbers of people watch porn either together or individually, with one of the UK's biggest porn sites receiving 111 million visits in the 12 months up to January 2014. Some people will have used porn for a long time, while others may be just starting to experiment.
Many couples successfully integrate watching porn into their sexual relationship; it can be a useful way of increasing arousal or getting ideas to introduce to your sexual repertoire. If you're not one of those couples but you're feeling curious about porn, it's probably a good idea to talk first with your partner. Explain why you think it'd be helpful to you both and then make sure you take on board how they respond.
If your partner suggests they'd like to watch porn with you it may come as terrible surprise and leave you feeling rejected – some might feel they're no longer 'enough'. Of course this won't necessarily be true at all – and that's why it's important to discuss and agree why watching porn might be helpful and what it means for each of you. In any case, no one should be asked or made to watch things that make them feel uncomfortable, so if your partner isn't into the idea, talk about whether there's anything else you'd both like to try instead.
One of the most upsetting things when it comes to porn can be finding out that a partner has been watching it in secret. The hurt, outrage and shame that this discovery can bring is something that Relate sex therapists often find our clients want to talk about. If you catch your partner watching porn behind your back, it doesn't necessarily mean they don't love you or find you sexually attractive or that they've become 'an addict'. If you think that this may be a problem for you or your partner, it's always better to get professional support, rather than getting into accusations and recriminations which will only cause further breakdown in communication - porn addiction is a complex issue.
Porn is often written about as a negative influence and a recent BBC Radio 4 Woman's Hour programme highlighted just how many different approaches people – particularly women – have towards it. Typically, porn has been considered as something 'for men' but increasingly, porn is losing some of its gender-based associations, with women watching porn and also making it. That's not to deny, however, that people of both sexes consider a lot of porn to be degrading, particularly towards women.
Ultimately it's what's right for you and your relationship. If you're both happy to explore using porn, then talking openly with your partner is likely to enable both of you to find a level of porn use that enhances your sex life but doesn't overtake it. That's the key point. If you find you can no longer relate to each other sexually or emotionally without heavy porn usage, it might be time to have a good look at what's going on in your relationship, especially if you recognise that the way in which you each experience using porn is changing.
So, in the right circumstances, porn might be something you can use together creatively. For some couples that will mean just finding sites that meet both their needs and for others it may be that they create their own porn shows and which they may or may not choose to share. A few words of caution though - it's really important to have a clear agreement about the extent of sharing and whether the footage will be saved or deleted afterwards. Once it's 'out there' you can't get it back and living with that knowledge, especially once a relationship is over, can be very difficult and sometimes traumatising.
Finally, try not to compare yourself with people in porn films, who often seem to be expert sexual gymnasts who are better endowed than 'average' and perfectly waxed. It's their job to look as if they're good at sex after all and, usually, to conform to a particular aesthetic. In reality, the sex you tend to see in pornography is often no more than a performance, whereas perhaps 'good sex' is about feeling connected with someone. With this in mind, chances are you may be enjoying yourself more than the porn stars are.
Ammanda Major is a Relate counsellor and sex therapist
Register for free to continue reading
Registration is a free and easy way to support our truly independent journalism
By registering, you will also enjoy limited access to Premium articles, exclusive newsletters, commenting, and virtual events with our leading journalists
Already have an account? sign in
Join our new commenting forum
Join thought-provoking conversations, follow other Independent readers and see their replies