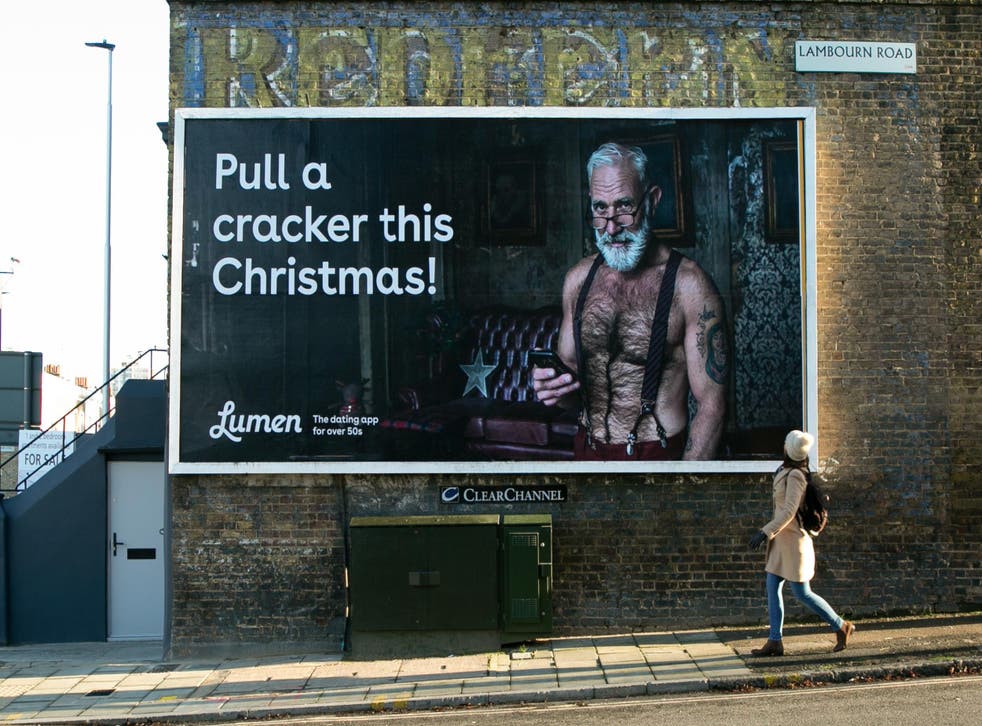 'Sexy santa' dating app ad featuring topless man is banned
The ad has been banned for 'objectifying' male model
A tube advert of a man posing topless has been banned after critics claimed it sexually objectified him.
The poster, which promotes a dating app for over 50s, features 58-year-old model Paul Orchard dressed as the "UK's Sexiest Santa" as part of a campaign claiming that one in five women find Father Christmas attractive.
But Transport for London's advertising agency, Exterion Media, called for ad to be changed to something "less suggestive" and a new version is now on display at various underground stations across the city.
A TfL spokesperson tells The Independent that the ad went against guidelines set by advertising watchdogs.
"Our advertising agent, who reviews every advertisement against our advertising policy, deemed this advertisement not to be compliant following advice from the Committee of Advertising Practice.
"As in all cases where an advertisement is deemed not to be compliant, we have worked with the advertiser to amend it and it is now running on our network."
The revised campaign, which features Orchard wearing a suit, is already on display at Euston station, will run until 16 December, they added.
Lumen co-founder Charly Lester said she was surprised the ad was banned, adding that it was meant to be light-hearted.
"I thought it was funny," she said. "I don't think it is rude — it is cheeky.
"Our app is all about anti-ageism, body confidence and being yourself, so to have this banned is a bit depressing. It's ridiculous and absurd."
"We worked hard to ensure the photographs were tasteful as well as fun, and it's a shame TFL don't see it that way."
Orchard concurred, telling the Evening Standard, "I'm surprised these ads have been banned, especially when you consider the other images you regularly see on the Underground of younger people wearing much less than I am."
The ban comes just after the Advertising Standards Agency announced that adverts reinforcing harmful gender stereotypes will be banned as of June 2019.
Join our new commenting forum
Join thought-provoking conversations, follow other Independent readers and see their replies