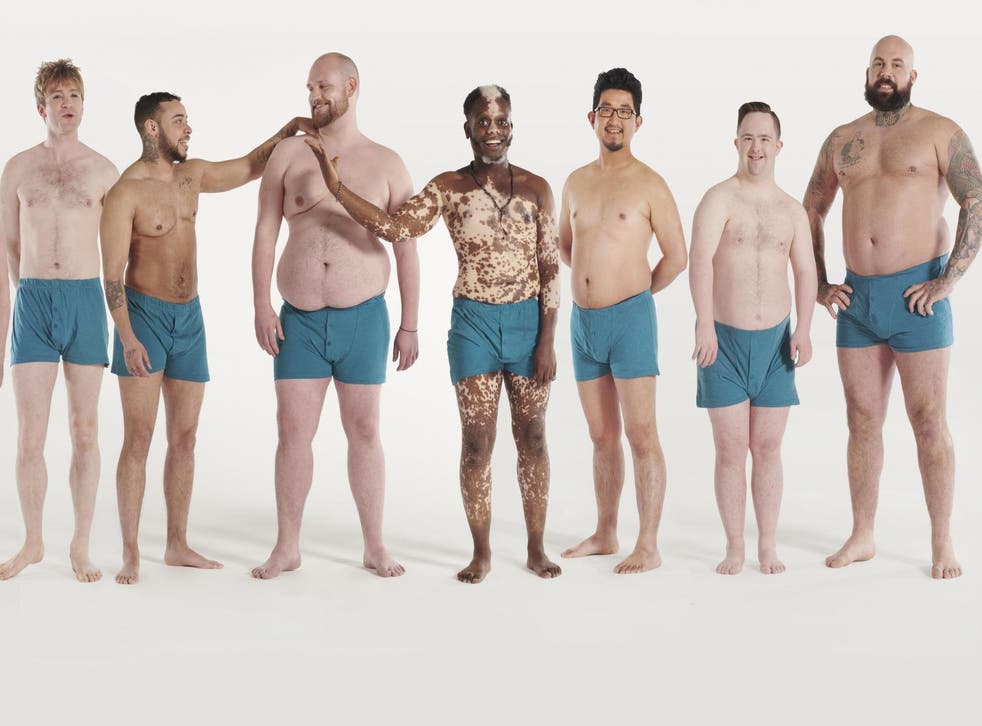 Campaigners challenge harmful stereotypes of male body image in the media
'If you only look at the men in adverts, you would think that all men have six-packs'
Men are campaigning for better representation of male body image in the media in a bid to raise awareness of the impact that unrealistic stereotypes can have on mental health.
The campaign was created by men's health and wellbeing platform Manual and was launched as part of Mental Health Awareness Week, which began on Monday 13 May with body image as its theme.
Eight men star in the campaign, including transgender activist Kenny Ethan-Jones, vitiligo spokesman Bashir Aziz and the UK's first plus-size male model, Ben Whittaker.
Manual is urging advertisers to move away from outdated and problematic depictions of men as stoic, Grecian gods to sell "the most basic of products", such as underwear or fragrance.
Instead, they're calling on male-focused brands to champion men of all shapes and sizes with campaigns akin to those by Dove and Missguided that celebrate a diverse mix of body types and ethnicities.
Sow Ay illustrations on mental health

Show all 18
According to a new report published by New Macho, the male expertise division of advertising agency BBD Perfect Storm, 69 per cent of men don't feel that brands are truly representing who they are.
Meanwhile, a survey carried out by Manual found that 78 per cent of men don't think any of their friends look like a "typical Gillette model", ie someone who is impossibly muscular, clean-shaven and square-jawed.
George Pallis, co-founder of Manual, explained that if you only looked at men in adverts, your perception of what a man should look like would be severely warped.
"You would think that all men have six-packs, the perfect amount of stubble and permanently bronzed skin. It is completely unrealistic and doesn't reflect what masculinity really looks like," he added.
"In a world where opening up about mental and physical wellbeing is arguably more crucial than ever before, it's vital that we all work together to de-stigmatise men's wellness and improve the health and happiness of men everywhere."
Manual's campaign comes after new research revealed the extent at which concerns regarding body image adversely impacts our mental health.
The Mental Health Foundation polled 4,505 adults in March and revealed that one in eight (13 per cent) of them had considered taking their own lives because of concerns relating to body image.
Meanwhile, more than a third of respondents said their body image left them feeling anxious (34 per cent) or depressed (35 per cent).
Additionally, 20 per cent of those surveyed felt shame over the way they looked and 19 per cent reported feeling "disgusted".
You can read more about Mental Health Awareness Week here.
Join our new commenting forum
Join thought-provoking conversations, follow other Independent readers and see their replies