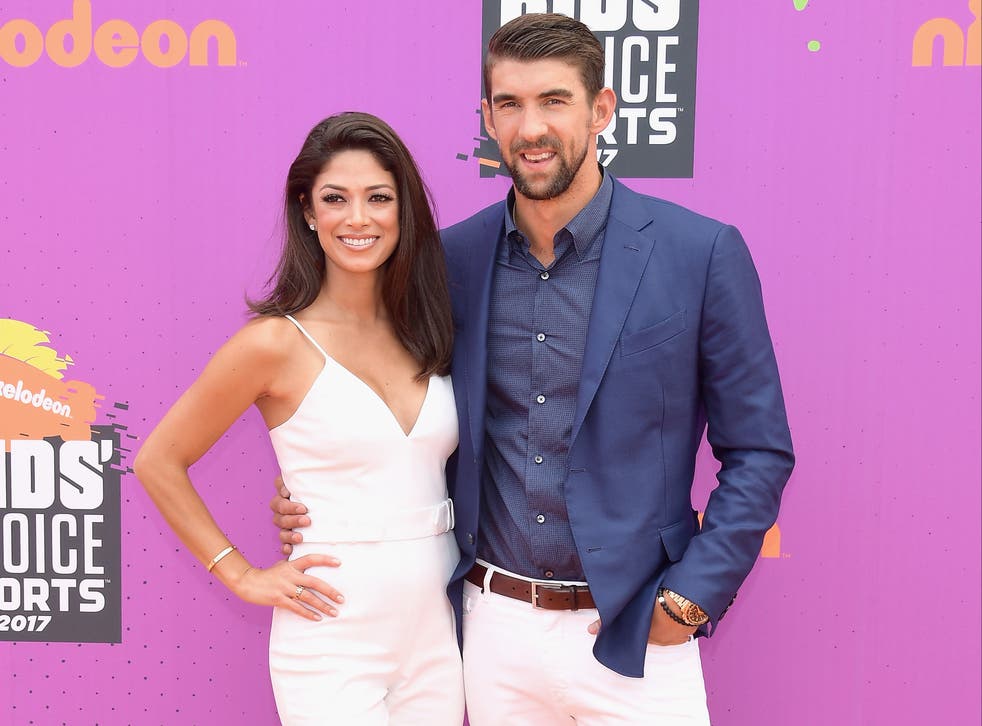 Nicole Phelps reveals fears about losing husband Michael Phelps to depression
She says she used to believe she could 'fix' the Olympian
Leer en Español
Nicole Phelps has opened up about her fears that she will lose her husband Michael Phelps to depression.
In an interview with Today, the 35-year-old discussed the Olympic swimmer's ongoing battle with his mental health, revealing that she was especially concerned for Michael last January following the death of Kobe Bryant.
"After Vanessa [Bryant] lost Kobe, all I could do was look at Michael and be like: 'Can we please help you? Because if I lose you, I don't know what I'm gonna do," she recalled. "Michael is the most amazing father and partner I could have ever asked for."
However, according to the mother-of-three, who shares sons Boomer, four, Beckett, two and Maverick, 16 months, with the athlete, she has since learned that she alone can not "fix" her husband's depression.
"I used to think: 'Oh, I can fix him. I can be his therapist. I can be what he needs,'" she explained. "But what I've learned is that you can't take ownership for how they're feeling, no matter how badly you want to."
Getting to this point has been possible, in part, with the help of a therapist, with Nicole telling the outlet that therapy has been "helping me with everything," including processing her fears about losing Michael.
"It's support for me," she said. "But more than anything, therapy provides me with the tools to be able to help Michael properly."
Therapy has also helped Nicole deal with her own mental health, as she told the outlet she can occasionally feel like she's drowning while trying to take care of Michael and their children.
The Olympian discussed his ongoing battle with depression with Today last month, where he also expressed his own concerns about his wife's mental health.
"Nicole loves me and wants to help. She wants me to get better," he said. "But she's struggling herself. She needs that support as well. I know it's hard for her."
During the conversation, the 35-year-old also revealed that he has had "some scary ups and downs" amid the pandemic.
In a separate interview with Insider this week, Michael elaborated on the impact quarantine has had on his mental health, telling the outlet: "I'll be the first to admit my mental health has been scarier than it's ever been throughout all of this, so I can't even imagine what other people are going through."
However, the couple has also used this time to grow closer, according to Nicole, who told Today: "We've definitely grown together through this and learned a lot. It's not easy, but I'm married to the most incredible human being."
This is not the first time the gold-medallist has been open about his mental health struggles. While speaking at the Kennedy Forum on mental health in 2018, the retired swimmer said he had considered taking his own life on numerous occasions throughout his career.
At the time, the athlete, who is the most decorated Olympian of all time, said he fell into a "major depression" after each Olympic Games.
If you are struggling and need to talk, the Samaritans operate a free helpline open 24/7 on 116 123. Alternatively, you can email jo@samaritans.org or visit their site to find your local branch.
Register for free to continue reading
Registration is a free and easy way to support our truly independent journalism
By registering, you will also enjoy limited access to Premium articles, exclusive newsletters, commenting, and virtual events with our leading journalists
Already have an account? sign in
Register for free to continue reading
Registration is a free and easy way to support our truly independent journalism
By registering, you will also enjoy limited access to Premium articles, exclusive newsletters, commenting, and virtual events with our leading journalists
Already have an account? sign in
Join our new commenting forum
Join thought-provoking conversations, follow other Independent readers and see their replies