The Independent's journalism is supported by our readers. When you purchase through links on our site, we may earn commission.
What you should use instead of lotion after your shower, according to dermatologists
Your post-shower lotion may not be helping your dry skin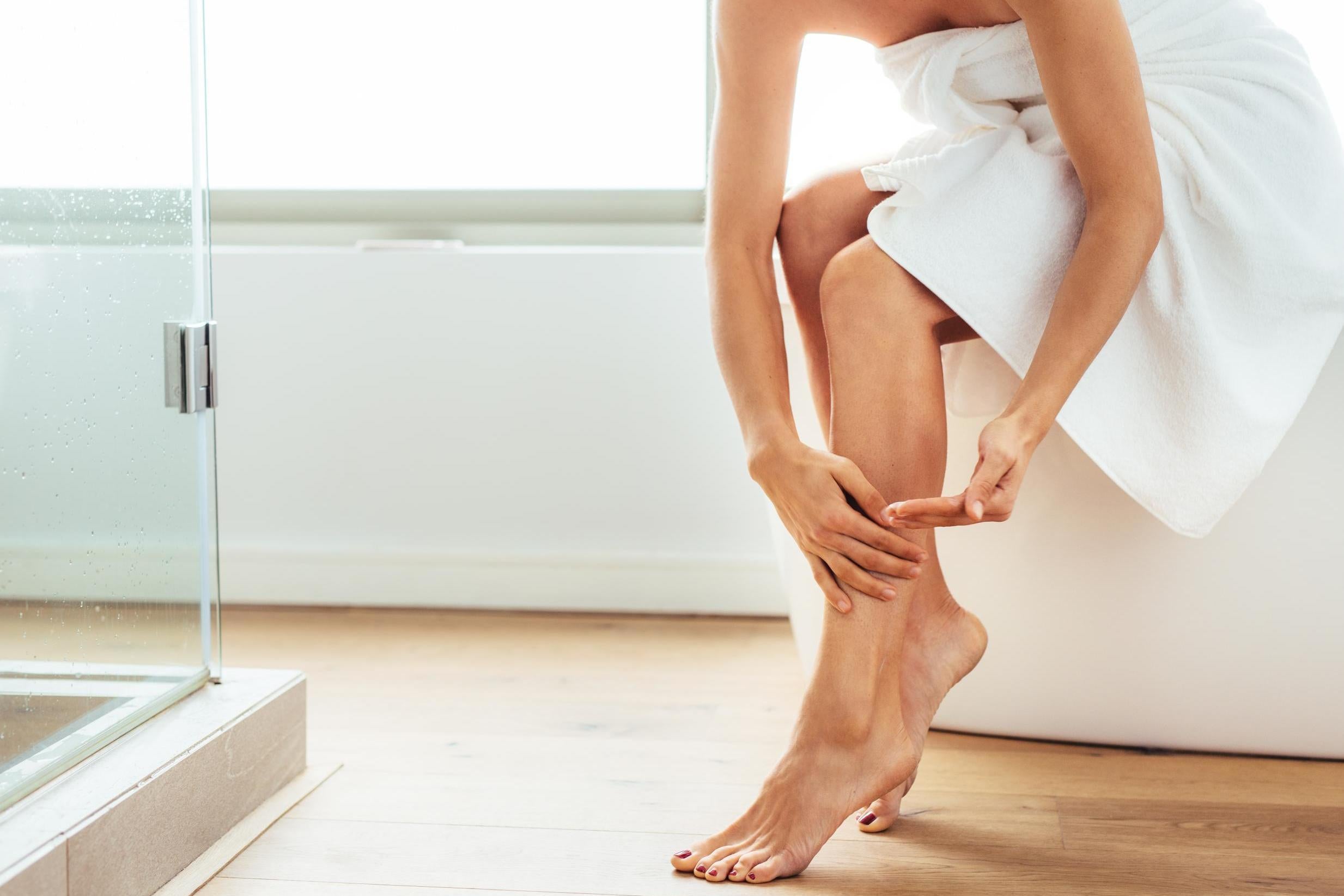 Slathering on lotion immediately after a shower has long been assumed to be the way to smooth soft skin.
However, rubbing in lotion may not be as beneficial as you think - especially if your goal is to lock in post-shower moisture.
Despite what the lotion bottle may say, most lotions aren't actually that moisturising, according to dermatologists.
Fortunately, there are other, more effective means of moisturising that require the same steps but offer more noticeable results.
According to the American Academy of Dermatology (AAD), a group of over 20,000 dermatologists, the method of treating dry skin by immediately trapping moisture in from a shower with moisturiser is effective - as long as you are using the correct products.
For the best results, the AAD recommends using an ointment or a cream to relieve dry skin - rather than a lotion - because "ointments and creams are more effective and less irritating than lotions."
To keep your body moisturised, thick ointments are the most effective option as they're oil-based.
The more oil, the greasier the product - which is actually a good thing when your skin is lacking moisture.
Ointments also have the highest emollient effect, or the ability to soften and smooth skin.
However, if you don't have the time to wait for an oily ointment to absorb into your skin, which can take a while, or you are worried ointment may be too greasy, serums and creams are the next best options for treating dry skin.
For facial hydration, serums, especially ones with ingredients such as hyaluronic acid, can transform your skin.
Dr Joshua Zeichner, a board-certified dermatologist and director of cosmetic & clinical research in dermatology at Mount Sinai Hospital in New York City, told The Independent: "To maximise skin hydration, hyaluronic acid-containing serums can be applied as your first, or in some cases only, layer of products on your skin. Serums are designed to deliver high concentrations of a particular active ingredient to the skin.
"In the case of hyaluronic acid, serums can boost hydration and give an overall plumping of the skin. This is especially helpful if you have dry skin or to maximise the effect of injectable fillers like Restylane. You don't have to spend a lot of money to get good serum. For example, Neutrogena Hydroboost Serum is effective, available at your local drug store, and reasonably priced."
If you are focusing on your entire body, you could opt for cream, which according to Walgreens pharmacy, works better on larger areas.
Because creams are less oily than ointments, they are easier to spread and absorb into the skin quicker - while still offering a superior moisture option than a lotion.
Lotions, which are primarily water-based, contain the least amount of oil meaning they also offer the least effective results for dry, dehydrated skin.
They could also be causing harm rather than helping, especially if you suffer from a skin issue such as eczema.
According to the National Eczema Association: "Lotions evaporate quickly and may contain preservatives that burn when applied to skin."
To keep skin healthy, soft, and hydrated, opting for a post-shower ointment is the best option - even if it means waiting a few more minutes before getting dressed.
Join our commenting forum
Join thought-provoking conversations, follow other Independent readers and see their replies