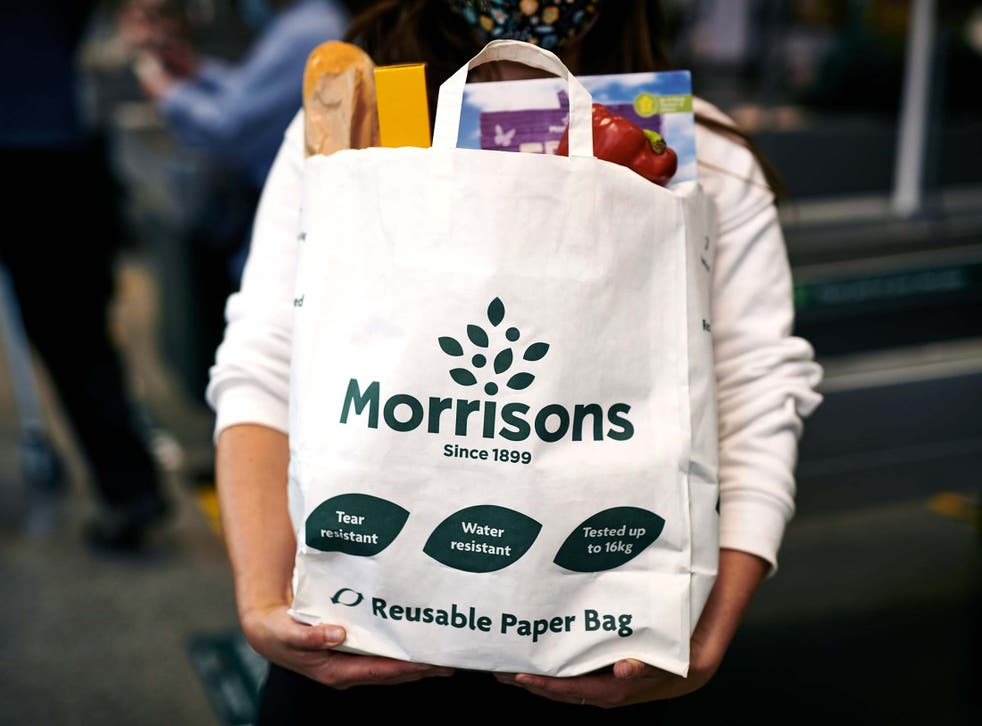 Morrisons introduce paper bags amid plans to drop plastic 'bags for life'
'We believe customers want to reduce the amount of plastic they have in their lives,' chief executive of supermarket says
Sabrina Barr
Monday 17 August 2020 10:00 Comments
Morrisons is planning on getting rid of its plastic "bags for life" while running a trial for paper alternatives in its stores, the retailer has announced.
From Monday 17 August, the supermarket will start the bag trial across eight shops, with customers being offered sturdy paper bags when they checkout.
If the trial proves successful, paper bags will be introduced across all of its 494 branches.
Switching from plastic bags to paper would save 90 million plastic bags from being used on an annual basis, Morrisons said, equating to 3,510 tons of plastic per year.
David Potts, chief executive of the supermarket, said the company believes customers are willing to make the switch from plastic to paper to help do their part to protect the environment.
"We believe customers are ready to stop using plastic carrier bags as they want to reduce the amount of plastic they have in their lives and keep it out of the environment," he said.
"We know that many are taking reusable bags back to stores and, if they forget these, we have paper bags that are tough, convenient and a reusable alternative."
The paper bag that is being trialled can carry up to 16kg of groceries, the food retailer stated.
It is also easily recyclable and can carry around the same number of items as the plastic "bag for life", the firm said.
According to recent figures shared by the British government, the number of single-use plastic bags given to customers by big supermarkets in England had decreased by more than 95 per cent since the 5p charge for plastic bags was introduced in 2015.
The Department for Environment, Food and Rural Affairs said supermarkets including Asda, Marks and Spencer, Morrisons, Sainsbury's, The Co-operative Group, Waitrose and Tesco collectively sold 226 million single-use bags in the past financial year – 322 million more single-use bags were sold in the period between 2018 and 2019, the department's data showed.
In 2014, before the 5p charge was introduced, major supermarkets distributed around 7.6 billion plastic bags a year, stated environmental charity WRAP.
In June 2019, it was announced that Sainsbury's was to become the first UK supermarket to remove plastic bags for loose fruit, vegetables and bakery items.
Five months later, Tesco vowed to remove 1 billion pieces of plastic packaging by the end of 2020, stating that it would end its use of small plastic bags and remove other items including plastic trays for ready meals, secondary lids on products such as yoghurt, and straws from snack pots.
Register for free to continue reading
Registration is a free and easy way to support our truly independent journalism
By registering, you will also enjoy limited access to Premium articles, exclusive newsletters, commenting, and virtual events with our leading journalists
Already have an account? sign in
Join our new commenting forum
Join thought-provoking conversations, follow other Independent readers and see their replies