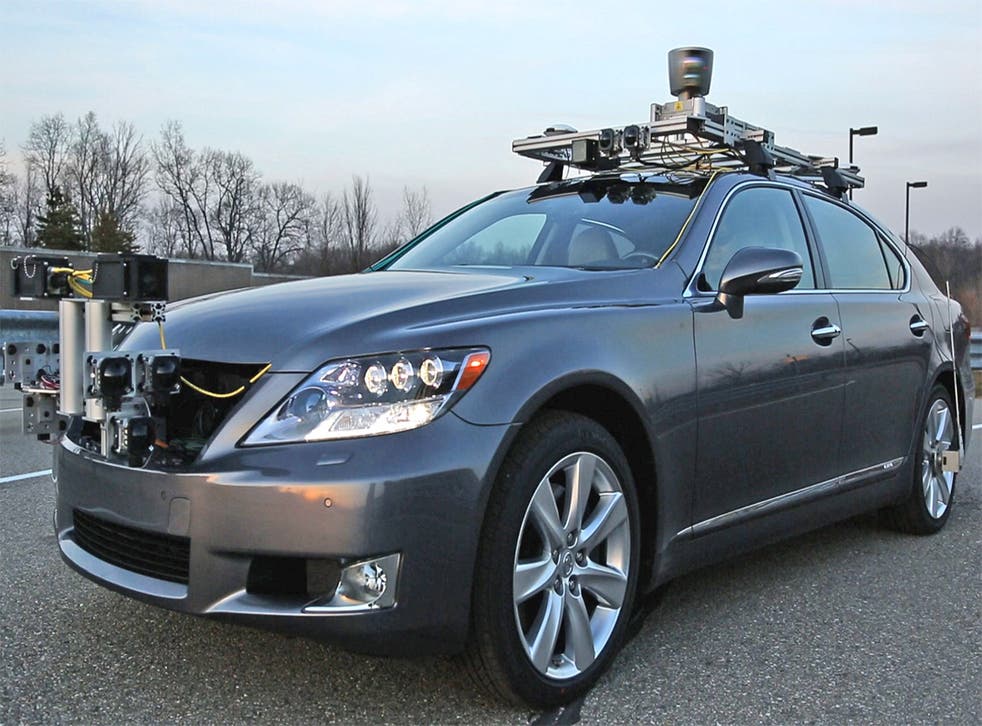 Are self-stopping, speed-limited and driverless cars the near-future of motoring?
It sounds like a boy racer's worst nightmare but from speed-limiting keys to automatic braking, a host of new safety technologies are set to make our roads safer, slower and more predictable. The latest figures show that 883 driver and their passengers, 453 pedestrians and 107 cyclists died on Britain's roads in 2011 as a result of road-traffic accidents.
"A situation where nearly 2,000 people a year are needlessly killed on our roads is completely unacceptable," says Ellen Booth, campaigns officer at road safety charity, Brake. Most of these deaths, Booth explains, are caused by speed, distraction and careless driving, but now new technologies – many unveiled this month at the Detroit Motor Show and the Consumer Electronics Show – are offering the chance of a slower, more controlled automotive future.
1. Parent power
Worried parents will love it and speedy teenagers will hate it but My Key (right) from Ford is the company's latest innovation to slow us down. It allows worried parents to give their son or daughter a pre-programmed key to their car, which limits top speed, reduces the stereo's volume and prevents the car's safety aids from being disengaged.
First introduced in America in 2009 it has just hit British showrooms as a standard feature on the new Fiesta and can even be programmed to give speed warnings and disable the stereo if the driver's seatbelt is not securely fastened.
Budding boy (and girl) racers won't be keen but Ford is banking on the fact that their parents will be. And with a quarter of drivers crashing in the first six months they may be on to something. "We didn't want to create a system that was so intrusive or controlling that young drivers refused to use it though," says Andrew Johnson, supervisor at Ford's automotive safety office. "The magic of My Key is that it's flexible so can be adjusted by the parent as their child proves they can be trusted as a responsible driver."
2. Active safety
It's the scourge of the speeding motorist in the form of the police radar gun, but the invention best known for tracking aircraft is now set to keep your car on the road.
Radar-guided cruise control which speeds up and slows down according to traffic flow and automatic braking are already common of luxury cars such as the Mercedes E-Class and Audi A6 but are now also available as options on cars such as the Ford Fiesta (reviewed here last week) and, new VW Golf (on sale this month), VW UP and Skoda Citigo. And, from 2014, new European regulations will mean that new cars will require autonomous emergency braking (AEB) to score a five-star safety rating.
"AEB uses radar, laser or a video sensors to detect an impending vehicle or pedestrian," explains Christophe Bastien, lecturer in vehicle safety at Coventry University.
"It then warns you to apply the brakes or, if a collision looks likely, applies them automatically." Similar technology also powers lane-departure warning systems, which help to keep you in lane and trigger an alarm if a hazard moves into your blind spot as you change lane.
This is the sort of kit that car designers describe as active safety, that, unlike passive measures such as air bags and crumple zones, is designed to prevent you having a crash in the first place. "Active technology really is the future of car technology, and we'll soon see its features becoming the norm on all cars," says Bastien. "The good news is that the latest surveys suggest this could save as many as 2,700 lives a year across Europe."
3. Driverless cars
The so-called "building-block technologies" behind driverless cars have existed since Google started testing a self-drive car in 2005 and it was granted a Nevada driving licence in 2011. Now, though, major car manufacturers are getting in on the action with both Toyota and Audi unveiling self-drive technologies at CES this month.
According to Brake, 95 per cent of all crashes are caused by driver and error and to eliminate this both the Toyota and Audi test models are fitted with on-board radar and video cameras to monitor the road. Along with early models from Volvo, Mercedes and Ford, they still retain driver controls but can, the firms claim, operate in self-drive mode. The technology is still a long way from the car showroom but is advanced enough for Audi's model to be able to avoid collisions and even find a parking space and slot neatly into it without a driver behind the wheel.
4. Pedestrian protection
Historically, pedestrian safety has lagged behind passenger safety, but with increased EU regulation car manufactures are having to think outside the box for pedestrian protection. In its latest hatchback Volvo has taken the unusual step of introducing the world's first pedestrian airbag. "[It] has two functions," explains Thomas Broberg, a Volvo engineer who worked on the project. "Firstly, it raises the bonnet to create distance [from the pedestrian], and secondly it cushions the impact around the hard parts of the area near the windscreen."
Available as standard on the new V40 model the airbag is active at speeds between 10mph and 30mph where the majority of pedestrian collisions occur. It uses seven radar and camera sensors to trigger a pyrotechnic release mechanism and deploy an airbag across the car's bonnet.
5. Lightweight construction
In accidents, weight is a killer. Light-weight aluminium materials were once the preserve of accident-prone sports cars and have price tags to match, but the metal is becoming increasingly common as manufacturers try and bring the weight of their gadget-laden vehicles down. The new Range Rover (below), which is a prime example. It is the first SUV with an all-aluminium chassis, which saves nearly 420kg over a traditional steel construction.
"Weight is crucial in an accident," says Dr Mark White, chief technical specialist in body engineering at Land Rover. "The trend in the automotive industry has been to take big cars and make them heavier and heavier with additional technology and safety equipment.
"The problem with this is that you are bringing more energy into any crash. In layman's terms the damage caused in an accident equals the energy put in times the mass of the vehicle. We can't always reduce the energy – the speed the car is travelling at – but by using lighter metals we can reduce the force of the impact and the damage caused."
Join our new commenting forum
Join thought-provoking conversations, follow other Independent readers and see their replies