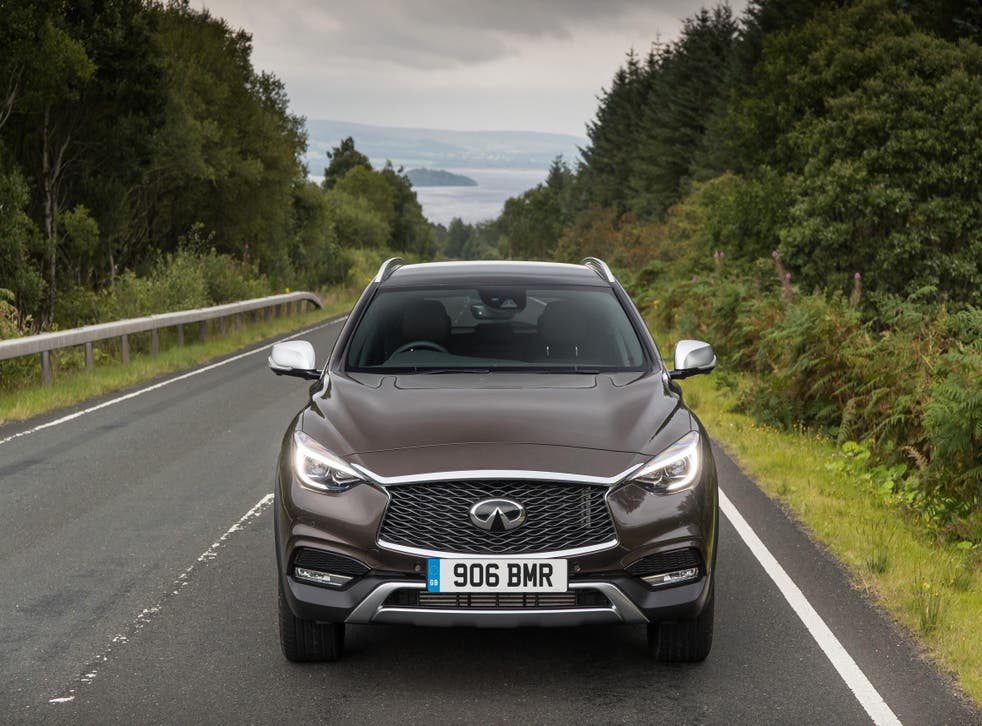 Infiniti QX30 review: A handsome beast that will serve you well but lacks class
The Infiniti QX30 is destined, I am afraid, to be one of those cars that only the dedicated car spotter (or motoring enthusiast if you prefer) will ever know about. They (me), at least, will be especially intrigued by its unusual origins.
For under that bold contemporary styling, tasteful paintwork and satinised chrome trim you will find the underpinnings of a last generation Mercedes-Benz A-Class, but badged as an Infiniti, which is the premium arm of the Nissan make.
What's more, this unusual baby SUV is made in Sunderland, alongside its foster siblings the Nissans Juke and Qashqai (also compact SUVs, but with very little DNA in common with their Mercedes-derived stablemate).
Infiniti has struggled, despite some excellent products, to make much headway in the UK's notoriously snobby, conservative German-brand-obsessed new car market.
Given that the Infiniti will probably retain less of its value in the second-hand market, you might like to think of this as a way of getting your hands on some Mercedes engineering and Japanese-build quality on the cheap. Plus it's British anyway.
It's certainly not especially good value as a new buy.
The best part of £40,000, it compares with the likes of the Volvo XC40, which is not quite as plush indoors as the Infiniti. However, the Volvo doesn't stand out as an especially entertaining car or one that really justifies the considerable price premium over Qashqai, which remains the justified market leader (and indeed progenitor of the whole compact SUV/cross-over phenomenon).
It is comfortable, though, and has all the usual accoutrements you'd appreciate, with the curious exception of a heated steering wheel and a lane assist system (which takes a good deal out of the tedium out of motorway driving).
It isn't state-of-the art in its connectivity either, though I actually like that it boasts a CD player. You may feel it is dreadfully old fashioned but I welcome it as something to, well, play my large legacy stock of CDs on. So there.
It's not meant to be roomy, which is just as well, because even allowing for style over substance, there really isn't much there; and it lacks the sort of storage flexibility you find on more carefree designs from the likes of Citroen.
The real disappointment, though, is the engine and transmission. There's no choice in this matter – it's a four cylinder bog standard Mercedes 2.2 litre diesel unit with an automatic box and settings for economy or sport (plus the opportunity to use a pointless paddle system to shift gear).
It's a bit noisy to be be honest, but most of all it just doesn't really feel at all anxious to lug the Mercedes, sorry Infiniti, along.
I suspect the sheer weight and complexity of the permanent four-wheel drive system saps a good deal of the potential performance out of the drive train. It feels slow, and it is.
All that said, it is quite a handsome beast, and better than its near-rivals the Mercedes A-Class and SUV-style GLA.
You can feel confident that your Infiniti won't let you down, wont embarrass you socially and will serve you perfectly well, but there's nothing especially compelling or persuasive about the proposition, perhaps all the more so because of its very obvious heritage.
Most of the switches and some of the graphics will be very familiar to a Mercedes driver, as will the electric parking brake below the instrument panel.
Rather pathetically, Infiniti "blanked" the usual Mercedes starter button on the left of the steering wheel, and plonked their own giant stain chrome version to the right instead. It wasn't fooling me, though. It's a Mercedes underneath, which is good and bad.
Join our new commenting forum
Join thought-provoking conversations, follow other Independent readers and see their replies