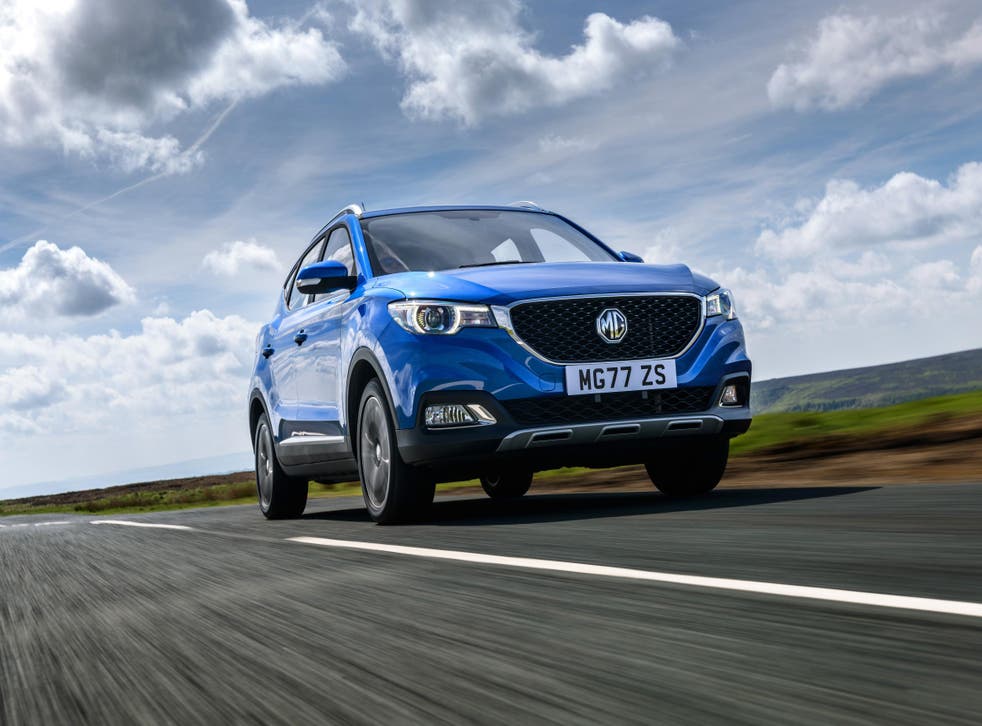 MG ZS review: A reasonably priced, compact SUV – but a bit generic
This is really a Shanghai MG, or Shanghai'd MG, if you prefer. The final manufacturing links with the UK have now been severed. According to its new owners MG stands for 'Modern Gentleman'
There are a few things you need to know about the new MG ZS. The first and most important is that wheels are too small. It is, if I can use the term, underwheeled. Which means it leaves you underwhelmed because it looks silly, which is a shame because otherwise it's quite a smart looking thing in a small SUV generic sort of way.
The front end resembles the bold Mazda CX3, for example, which is good, and the profile is virtually indistinguishable from a Seat Arona, Volvo XC40 or Renault Captur to name but three, which is also good. But, unlike any of those, the wheels are too small.
Second, it's only front wheel drive, so if you want something cheap and cheerful to go off-roading then look at a Fiat Panda 4x4, Ssangyong Tivoli, Dacia Duster or Suzuki Jimny instead.
Third, this MG has got nothing to do with the MG you're thinking of, though it prominently bears that famous octagon logo. Here's a history lesson. The old MG was founded in 1924 and stood for Morris Garages. It was the sports car and competition end of Morris Motors. Then Morris and MG morphed into the Nuffield Organisation, then the British Motor Corporation, then British Leyland, then Austin Rover, then Rover Group, then MG Rover, until it finally went bust in 2005.
After that it fell into the hands of two Chinese firms, Shanghai Automotive and Nanjing Automotive, and after that they too merged. So it is really a Shanghai MG, or Shanghai'd MG, if you prefer. The final manufacturing links with the UK have now been severed. According to its new owners MG stands for "Modern Gentleman".
Which is where I come in, naturally. Knowing a bit of background and having tried the little MG 3 hatch, the saloon MG 6 (since dropped from the UK) market), and the smaller MG SUV, the GS, I knew what I'd encounter, and I wasn't, in that sense, disappointed. Which is that it's quite lively to drive, but not especially sophisticated and a generation or so behind most of the opposition.
It's all OK, I guess, for the price, with a seven-year, 80,000-mile manufacturer's warranty thrown in, but with the nagging feeling you might actually need to make a claim, thus defeating the feeling of security this generous cover is supposed to imbue. For sure, one or two bits of trim, such as the fuel filler release catch, felt a little brittle and like they might not last the full seven years.
It's a little eccentric indoors. The mirror-finish chrome work around the auto gear selector was a touch garish, and the leather seats had the kind of slabby shapes you often find on Japanese and Chinese cars made for their home market – a matter of taste. The dash is conventional but also a bit dull to be honest. There's no flair or novelty there, though as I have said many times it actually costs little or nothing to engineer at least a bit of interest into an interior.
It is as I say generic. I did however appreciate the touchscreen controls for satnav and the entertainment, commendably simple to use, as was the cruise control. These are standard on the auto-only Exclusive model, which tops the range out at about £17,000. If you're laying that sort of cash out you'll need to consider the likely rapid depreciation quite seriously. (That includes PCP plans and the like, where the depreciation is hidden via higher monthly payments than would otherwise prevail.)
I had a moment when I'd parked it and it started blowing the horn but that little aberration soon stopped and I'm giving it the benefit of the doubt and the "aberration" may have been because I sat on the key fob. Clumsy modern gentleman!
I also thought the ZS was let down by the automatic transmission, allied in the test car to a three-cylinder turbocharged petrol engine (a larger capacity 1.5 litre four-cylinder option is available, which I suspect would be less stressed and have a longer life. There's no diesel option, by the way). The ZS is willing enough from a standing start but the mid-range acceleration, say on joining a motorway, really demands a heavy right foot. The net effect is poorer fuel consumption and much too much droney noises.
Anyway, going back to the history lesson… I well remember the last MG ZS, before the Chinese took over. It was basically a Honda Civic that was assembled at Longbridge, but with a 2.5-litre v6 K-series, ie British, engine shoved under the bonnet. It was a lairy "trophy yellow" and was the most fun I've had this side of a Mitsubishi Evo. The old MG Rover designers had improved on the Honda by changing the suspension, grafting a big boot onto the back end, and worked hard to make the cosmetics work well, with touches such as black-on-white dials.
It was what the old MG Rover did well – taking someone else's work and, with minimal budget, improving on it. I can't help wondering what the old MG gang might have done with this new MG.
I also reckon you'd be better off buying a second-hand Nissan Juke and finding yourself one of those older ZS sports saloons than going all out for a new MG ZS. Some advice there, then, from this modern gentleman.
Join our new commenting forum
Join thought-provoking conversations, follow other Independent readers and see their replies