Mini at 60: How the world will celebrate the original tiny car
Strap in for a birthday bash to mark the production of the greatest British car ever built
Wednesday 06 February 2019 15:37
comments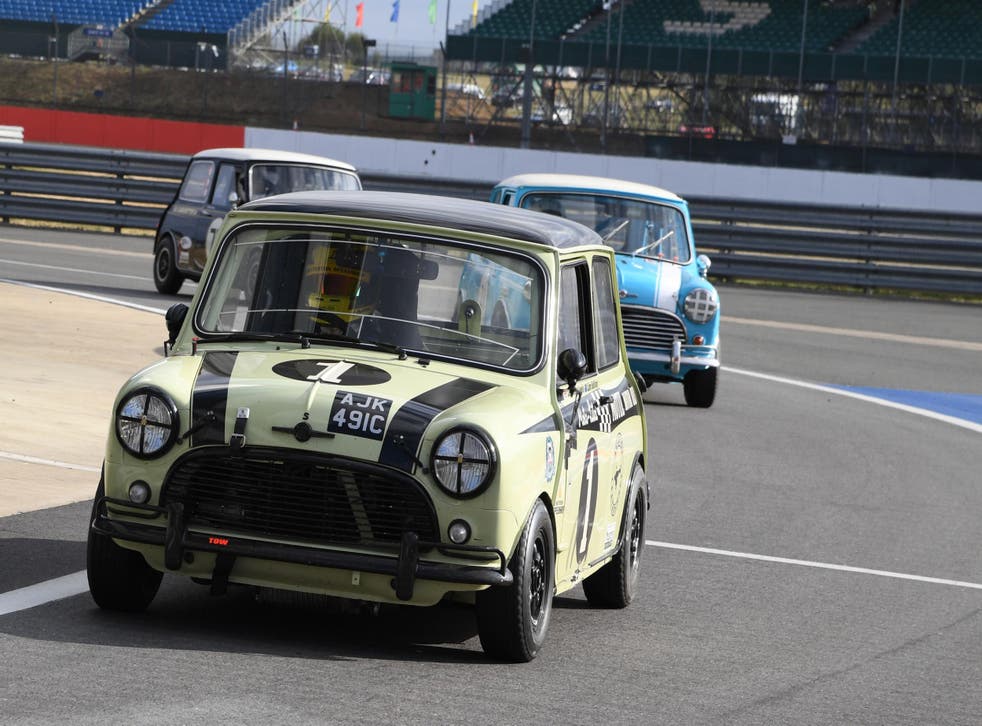 The Mini – the original tiny one – will soon be 60 years old. Now a much less common sight than it was, and superseded by the modern Mini almost 20 year ago, the old Mini's place in history and in our hearts remains secure, and it is still loved and admired the world over.
There will be plenty of birthday parties, mini and maxi, before the 60th anniversary of its launch to the public on 26 August, and one of the first shindigs will be held at Silverstone from 26 to 28 July.
The event will feature on- and off-track festivities; a parade and display showcase; and there will be a "special celebration package" for pre-2001 owners to encourage them to come along.
Those who run Silverstone expect to see the "biggest-ever grid of racing Minis", and enthusiasts will be able to see successive generations of the Mini Cooper doing what it was supposed to do – getting thrashed, rather than parked in a museum.
It is quite something to consider that about 60 years ago, at Longbridge in Birmingham, the greatest British car ever built, a world beater, was undergoing its last preparations for series production.
Mini: remastering a British icon

Show all 8
Project ADO15 (ADO for "Austin Drawing Office"; 15 for their 15th postwar design) was the brainchild of the British Motor Corporation's chief engineer, Sir Alec Issigonis.
He brought to his task an almost artistic creativity, and did three (then revolutionary) things to fulfil his remit – to build a small car that could accommodate a family within a 10ft length.
First he turned the engine sideways to make the bonnet shorter, then he made that engine drive the front wheels, to avoid mechanical intrusions into the passenger/luggage zones, and he gave his car funny rubber cones for suspension, again saving space, cost and adding to its tenacious road holding.
Plus it would give you 50 miles to the gallon. They did rust, mind, and were regarded as disposable consumer goods – and that is, basically, why so few survive and why early and unusual variants, such as the once ubiquitous van, command ridiculous prices.
Well, if you're fortunate enough to be the custodian of a 1959–2001 original Mini, you will be able to take advantage of a cost-saving offer. Silverstone is providing owners with a pair of adult tickets (for the Friday or the full three-day weekend), a vehicle pass giving access to the Mini celebration display area, plus entry into the Mini celebration parade taking place on the full grand prix circuit at lunchtime on Friday.
This one-off package has been introduced to enable Mini owners who may not be members of those car clubs already attending the motor racing festival to share in the extensive diamond jubilee revelries.
"This is a big birthday for everybody's favourite little car, and we want to encourage all those lucky enough to own a charismatic original Mini to be part of what promises to be a very special 60th birthday," explains Nick Wigley, CEO of Silverstone Classic.
Those wishing to join the party can select the Mini celebration package from the ticket options available on the Silverstone Classic website. The organisers say numbers are limited and early booking is highly recommended.
As well as honouring the Mini in recordbreaking style, this year's Silverstone Classic is also marking Bentley's centenary, and 50 years of the Ford Capri. The track programme features evocative retro races for prized Formula 1, Formula 2 and Formula 3 single-seaters for the very first time.
Full details of all tickets (which must be bought in advance) – as well as hospitality packages and weekend festival camping – can be found at www.silverstoneclassic.com.
Join our new commenting forum
Join thought-provoking conversations, follow other Independent readers and see their replies