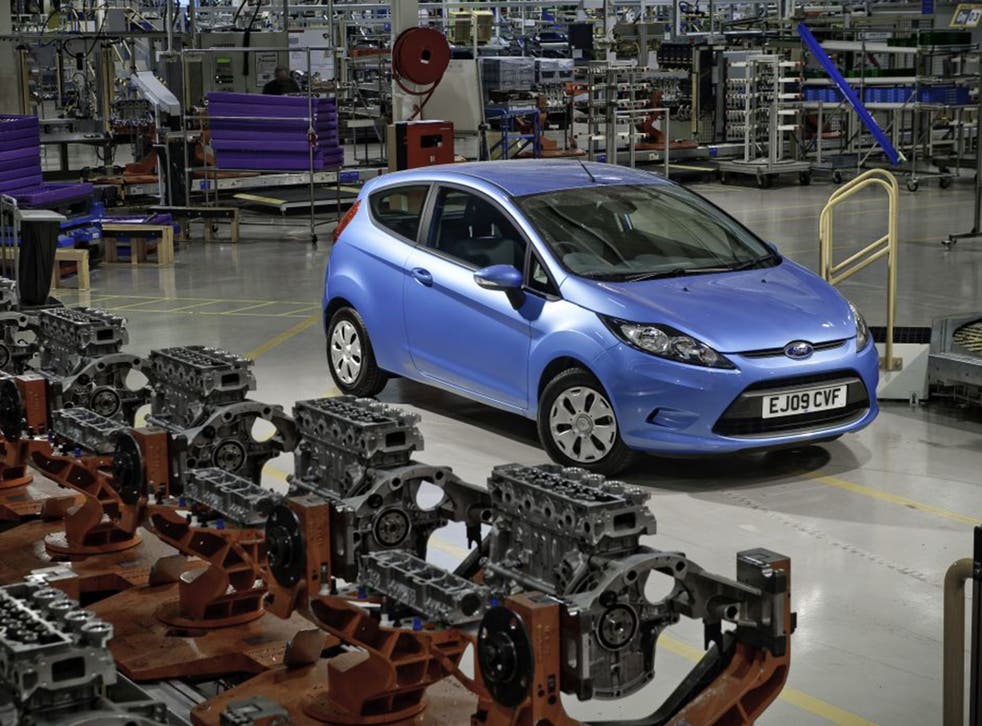 Labour's drive towards diesel cars causing 'massive public health problem,' admits shadow Environment Minister
Fuel linked to higher levels of air pollution deaths, say experts
The drive by the previous Labour government to encourage millions of Britons to opt for diesel cars in a bid to save the planet was "wrong" and a "massive problem for public health" Barry Gardiner, shadow Environment Minister, has admitted.
Ten million Britons drive diesel cars, in a trend which was encouraged by tax breaks given by Gordon Brown when he was Chancellor of the Exchequer.
Last year more than half of all new cars sold were diesel. But while they may have lower CO2 emissions than their petrol counterparts, diesel cars emit a higher amount of deadly pollutants – including nitrogen dioxide and sooty particulate matter – which have contributed to dangerous levels of air pollution resulting in the deaths of 29,000 people a year.
Compared to petrol cars, diesels produce 22 times the amount of particulate matter – a cause of cancer linked with the premature deaths of thousands of Britons each year. And they emit up to four times more nitrogen oxides – including nitrogen dioxide, which damages lungs and blood vessels and can cause heart disease, stroke and diabetes.
Barry Gardiner MP, Shadow Minister for the Environment, said: "Hands up, can I say there's absolutely no question that the decision we took was the wrong decision, but and it is a big but, at that time we didn't have the evidence that subsequently we did have and we had cleaner diesel engines, which we thought meant that any potential problem was a lower grade problem than the problem we were trying to solve of CO2."
Speaking in a Dispatches documentary being broadcast on Channel 4 tomorrow evening, he claims the drive for diesel was the "right move away from those vehicles who were pushing out CO2 emissions." But Mr Gardiner admits: "Certainly the impact of that decision has been a massive problem for public health in this country."
He adds: "The real tragedy is after we set up the committee on the medical effects of air pollution and it reported back in 2010 we've had five years that this government has done nothing about it."
But government ministers were warned of the risks more than 20 years ago, according to Professor Roy Harrison, professor of environmental health at the University of Birmingham: "I chaired an advisory committee in 1993 who was advising government on urban air quality issues and we recognized that there might be future problems associated with the increasing uptake of diesel passenger cars."
And air quality is so poor that it is stunting the lungs of young children in parts of London, according to preliminary findings from research being by experts at Queen Mary University Hospital and Kings College, London. Professor Chris Griffiths, QMUL, said: "When we look at the lung development of children who have been exposed to the highest levels of pollution compared with the lowest levels of pollution they are developing smaller stunted lungs, and that's a big concern."
The documentary also reveals how car drivers are exposed to higher levels of diesel pollutants than cyclists and pedestrians
Professor Frank Kelly, Chair of the Committee for the Medical Effects of Air Pollution, says: "When people are in cars if they've got windows closed and the air conditioning on, they probably think that they are actually immune from the emissions from the vehicles in front of them and in reality that's not the case because the gases penetrate so easily that they will get into the cabin of the vehicle and depending on the ventilation of that cabin they may actually build up to much higher concentrations."
And Alan Andrews, lawyer, ClientEarth, said: "I think people have been conned to some extent. People still think diesel is the green fuel and buying a diesel car they are doing the right thing by the planet. The truth is diesel is a very heavily pollutant fuel certainly from a public health point of view we can't have dirty diesels in our towns and cities."
Legal limits of nitrogen dioxide were exceeded in 40 of Britain's 43 urban zones, according to the latest government report on air quality.
In London local councils are already pushing back against diesel engines, with plans in Islington and Hackney for a surcharge on parking permits for diesel vehicles.
Islington council has been using its emission-based parking system to encourage a shift to diesel cars since 2007, but now diesel car owners will have to pay an extra £96 a year.
Elsewhere in the capital, diesel drivers in Camden and Kensington and Chelsea already pay up to £18 extra a year for older diesel vehicles. The Major Boris Johnson also plans to raise the congestion charge for diesel cars by £10.
The British car industry has reacted with dismay to the "blanket" clampdown on diesel by local councils. One source close to Ford, which recently opened a new £190m diesel engine plant at Dagenham, said the firm and wider industry viewed it as the start of a "demonization of diesel"
Mike Hawes, the chief executive of the Society of Motor Manufacturers and Traders (SMMT), said: "Blanket polices which fail to distinguish between modern clean [diesel] vehicles and decades-old technologies are not the solution." He added: "The decision to impose new financial penalties on diesel owners who bought their cars in good faith is unreasonable and demonstrates a concerning lack of understanding about the huge technological advances that are already making diesel vehicles cleaner."
But Alan Andrews, ClientEarth, told The Independent on Sunday: "Legal limits for air pollution are being broken by huge margins in towns and cities up and down the country and that's largely down to diesel."
In a statement, a government spokesperson said: "This government has invested heavily in measures to help tackle the issue of air quality, committing £2 billion since 2010 to increase ultra-low emission vehicles, sustainable travel and green transport schemes, as well as promoting walking and cycling. We are working with businesses and the public health sector to promote understanding and encourage action to further reduce exposure."
Register for free to continue reading
Registration is a free and easy way to support our truly independent journalism
By registering, you will also enjoy limited access to Premium articles, exclusive newsletters, commenting, and virtual events with our leading journalists
Already have an account? sign in
Register for free to continue reading
Registration is a free and easy way to support our truly independent journalism
By registering, you will also enjoy limited access to Premium articles, exclusive newsletters, commenting, and virtual events with our leading journalists
Already have an account? sign in
Join our new commenting forum
Join thought-provoking conversations, follow other Independent readers and see their replies