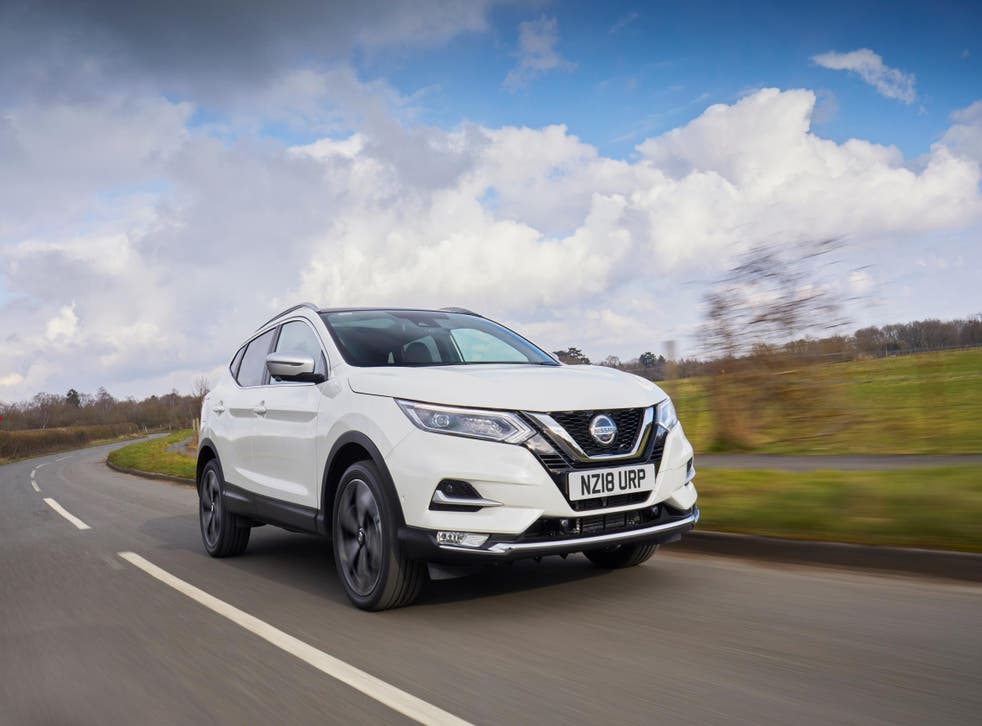 Nissan Qashqai: A revolutionary car which almost drives itself
The original SUV crossover is still capable of being pioneering with its Pro Pilot features
Sometimes the most mundane of vehicles can be the most important. The Ford Cortina of 1962 set the template of the family car for half a century. The Fiat 127 of 1969 pioneered the small hatchback concept, while the VW Golf of 1974 scaled up the approach and broadened its appeal. Renault's Espace and Megane Scenic created the MPV market from the 1980s onwards. All, with the benefit of hindsight, were even more significant than they might have seemed at the time. All raised the quality of life for the families who enjoyed them. All created new market sectors. None were what you'd call glam, nor exactly exciting to drive.
Which brings us to the Nissan Qashqai of 2007, which redefined the family car and spawned the crossover boom still going strong today.
Nissan bravely decided to dump their conventional mid-sized saloons and hatches, and replace them with SUV-like crossover designs. The styling and proportions we find so commonplace today were pretty radical a decade ago. Now everyone is at it. You know what they say about imitation and flattery…
The first Qashqai was replaced with a mark II version in 2013, and this model is one of the last of that run. The car has been fitted with a facelift and a Pro Pilot package, which delivers "autonomous" driving, or aspects of it, to the common woman and man. A revised Qashqai, by the way, will be in showrooms within a year or two.
So, does it work?
Empathically, yes. In many ways the Pro Pilot system is not much different to the various versions of this technology presently fitted to posher machinery. The usual elements are easily recognisable, and soon will be trickling their way down into the lower reaches of the new car market. Very useful they are, too.
"Lane assist" takes some of the effort out of steering, and will automatically correct your steering if you veer out of the lane on a motorway. You have to keep your hands on the wheel, by law, and it will disengage if you don't keep hold of the steering, but as I say it makes your inputs less urgent. In the Nissan, the system is quite insistent, so if you're not indicating to switch lanes, for example, you have a bit of a tug of war with the thing to shift it. Not a bad thing, I suppose, and it was predictable in use (though can never replace your own attention to the road).
Then there's adjustable or adaptive cruise control and "traffic jam assist". With this feature you set a speed, plus a preferred distance from the vehicle in front, and the car will brake and accelerate accordingly. If you're stuck in a jam for too long, it will resume its adaptive path. Otherwise, you just need to tap the accelerator. There's also a blind spot alert, an orange light on the door mirrors see when obstacles approach you on either flank. Again, no substitute for a life-saver look over your shoulder, but a useful additional primary safety feature.
The novel thing about this familiar package is that the Nissan makes all these advanced features intuitive and easily accessed from a few buttons on the right of the steering wheel. You don't sweat while you try to work out which button sets rather than limits the speed, as you try and overtake a National Express coach, for example. It is much easier to use than some of the more expensive competition.
As in so many ways, the Qashqai is very well thought through – a practical piece of design as well as one that is still fairly good looking, despite the passage of time. It's almost aspirational really. At the back, for example, the boot features hatches within it to store you're shopping, so your spuds don't end up rolling around all over the place (it has happened to me). As a high car, it is easier for older folk to get in and out of.
There's little to be said against the Nissan. The legroom in the back is a bit tight, but the electrically adjustable seats can help make the best of the available space (and will travel very far forwards if need be). The smallish screen and its touchscreen graphics are a touch dated, but still clear and usable. The DAB radio and sat nav are exceptionally simple to use, and you wonder why more manufacturers don't make their vehicles more user friendly. The quality of the interior is par for the course for a mainstream brand, and perhaps a little sombre, even dull, for some tastes. My test car arrived in a fashionable solid white, which added to the 'white goods' utilitarian 'fridge on wheels' feel of the car. I'd prefer a nice 1970s-style metallic bronze, if it were my cash, and I thought the ultra-low profile wheels a bit daft.
The "Tekna" trim the Pro Pilot edition is based on lacks heated seats and steering wheel, but that really is being a bit fussy. Dual climate control, comfortable leather-clad seats and keyless entry are the most immediately satisfying features.
To drive, the Nissan Qashqai does what a car in its class – and the bestseller of course – should do. It has tidy rather than enthralling handling, and an extremely cosseting ride – good for speed humps and our pock-ridden highways. Most versions have front wheel drive, which is adequate for most needs with its relatively high ground clearance. Four-wheel drive options are also available. My diesel model was refined and pretty lively, paired with a constant-velocity gearbox which was only a bit whiney and annoying when pushed very hard. A conventional torque converter, as ever, would be far superior.
In service, your Qashqai should be as reliable as the reputation of Nissan suggests, and you have the additional gratification that it is British made, in Sunderland.
Nissan Sunderland was the first Japanese plant built in the UK, three decades ago, and did more than any other to prove that Britain could make decent cars in volume; other manufacturers such as Toyota followed suit. The Qashqai helped Nissan's fortunes but also, in due course, helped save its commercial partner, Renault, who used the expertise and concept to make their own SUV/crossovers such as the Kadjar.
These are extraordinary achievements for an "ordinary" car. It seems the next generation model Qashqai will be built in the UK as well, "despite Brexit" as they say.
After that? Well, I'm not sure I'd want to reflect too long on that. The Qashqai's place in the affections of many users and in automotive and economic history is assured, but its future looks more uncertain.
Join our new commenting forum
Join thought-provoking conversations, follow other Independent readers and see their replies