Volvo to add in-car sensors to stop drink or tired driving
But do such innovations breed complacency or over-reliance on technology, asks Sean O'Grady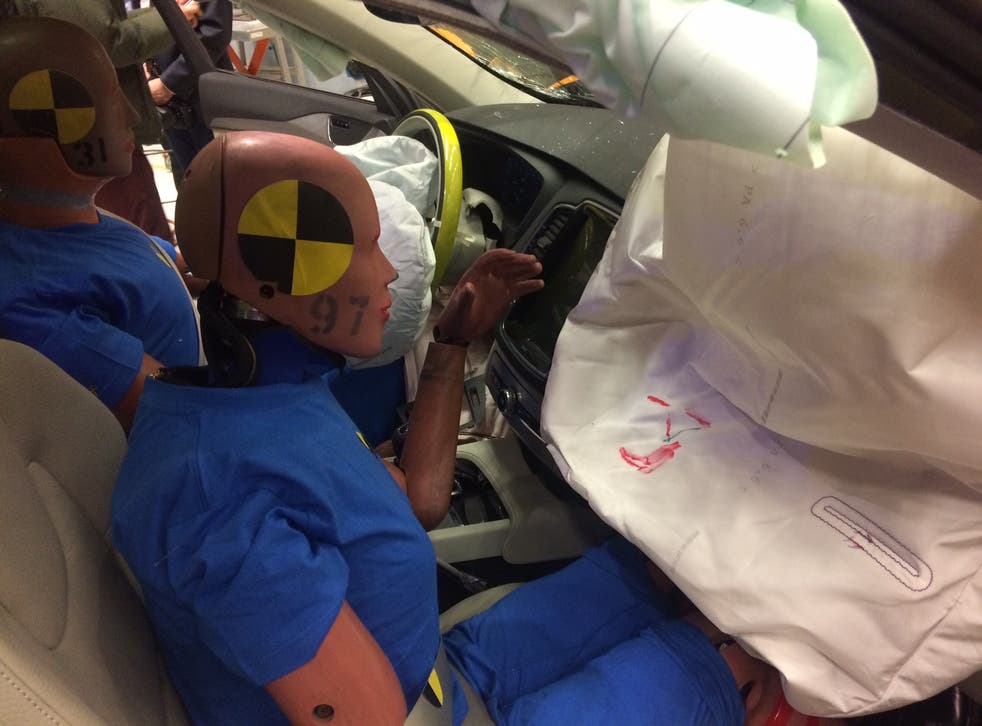 The dummies are OK" declares Malin Eckholm, vice president of the Volvo Cars Safety Centre at Gothenburg, Sweden.
About a hundred hacks from around the world breathe an audible sigh of relief after a crash test of a 2020 model year Volvo XC90 SUV. It feels rather like a public execution, with us up in a gallery sipping champagne, filming it all on smart phones – but of an innocent car rather than a perp.
I could have quite happily, and comfortably, driven this production model home. Instead, it was sacrificed to the higher cause of safety and, I suppose, a few seconds of entertainment as it is smashed into a concrete block at 50mph.
The dummies were, indeed, alright, the main structure of the car surprisingly intact after the impact, but, the Volvo people are keen to stress, the dummies would not be so fortunate if the car had been moving at the sorts of speeds you routinely see on our motorways.
Hence the recent decision to start speed limiting all of their cars to 180km/h, about 112mph – far more than anyone should ever need in fact.
Now the company is keen to push its safety credentials still further, with journalists invited to meet its most senior executives to learn about three new initiatives.
First is the "care key", whereby a Volvo owner can limit the speed of their car when it is being driven by someone else, typically a younger, less experienced driver. This is promised as a standard fitment on every Volvo, from model year 2021.
Next up, for the "early 2020s" is a project to help stop tired, drunk, drugged and inattentive smartphone-obsessed humans from doing themselves and other road users serious harm.
This means putting the car into a role where it can intervene if, for example, it detects the driver has fallen asleep, or is driving erratically. A vehicle can do this, as now, by monitoring inputs such as steering and braking, but also by using infra-red cameras to detect eye movements.
In extremis, the car could, using new autonomous driving technologies, alert a Volvo call centre to call the driver (hands free), make the driver slow down or even take over the car's progress, park it and call the emergency services.
It is though, complicated. Volvo, like other makers, needs to make sure that it doesn't oversell the driver assist features it already fits to many of its models.
These will, for example, steer the car if it senses that it is moving out of lane on a highway; automatically maintain a given speed, brake if it is approaching too close to the vehicle in front, and then speed up against when the obstacle is removed; and even brake hard and tighten up the seat belts if it sees an imminent collision.
Such innovations can breed complacency or "over reliance" as Volvo calls it. It shows videos that demonstrate how easily drivers grow lazy and careless when they assume the car will foresee and deal with all hazards.
Support free-thinking journalism and attend Independent events
Volvo Cars chief executive Hakan Samuelsson, an unshowy Swede who speaks carefully about his company's plans, admits that this is a "danger", "if it signals that a car is more autonomous than it is", and the company is careful in saying that such new technologies are not the equivalent of auto-pilot on a plane, say. So the drivers of the future will be well advised not to put their feet up just yet.
In such a competitive market place every maker needs some asset or quality that others lack (real or perceived) and, ever since it started fitting proper three-point harness seat belts in its cars in 1959, Volvo has acquired an enviable reputation – so much so that it is standing by its Vision 2020 project to have no one killed or seriously injured in a Volvo by next year.
We will see how near it has come to success in that endeavour before long; the dummies will not be so lucky.
Register for free to continue reading
Registration is a free and easy way to support our truly independent journalism
By registering, you will also enjoy limited access to Premium articles, exclusive newsletters, commenting, and virtual events with our leading journalists
Already have an account? sign in
Register for free to continue reading
Registration is a free and easy way to support our truly independent journalism
By registering, you will also enjoy limited access to Premium articles, exclusive newsletters, commenting, and virtual events with our leading journalists
Already have an account? sign in
Join our new commenting forum
Join thought-provoking conversations, follow other Independent readers and see their replies