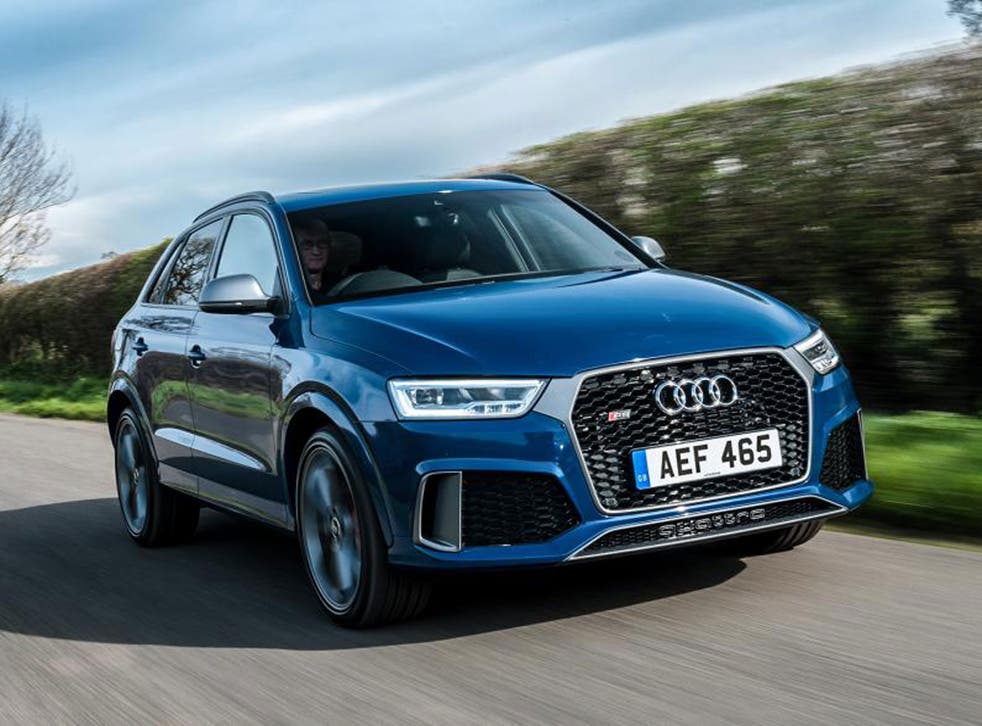 Audi RS Q3 Performance, car review: SUV's extra grunt comes at a cost
Those will to pay almost £50,000 will get a lot for their money, even if this isn't the last word in performance or SUV ability
Graham Scott
Monday 25 April 2016 22:50 Comments
For many, buying an Audi Q3 would give them the balance they want between everyday on-road ability and perhaps the odd foray onto a wet field. For a small number of buyers that isn't enough, and so Audi has produced the RS version of their small SUV, with extra oomph. For a few even that isn't enough, so for them Audi uprated the RS to RS Performance.
The RS Q3 Performance produces yet more power from its five-cylinder turbocharged 2.5-litre petrol engine. An output of 362bhp sounds a lot for what is effectively still a fairly tall vehicle not designed exclusively for the road. However, the 343lb ft of torque is going to be welcome, whatever the road, weather or mood.
The result of the extra grunt is a vehicle that can has a bit of a split personality. Leave it in Comfort mode and you can trundle around quite happily. The ride is as it says, comfortable, and all is well and relaxed. To underline how effortless that is, the max torque figure is produced from just 1650rpm.
Then you switch to Dynamic and add a prod of throttle. Which is when you realise that this SUV can get to 62mph quicker than a Range Rover Sport SVR. An exhaust flap opens up and you get a fabulous offbeat warble from the five-pot motor as it rushes up the rev range. It feels remarkably swift.
Inevitably this is all going to push you into attacking some corners with the sort of gusto you wouldn't normally associate with an SUV, even a smallish one. It sort of works here. There's plenty of grip and not a lot of roll, but the electronics come in pretty early to quell any enthusiasm. The front pushes out, the ESP gets to work and your behaviour is brought back into line.
The steering, which is fine in Comfort mode, stiffens up unpleasantly in Dynamic mode, producing a feeling of artificiality to proceedings and is another reason you won't feel like pressing on too hard, despite the performance available.
It's better to back off a bit, ride that big wave of torque and use the extra performance to barrel down an unoccupied and not particularly twisty road. This will make you enjoy the cabin more too, which is a classy affair of leather, Alcantara, carbonfibre and blue threads, which work better than that sounds.
Naturally you're paying for all this nice kit and luscious noise. A price tag not far below £50,000 will ensure that 'the few' who kept ticking the boxes past Q3 to RS to Performance remain few in number. But they'll be getting quite a lot for their money, even if this isn't the last word in performance or SUV ability.
Register for free to continue reading
Registration is a free and easy way to support our truly independent journalism
By registering, you will also enjoy limited access to Premium articles, exclusive newsletters, commenting, and virtual events with our leading journalists
Already have an account? sign in
Join our new commenting forum
Join thought-provoking conversations, follow other Independent readers and see their replies