Ford Ranger Wildtrack - First Drive

Show all 6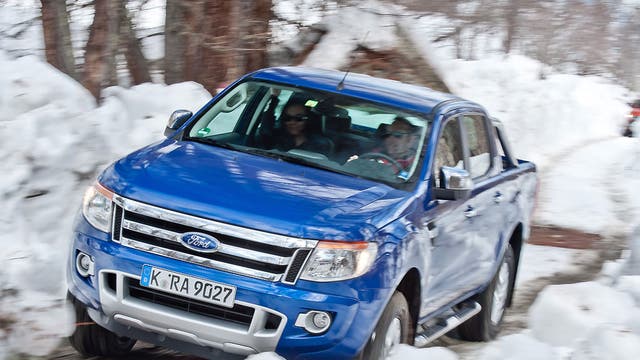 Ford Ranger Wildtrack - First Drive
You can't beat this truck... if you can afford to fill 'r' up
Price: £25,040
Engine: 3.2-litre diesel
Transmission: six-speed automatic, four-wheel drive
Power output (PS @ RPM): 200 @ 3000
Max torque (Nm @ rpm): 470 @ 1700 – 3500
Top speed (mph): 109
Economy (mpg): 26.7
CO2 (g/km): 274
The new Ford Ranger is a lot of truck. Weighing in at over 2,000kg, it's more than 5m long, nearly 2m high and can tow 3,350kg of cargo while carrying five burly men across rough terrain and wading in up to 800mm of water. It's perfect if you're a Welsh sheep farmer or need to tow your speedboat and caravan to the seaside for the weekend. On the narrow roads of north London, where I have yet to come across an unpaved river crossing, it's less useful.
More extreme climes beckon then to test Ford's latest beast. And putting it through its paces at Ford's launch event last week in the snowy Italian Alps, its commanding size and powerful diesel engine begin to make more sense. Trucking up a snow-clad incline with rocky outcrops on either side of me, I'm thankful for its compact front differential and an electronic transfer box, which lets you shift from four to two-wheel drive at the swivel of a knob. The throttle response is altered too in four-wheel-drive mode, making sure a jolt to the cabin from an avalanche of snow (or from my meagre off-roading skills) doesn't mean I prod the accelerator and end up over a cliff in a fireball.
It's tough off-road then and can carry a lot of stuff, which is good as – unlike the Chelsea tractors of west London and Cheshire – most Rangers will be run by genuine outdoor types (farmer, gamekeepers et al) to cart things around over broken ground. But does it work on tarmac?
Big American trucks are normally as sophisticated on the road as a Ramones guitar solo, but this one is made in South Africa. Yes, there is no denying it's a big, thirsty oil burner but, over nearly 1,000 test miles, it's clear that Ford has worked hard to improve its road handling and comfort. On the motorway, the Ranger handles more like a mid-market or even luxury estate or SUV than a rough 'n' ready truck. In the cabin there are still some hard edges and scratchy surfaces in places and the driving position isn't ideal if you are much shorter than 5ft 10in, but the ride is composed, the engine and automatic gearbox refined and the space more than comfortable enough to put down the miles. And thanks to its box-like design and a clever ground-level reversing camera it is not even that tricky to park.
In the age of record fuel prices and hybrid cars, the Ranger is something of an anachronism, but as long as you can afford to fill it up (and deal with the environmental guilt) the Ranger is a rival to the likes of the Land Rover Discovery 4 for those people who like to tow their horsebox, bomb around woods or drag around their caravan at the weekend, but still want something vaguely practical for the rest of the time.
Nonetheless, the Ranger is a niche product for Ford and compared to its mass volume sales of the Fiesta (Britain's top-selling car) you're more likely to see a pro-choice campaigner at a Rick Santorum rally than spot one on the high street. But it is still an important car. Built in Thailand, South Africa and soon in South America it will be sold in nearly 180 countries, becoming a workhorse from the back streets of Bangkok to the logging trails of Brazil.
The only place you won't see one is in the US. The Ranger, believe it or not, is considered too small for the Americans. Soccer mums, it seems, can handle a lot more truck than me.
Does driving to the slopes make sense?
By Jamie Merrill
The Ford Ranger's launch in Italy last week gave me the perfect opportunity to test the idea that driving down through France is easier than flying to the slopes. It also gave me the chance to try some winter off-roading while I was at it.
Many Swiss, French and Italian resorts (including Courmayeur where I was headed) are within a long day's drive of South-East England. The journey time is longer than by air – but not much more when you factor in wasted time at airports – but you can break up the journey with an overnight stay and trips to the hypermarkets. And with the Ranger at least, there's plenty of room to carry five adults and all your own gear
The round trip will cost you about £250 in tolls and £60 each way for the Eurotunnel, plus a severe denting of your plastic for several tanks of fuel. So it is a trip that only makes sense if you plan to pack the car full of passengers and break up the journey with an overnight stay. In my case Dijon was an ideal spot to rest-up, explore a pretty provincial French town and most importantly sample the local mustard with my steak frites and taste cassis de Dijon (the city's lesser-known delicacy) after my meal.
This kind of trip won't appeal to everyone but plan it right and it shouldn't cost you a fortune. French roads are smooth and mainly traffic free and in a comfortable car like the Ranger it certainly beats standing in the easyjet queue at Gatwick. The main advantage though is that when you arrive you have the freedom to explore more than just one ski resort, without forking out for expensive transfers.
For example you can spend two or three days in Courmayeur (courmayeur.com) with well-groomed Italians sipping Prosecco before hoping across the border to Morzine and the 400 miles of family friendly pistes of the Portes du Soleil (portesdusoeil.com). From there the resorts of Megeve in France and Villars are still within striking distance before heading home, perhaps stopping off for a night at the National Park near Reims.
The other benefit it that you might get the chance to take your wheels off-road. I was lucky enough to the put the Ranger's four-wheel drive capability to the test on a purpose-built Ford route at the foot of Mont Blanc, but increasingly tour operators are running day or week-long trips across the Alps to put your four by four to the test in icy and snowy conditions. These days operate in much the same format as conventional off-roading days back in the UK where you turn up in your own truck and join a party. Companies such as Atlas Overland (atlasoverland.com), Waypoint Tours (waypoint-tours.com) and Lost World Adventures (lost-world-adventures.co.uk) cater for all skill sets and trips start from £645 per person go up to nearly £900 for a ten night journey with accommodation and support. Then there's just the long drive home when you've done you back in on the slopes to worry about.
The Ford Ranger starts at £18,565, for more information visit ford.co.uk
Join our new commenting forum
Join thought-provoking conversations, follow other Independent readers and see their replies