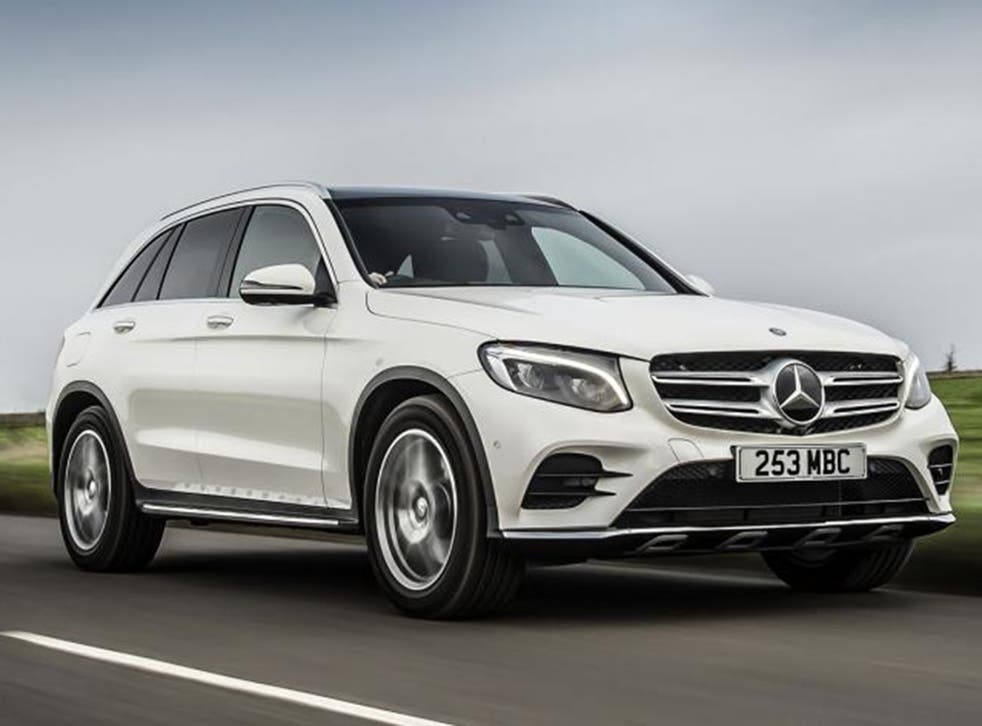 Mercedes GLC 250d 4Matic AMG Line, car review: Stylish SUV takes aim at BMW X3
The performance is more about smooth strength than sporty urge – you'd like it to steer with more panache, though
John Calne
Tuesday 02 February 2016 14:31 Comments
Previously, there were the BMW X5 and the Merc M-Class. Below them were the BMW X3 and… nothing.
Well, there was the Merc GLK. But only if you lived in a country where they drive on the right.
Which we don't. And the GLK was only available in left-hand drive. So its replacement, the GLC, is an all-new model in the UK.
Its styling is more sport than utility, and its platform is based on the C-Class. So too is its interior, which is spacious and lofty, providing an excellent view of the world for all.
You do hear a little from the engine, whose note is deep and distant but does get louder as the pedal goes deeper into the carpet. As tested, though, you can forgive that for the strength of the 2.0-litre unit; this is also available in 168bhp form, but here it's tuned for 201bhp and, with 369lbf ft from 1600rpm, it pulls very well.
The 9G-tronic gearbox is standard, and with the mode selector set to Eco it helps deliver a claimed 56.5mpg and 129g/km. Cruising in top on the motorway, the engine is only turning over at 1500rpm. You can try hurrying it along in manual mode, but it's at its best when left to decide for itself.
So its performance is more about smooth strength than sporty urge. In corners, on the other hand, it's full of verve, handling with a smooth fluency that tunes you right in. Ride quality, too, settles down beautifully when you're pressing on – it's on the firm side in town, but that's well worth it for the pay-off.
You'd like it to steer with more panache, though. The same goes for its braking, too. Both do what it says on the tin, but you don't get enough feel for what's happening.
If its handling wasn't so good, this would be less frustrating. It's almost as if the GLC is teasing you with a vision of how good it could be.
Another kind of vision comes from the styling enhancements made to our vehicle, which was in AMG Line trim. Rather unusually, this also includes coil springs – whereas the cheaper Sport model has adaptive damping and optional air suspension.
Choose this upgrade and the Sport will end up costing about the same as the AMG Line. It won't look as in-your-face, but it will ride more comfortably at low speeds; it's what we'd do if we were buying a GLC.
And would we buy a GLC? Well, the X3 has not been short of awards in this segment since it was launched, so Merc had work to do.
But on this showing, it's done that work well. This is the more modern option now – and that comes across in everything from fuel economy to cabin design.
Where, lest we forget, the steering wheel is on the right.
Register for free to continue reading
Registration is a free and easy way to support our truly independent journalism
By registering, you will also enjoy limited access to Premium articles, exclusive newsletters, commenting, and virtual events with our leading journalists
Already have an account? sign in
Join our new commenting forum
Join thought-provoking conversations, follow other Independent readers and see their replies