Range Rover Evoque eD4 Coupé - First Drive for the 2wd

Show all 2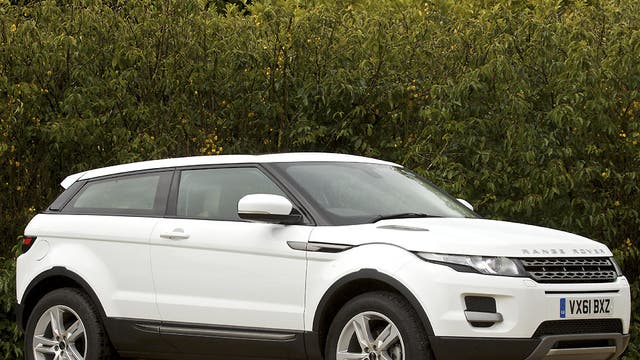 Range Rover Evoque eD4 Coupé - First Drive for the 2wd
Engine: 2.2-litre four-cylinder diesel, turbocharged
Transmission: six-speed manual, front-wheel drive, stop-start
Power: 150 PS at 4,000 rpm
Torque: 380 Nm at 1,750 rpm
Fuel consumption (combined cycle): 57.6 mpg
CO2 emissions: 129 g/km
Top speed: 112 mph
Acceleration (0-60 mph): 10.6 seconds
Land Rover's baby Range Rover, the Evoque, is a big hit. Under the skin, it shares a lot with the solid and dependable Freelander but daring styling, foreshadowed by the dramatic LRX concept car, and outstandingly luxurious cabin design that wouldn't shame a full-size Range Rover, have shifted it into a completely different price category.
A smaller Range Rover is also a more economical Range Rover but there's something else as well. Land Rover, a world leader in off-roading has decided its smaller cars, at least, don't need to have all-wheel drive. That means that while most Evoque variants are still 4x4s, you can also get this year's coolest car with just front-wheel drive too.
A few years ago, it would have been very difficult to imagine Land Rover doing a car without four-wheel drive but rising fuel prices and CO2-related taxes have smashed resistance to the idea; the gains in terms of fuel consumption and emissions from going two-wheel drive are just too big to ignore. Kia's second-generation Sorento and BMW's X1 were among the first SUVs to turn an all-wheel drive transmission from a must-have piece of equipment to a tick-box option and even Jeep, Land Rover's main rival in the hard-core off-road stakes, weakened - a signal that Britain's main maker of 4x4s could probably risk it too. First up, there was a front-wheel drive version of the Freelander. The skies didn't fall in and now there is a front-wheel drive Evoque as well. Less weight and less friction means that a two-wheel-drive three-door Evoque Coupé achieves CO2 emissions of 129g/km and fuel consumption of 57.6mpg (combined cycle) in official tests, compared with 149g/km and 49.6mpg for the most economical four-wheel drive version, which weighs about 75kg more, roughly the equivalent of carrying an additional adult passenger.
Land Rover is claiming a top speed of 112 mph and acceleration of 10.5 seconds from rest to 60 mph for the front-wheel drive Evoque, which means that its on-paper performance is nothing to get too excited about. Curiously, it's even slightly slower than the equivalent four-wheel drive version, which has the same power output, although a little more torque. Subjectively, though, this car feels a lot quicker than the figures suggest. Diesel Freelanders and Evoques always have a lively character, thanks to their smooth and free-revving engines and sporty short-throw gear-shift, and this one is no exception – add in a high level of agility for such a tall car and the Evoque delivers a lot of driving fun.
And even a front-wheel drive Evoque will probably be handier than a normal car if you do need to negotiate the odd rough track or ford the odd river. I've driven a front-wheel drive Land Rover Freelander and a pre-production front-wheel drive Evoque in a variety of light off-road conditions and they will certainly get you through the occasional sticky patch, even if they don't have the go-anywhere prowess of their all-wheel drive equivalents. That's because Land Rovers and Range Rovers don't owe their off-road ability just to four-wheel drive; generous ground clearance, the right tyres, modern traction control and anti-lock braking systems, and a bit of waterproofing all play their part and they're still present on the front-wheel drive Freelander and Evoque. Put it this way, you're much more likely to avoid taking your Evoque off road for fear of denting its pretty bodywork than because you're afraid of getting stuck.
The pricing for the two-wheel drive Evoque is as steep as it is for the rest of the range – but it's still likely to find plenty of takers.
Join our new commenting forum
Join thought-provoking conversations, follow other Independent readers and see their replies