Rolls-Royce Coupé

Show all 2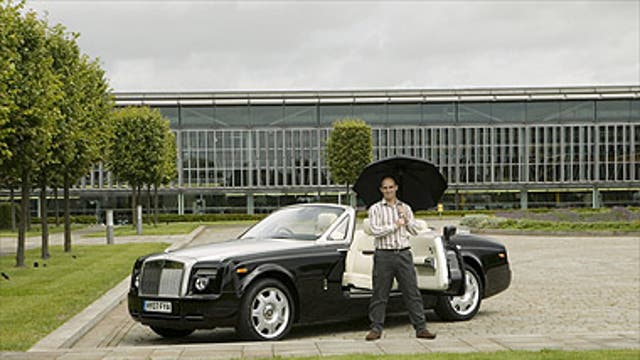 Rolls-Royce Coupé
Not even a leaky top can dampen Michael Booth's latest guilty pleasure – the fabulously vulgar Rolls-Royce Coupé
Would suit: Elton John, with a shower cap
Price: £305,000
Performance: 149 mph(limited), 0-60mph 5.7secs
Combined fuel consumption: 17.6mpg
Further information: www.rollsroycemotorcars.com
Sitting in the new Rolls-Royce Phantom Drophead Coupé in a lay-by outside Chichester, trying to look like I owned the thing and pondering the vast stainless steel savannah before me – the Conran-esque hessian floor, and the rain starting to dribble through a gap in the roof on to the creamy leather passenger seat – my thoughts turned, naturally, to Skoda.
A few years ago, both brands were heading for the knacker's yard. Before VW's quality control men got their teeth stuck into it, Skoda was, literally, a joke. Meanwhile, VW looked to have got the best of the messy severance of Rolls-Royce and Bentley, leaving BMW with a brand whose image seemed irreparably damaged by association with sub-£10k wedding cars and third-rate comedians.
Today, Skodas are desirable, stylish and not in the slightest bit funny, and car speculators are offering new-delivery mileage Phantom Drophead Coupés (I am starting a campaign to rename it Corniche; join me) at £120,000 over list price – the highest mark-up of any new car, ever, which tells you all you need to know about how successful BMW has been recently.
But what about that leaky roof? Well, let's give Rolls the benefit of the doubt. The nice press man said it was because mine was a pre-production car and that every new Phantom will undergo monsoon testing. And anyway, they've done away with all the stitching and ribbing on the leather seats to make them easy to wipe off if they do get wet, so it's not such a big deal. But could you imagine the Donald Trumps and Elton Johns of this world putting up with that? Not with their problem hair, I can't.
Aside from that, the Phantom is worth every penny. I mean it. You are getting almost three tons of metal, wood, glass and 17 cows-worth of leather for your money and, most importantly for the helicopter, yacht and jet-owning folk who'll be buying them, it will be relatively exclusive, with only 200-300 built a year. Apparently, more owners will drive the convertible themselves, so attempts have been made to make it more driver-orientated, although with two rather poky back seats, you could hardly call it "passenger-orientated".
I don't particularly like that heavy windscreen surround, and with 43,000 paint options, I would have passed on the sparkly paint job my car had, but that's about it as far as complaints go. Yes it's huge. Yes it corners like a sumo carrying his shopping, but the Bentley Azure is just as much of a waterbed.
I love the sceptical, squinting headlights; I like the rakish rake of the grill, I even like the stainless-steel bonnet and Charlie Dimmock-style teak decking out back, although everyone else seems to think they're vulgar (and they add a Ford Focus-sized £12k to the price).
Of course, the Rolls is fantastically, hilariously vulgar, but in the same way the bubble car was born of Post-War austerity and the Porsche 911 evokes the height of 1980s yuppie aspiration, the Phantom perfectly embodies our age of conspicuous, desperate consumption.
It's a classic: Rolls-Royce Phantom by Frua
When I first saw the Rolls-Royce 100EX convertible that formed the basis for the new Drophead Coupé, it nudged a distant memory of the 1973 Rolls-Royce Phantom VI with its special, one-off body by Italian coachbuilder Pietro Frua, and square headlamps. Commissioned by Monaco-based diplomat Simon van Kempen, the Frua Rolls had a complicated, three-year gestation. Kempen bought a Phantom IV chassis from Rolls which, unusually, gave approval. Phantoms were usually turned into rather lardy, bespoke limos but Kempen wanted something more ostentatious and ordered this two-door convertible. It took Frua a fair amount of hair pulling, not to mention dealing with van Kempen's demands (half way through he decided he didn't want the front bumper to cross the grill). After 20 years, it was sold in 2001, for $750,000, and is in the US.
Register for free to continue reading
Registration is a free and easy way to support our truly independent journalism
By registering, you will also enjoy limited access to Premium articles, exclusive newsletters, commenting, and virtual events with our leading journalists
Already have an account? sign in
Register for free to continue reading
Registration is a free and easy way to support our truly independent journalism
By registering, you will also enjoy limited access to Premium articles, exclusive newsletters, commenting, and virtual events with our leading journalists
Already have an account? sign in
Join our new commenting forum
Join thought-provoking conversations, follow other Independent readers and see their replies