The Independent's journalism is supported by our readers. When you purchase through links on our site, we may earn commission.
Interview
'People stop me in the street': TikTok sea shanty star Nathan Evans on viral fame and quitting his day job
Former postman Nathan Evans sparked an international craze with his renditions of traditional sea shanties. Elizabeth McCafferty speaks to the TikTok star who has us humming whaling songs
Wednesday 20 January 2021 08:25 GMT
Comments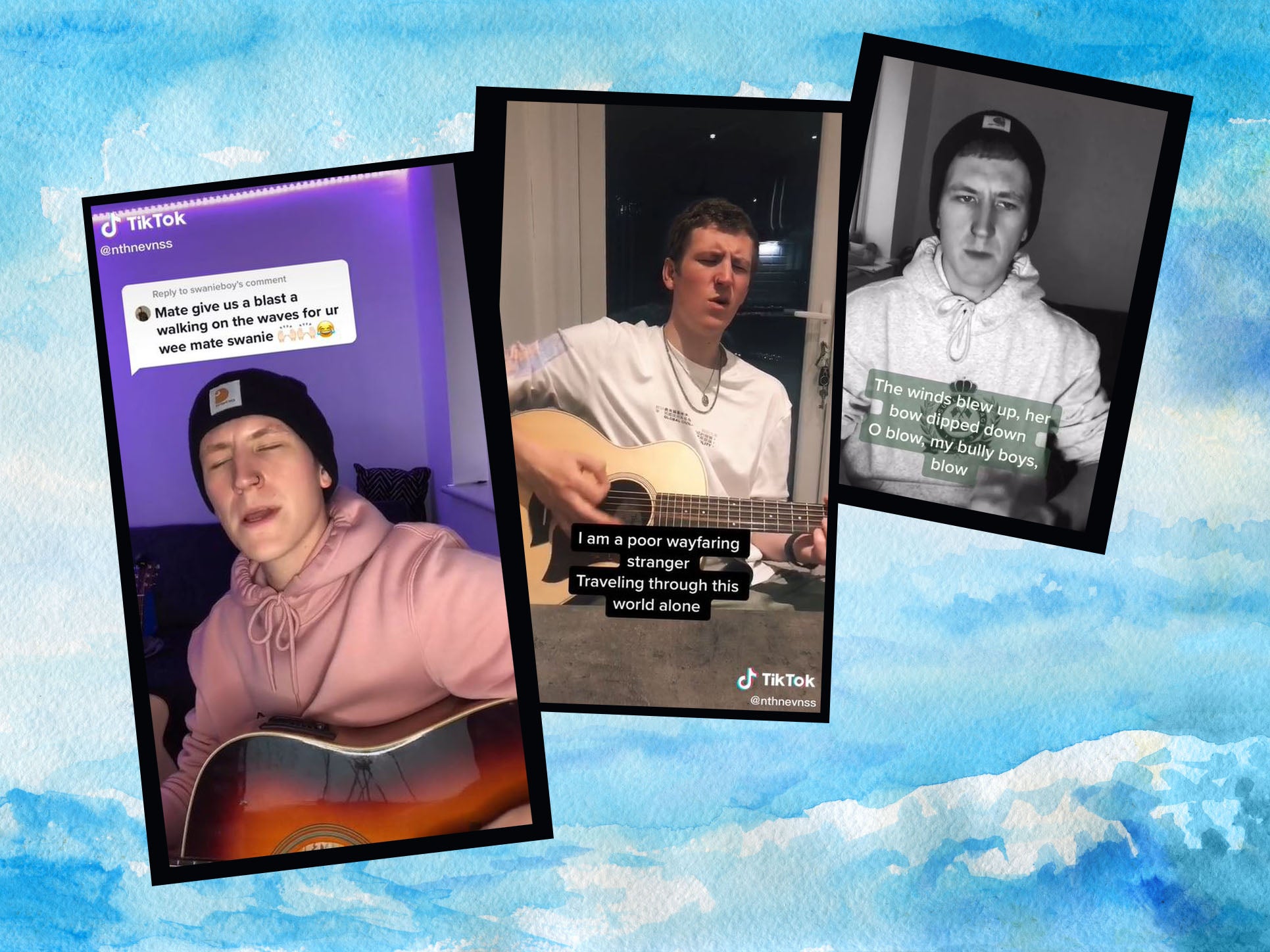 In a twist that none of us saw coming in 2021, a postman who became a viral Tik Tok star has had people across the world chuckling, rhythmically slapping their thighs and clapping as they sing 18th century whaler songs.
The sea shanty frenzy has since taken on a life beyond Tik Tok, even landing a spot on BBC Radio 4, and being Googled more than at any other time in history.
But it all started with one man, 26-year-old Nathan Evans. Six months ago, at the behest of a fellow user, Evans posted his first-ever sea shanty video on TikTok. Today, he has over half a million followers and his recent rendition of "The Wellerman" has racked up over seven million views.
People across the world have since followed in Evans' footsteps with their own sea shanty covers, and TikTok is now host to 1.6 billion videos using #seashanty.
Riding the wave of his success, Evans has since decided to leave his Post Office job to pursue his dream of making music his full-time gig.  
We spoke to him about his journey from delivering letters to international viral stardom, being recognised on his rounds and who his influences are (sadly, no pirates made the cut).
At what moment did you realise the scale of this trend you had created?
I realised it had started getting big when a guy on TikTok duetted the video. He had three or four million followers. A couple of days later, I saw the video again, but he was dancing in his bedroom to it and I thought, this is absolutely crazy. Now Andrew Lloyd Webber has joined in and Robbie Keaton and Gary Barlow! It's a bit nuts.
You've been singing sea shanties since last summer. Why do you think 'The Wellerman', in particular, sparked so much interest?
I started on TikTok back in January last year as a creative outlet, but it wasn't until lockdown I started posting videos properly to try and get my music out there. I thought, if anyone's going to recognise me, it will probably be through social media these days.
"Leave her Johnny" was my first sea shanty in July, but I think "The Wellerman's" success was a cross between lots of things. People love the accent that goes with it, but I had already started gaining traction with other songs and videos. It was a bit of a combination.
How has it felt to start getting recognised in the street by fans?
I had done a couple of radio shows before but nothing major, I'd been noticed maybe three times through TikTok […] until last Thursday when I was on Lorraine Kelly. I went into work the Friday after the show and about three people had stopped me before 9am! Whether I was in my local garage or walking up the street, people were gasping going 'It's him!' or 'It's that guy!'. It's all a bit mental now. Somebody DM'd me asking to write a sea shanty for a birthday, but I had no idea where to start!
When doing your rounds as a postman, did people make you sing to them?
Luckily, people didn't ask me to sing to them thank god […] but as I was handing out parcels at the door, some people would stand and stare for a good 30 seconds saying: 'I've seen you before!'. On my last day at work, I had a group of kids come up to me – their dad told me that they were my biggest fan club and asked for pictures.
What made you leave your career as a postman?
There were so many emails, texts, DMs and messages coming through for interviews and people wanting to talk and meet. I thought, 'I'm going to have to make a change here because this looks like it's going to go on a little bit longer than a couple of days!' I've been playing the guitar since I was eight, music has always been the passion and always been my dream.
What do your friends and colleagues think?
They are on this whirlwind with me. They're all just as excited as me, they're absolutely buzzing. They keep sending me things to keep me updated on all the news and I keep having to say: 'I know, I've seen it, don't worry!'
What's next in store for you, more sea shanties?
You should be seeing a good few songs out soon. I write my own songs and music too, but if people like the sea shanties and they bring a good amount of joy to people then I don't mind doing that. Music is an absolute passion for me, if it makes people happy then I'm all for it.
Who are you listening to at the moment music-wise?
Dermot Kennedy is always on the playlist and Lewis Capadi. I love my rap too, Bugzy Malone or Chip!
If you were shipwrecked on a desert island, what three things would you take with you?
Definitely my guitar, and some matches? I imagine they'd be pretty handy to start a fire but, if needs must, I could set the guitar on fire! I guess some food if I was in need of a wee munch, maybe Haribo. If I'm stuck on a desert island, it can't get any worse, so I might as well take something I'm going to enjoy.
Do you have any advice for other creatives during lockdown?
Just keep going. Make the most of this time, it's all going to come to an end eventually so keep practicing, keep going and keep learning, this is a perfect time to practice your craft.
Join our commenting forum
Join thought-provoking conversations, follow other Independent readers and see their replies