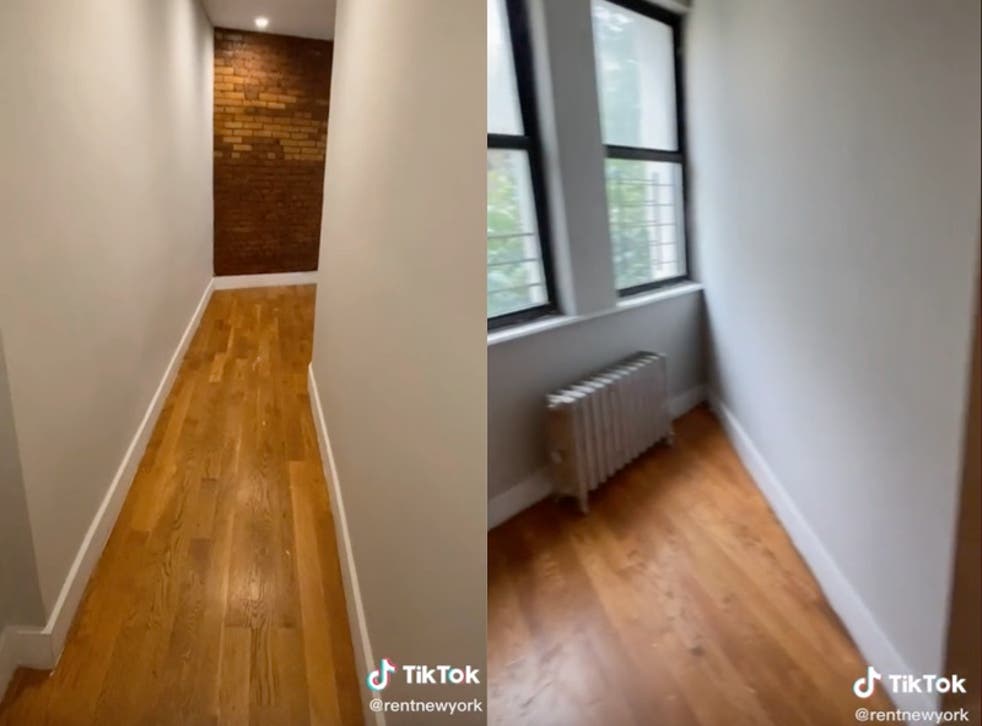 TikTok of $2,950 New York City apartment goes viral for 'incomprehensible' layout: 'Where does furniture go?'
'Why have nine walls when you have 37?' one viewer joked
Leer en Español
People are expressing their horror over the maze-like layout of a $2,950-a-month New York City apartment after a video of its design flaws went viral on TikTok.
On Tuesday, a TikTok of the "unusable" apartment was shared by a real estate agent who goes by the username @rentnewyork.
In the clip, the real estate professional opens the door of the apartment, located in Washington Heights, while telling viewers: "Tell me you don't know how to make a layout without telling me you don't know how to make a layout. I'll go first."
The video then sees the agent give a tour of the apartment, which includes first walking down a narrow hallway, and then making a couple sharp turns to avoid hitting a brick wall.
The apartment then opens to a somewhat spacious living area, with one wall dedicated to a kitchen, while another corner of the room is haphazardly designed with various jutting walls. The camera then pans to reveal the narrow triangular shape of the room's other corner.
Despite the already obvious flaws of the apartment, the real estate agent can be heard telling viewers: "Don't worry, it gets better," before making his way down another oddly shaped hallway to a bathroom and eventually, to three unevenly sized bedrooms that seemingly appear out of nowhere.
"My head is hurting," the TikTok creator joked in the caption.
The video, which has since been viewed more than 4.1m times, has prompted a range of humourous responses, with many viewers mocking the disastrous layout.
"Someone said they wanted 'a cute apartment,' and the designer heard 'acute apartment,'" one viewer joked, while another said: "Why have nine walls when you have 37?"
Someone else asked: "How is every single room unusable?"
Others joked about the potential dangers raised by the confusing layout, with one TikTok user imagining a scenario about "coming home drunk and trying to find your room," while someone else pointed out the inconvenience of the many walls at night.
"Imagine trying to find the bathroom in the middle of the night and running into 15 different walls," they wrote.
The video also prompted concerns about the sizes and shapes of furniture that could fit in the apartment, as the items would have to fit into the sharp angles.
While the apartment may not be conducive to furniture, one perk, according to the real estate agent, is that it is just "32 minutes to Midtown" Manhattan.
Join our new commenting forum
Join thought-provoking conversations, follow other Independent readers and see their replies