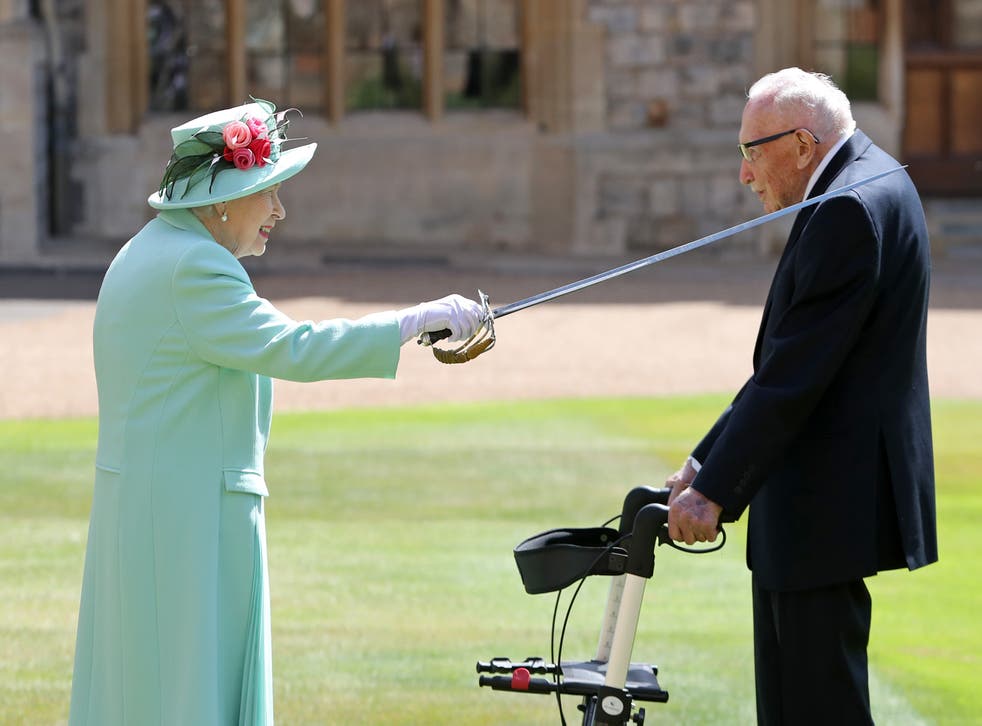 The Queen's subtle funeral tribute to Captain Tom Moore 
Captain Tom was knighted by the monarch last year
Natasha Preskey
Sunday 28 February 2021 16:01 Comments
Leer en Español
The Queen has paid tribute to Captain Sir Tom Moore, who was laid to rest on Saturday.
Captain Tom's funeral took place in Bedfordshire on 27 February, and was marked with a flypast from a Second World War era plane.
In July last year, Captain Tom was knighted by the Queen, after he raised more than £32million for NHS charities by walking over 100 laps of his garden.
The monarch paid tribute to the war veteran on Saturday by sending a wreath of 100 white roses.
While Captain Tom's funeral took place in Bedfordshire, the Queen's wreath was laid in Keighly, West Yorkshire, where the centenarian was born.
The wreath was laid by deputy Lord Lieutenant of West Yorkshire, David Pearson.
During his funeral service, Captain Tom's family paid tribute to the centenarian and members of the Yorkshire Regiment carried his coffin, which was draped in a Union Jack.
A version of Michael Buble's song Smile, which he recorded especially for the funeral, was played during the ceremony.
Earlier this month, the Queen paid tribute to Captain Tom, who died earlier this month after being diagnosed with coronavirus aged 100.
Buckingham Palace said that the Queen and the royal family's thoughts were with Captain Sir Tom Moore's family, and that she was sending a private message of condolence.
On Saturday, Captain Tom's daughter Lucy Teixeira shared memories of her father's life.
"We often talked about milestones in your life and laughed about the possibility of you reaching your 100th birthday," she said.
"You said 'it's just a number, I don't feel any different' and right to the end you ignored the number and kept on going, urging us all to keep on going with the mantra 'tomorrow will be a good day'.
"You have always influenced me with your strength, your energy, your drive, to get out of bed with a spring in your step and a purpose in mind.
"I know you will be watching us chuckling, saying 'don't be too sad as something has to get you in the end'.
"Daddy, I am so proud of you, what you achieved your whole life and especially in the last year, you may be gone, but your message and your spirit lives on."
Register for free to continue reading
Registration is a free and easy way to support our truly independent journalism
By registering, you will also enjoy limited access to Premium articles, exclusive newsletters, commenting, and virtual events with our leading journalists
Already have an account? sign in
Join our new commenting forum
Join thought-provoking conversations, follow other Independent readers and see their replies