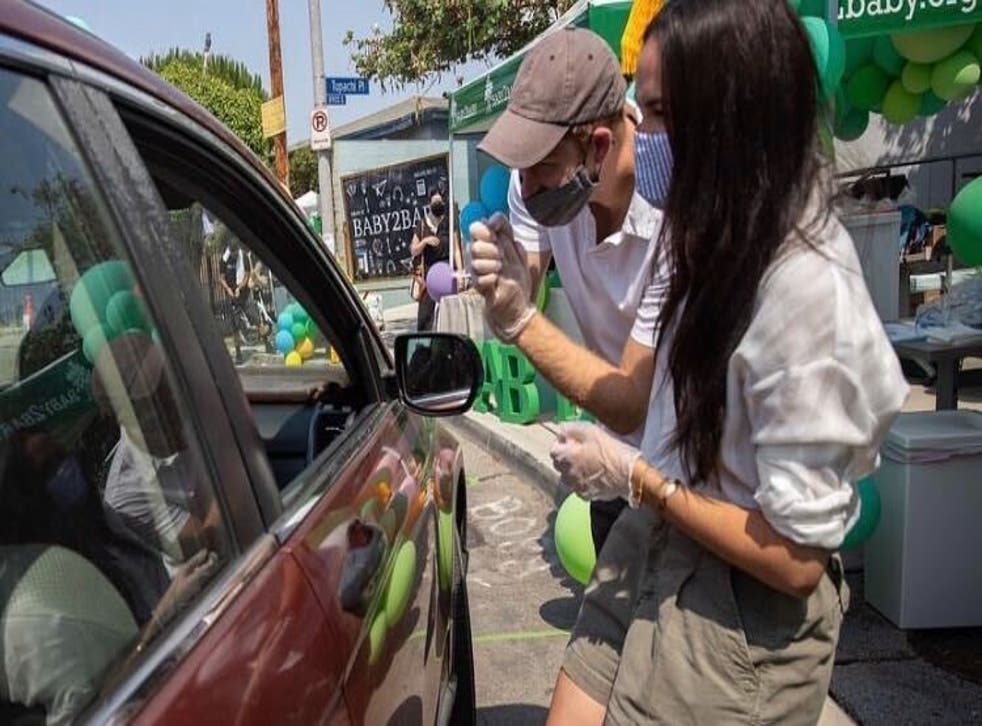 Meghan Markle and Prince Harry pictured in face masks handing out nappies and clothes to Los Angeles families in need
The couple were seen in face coverings handing out school supplies at the start of the new term
Sophie Gallagher
Friday 21 August 2020 16:31 Comments
The Duke and Duchess of Sussex have been pictured volunteering with a local LA charity to hand out nappies, wipes and clothes, to children and families in need.
The charity, Baby2Baby, is a non-profit that has distributed over 100m items to people in need since it was founded nine years ago.
It primarily shares items with children up to 12 years old in homeless shelters, domestic violence programmes, foster care, hospitals and school districts. And through its Covid-19 work, they are on track to distribute 50 million items in 2020 alone.
On Wednesday, Prince Harry and Meghan Markle took part in a drive-through event at Knox elementary school in south Los Angeles, handing out items to school children starting the new term.
The Duke and Duchess, who both wore face coverings to the event, handed out school supplies, books, backpacks, clothing, food, hygiene items and other items.
In the pictures, the couple are seen giving items to families arriving in cars in the school car park.
School children in the Los Angeles Unified School District are preparing for a new academic year of remote learning, meaning many low-income families are missing out on school meals and basic educational supplies.
A spokesperson for the charity said: "We are so grateful to be onsite during the most unique back to school week in history distributing...to children and families who have been disproportionately impacted by Covid-19 and are struggling to afford the basic necessities they rely on school to provide."
Los Angeles Unified Superintendent Austin Beutner said: "The faces of the students and families as they receive necessary supplies remind us all how important it is, during these most difficult of times, to create a sense of stability and even a few moments of happiness, in the lives of those we serve."
Since stepping down as senior members of the royal family in March, and moving to America, Meghan and Harry have been keen to continue their commitment to charity work including work on racism, feminism and support of the Black Lives matter movement.
On 12 August, a day after the publication of Finding Freedom - an unofficial biography of the couple – it was confirmed that Meghan and Harry had bought a home in Santa Barbara.
The couple, who live with their son, Archie, had been living in Los Angeles for several months, having previously been based in Canada.
Santa Barbara is situated over 100 miles north-west of Los Angeles.
Register for free to continue reading
Registration is a free and easy way to support our truly independent journalism
By registering, you will also enjoy limited access to Premium articles, exclusive newsletters, commenting, and virtual events with our leading journalists
Already have an account? sign in
Register for free to continue reading
Registration is a free and easy way to support our truly independent journalism
By registering, you will also enjoy limited access to Premium articles, exclusive newsletters, commenting, and virtual events with our leading journalists
Already have an account? sign in
Join our new commenting forum
Join thought-provoking conversations, follow other Independent readers and see their replies