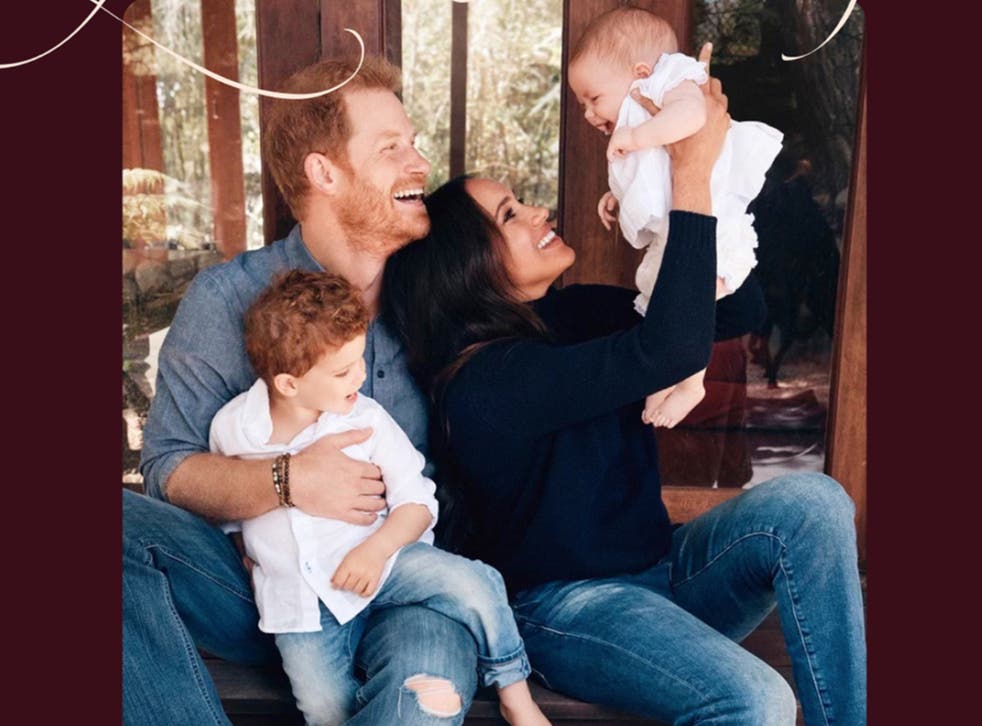 Prince Harry and Meghan Markle share first photo of daughter Lilibet on holiday card
Duke and Duchess of Sussex welcomed daughter on 4 June
Leer en Español
Meghan Markle and Prince Harry have celebrated the holiday season with a new family photo, which features their daughter Lilibet Diana for the first time.
The Duke and Duchess of Sussex shared the family photograph, taken by Alexi Lubomirski, on Thursday, with the card showing the family of four wearing jeans and smiling outside their home in Santa Barbara, California.
In the photograph, Prince Harry holds the couple's two-year-old son Archie on his lap while Meghan can be seen raising six-month-old Lilibet in the air.
"Happy Holidays. This year, 2021, we welcomed our daughter, Lilibet, to the world. Archie made us a 'Mama' and a 'Papa', and Lili made us a family," the couple wrote.
The duke and duchess also announced their dedication to organisations that "honour and protect families," continuing: "As we look forward to 2022, we have made donations on your behalf to several organisations that honour and protect families – from those being relocated from Afghanistan, to American families in need of paid parental leave."
The couple's holiday card then includes a list of these organisations, before concluding with well-wishes from the family.
"Wishing you a happy holiday season and a prosperous New Year, from our family to yours," Meghan and Harry wrote.
In addition to the first glimpse of their daugther Lili, the family photograph also illustrates the resemblance Prince Harry shares with Archie, as the two year old has the same red hair as his father.
In a statement, Lubomirski, who also photographed the couple on their wedding day, reflected on the opportunity to capture the growing family.
"This is one of those rare and special projects that one is fortunate enough to be a part of," he wrote. "To be able to continue the story of this family whom I first photographed as an engaged couple, then on the day of their wedding, as a married couple, and now seeing their love manifest into two beautiful children, has been a delightful honour."
The release of the duke and duchess's annual holiday card has become a tradition, as the couple first shared a family photograph in celebration of the festive season in 2018, which featured a photo of them taken during their royal wedding reception.
In 2019, the couple shared a holiday card featuring themselves and their first child shortly before their move to California, while their 2020 card depicted an illustration of a photo of the family and their two dogs, Pula and Guy.
In addition to their personal holiday card, Meghan and Harry also released a separate card alongside their Archewell team, with the card reading: "Happy holidays from our Archewell family to yours" and listing the organisations they've supported.
"We're grateful for every moment that you've supported, encouraged, and inspired us," the card continued. "Wishing you the happiest holiday season and a peaceful New Year."
Register for free to continue reading
Registration is a free and easy way to support our truly independent journalism
By registering, you will also enjoy limited access to Premium articles, exclusive newsletters, commenting, and virtual events with our leading journalists
Already have an account? sign in
Register for free to continue reading
Registration is a free and easy way to support our truly independent journalism
By registering, you will also enjoy limited access to Premium articles, exclusive newsletters, commenting, and virtual events with our leading journalists
Already have an account? sign in
Join our new commenting forum
Join thought-provoking conversations, follow other Independent readers and see their replies