LIFESTYLE FEATURES
How Prince Philip's funeral will compare to those of other royals
The Duke of Edinburgh's royal ceremonial funeral on Saturday 17 April will be a striking departure from those of the Queen Mother, Princess Diana and royalty before them, says Victoria Murphy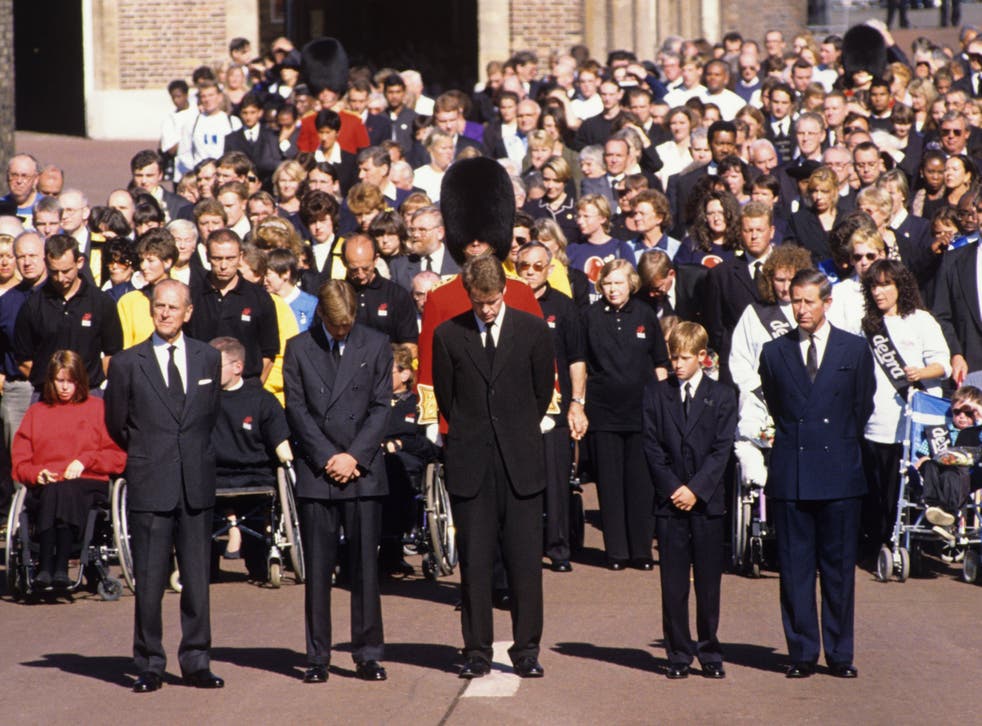 Milestone moments in royal life are so often defined by the crowds who gather to witness them – and the same is true in death. From mourners laying flowers and candles outside palace gates to those who line procession routes to pay their respects, images of the public's grief have been a central part of royal funerals throughout the decades.
Indeed, until Prince Philip's death in the era of the Covid-19 pandemic, grieving crowds have actually been the constant throughout time, while services and periods of mourning can differ greatly depending on the role and wishes of the deceased.
Royal funerals in the last century have ranged from the state funerals of Kings George V and VI to the ceremonial ones held for Queen Mary, Princess Diana and the Queen Mother to the private service held for Princess Margaret in 2002.
The last state funeral for a royal was for King George VI on 15 February 1952, nine days after his death at Sandringham in the early hours of 6 February (but note that this is not the most recent in the UK, as former prime minister Winston Churchill was given one in 1965).
While a state funeral holds unique status and must be signed off by parliament, the practical differences between this and a ceremonial service, which Prince Philip will have, can actually be minimal. In a state funeral, the gun carriage carrying the coffin is pulled by the royal navy, but in a ceremonial one it is generally pulled by horses. This doesn't even have to be the case, as we will see at Prince Philip's ceremonial send-off, where his coffin will be placed on a customised Land Rover for its short journey to St George's Chapel.
Given the unprecedented context in which Prince Philip will be buried – with mourners being told that in order to comply with Covid restrictions and to "prevent the spread of infection" they must not "lay flowers or other memorial items at royal residences and public places", or attend in person on Saturday – how will his funeral compare to others?
King George VI's service was held at the Windsor chapel, but this followed several days of his body lying in state at Westminster Hall. His coffin rested on a raised platform and was flanked by the sovereign's guard as some 300,000 people passed through in homage over several days. 
On the milestone death of a king, the nation and the world had been plunged into mourning, with the BBC reporting that "all cinemas and theatres closed, and BBC programmes were cancelled except for news bulletins. Flags in every town were at half-mast, and sports fixtures were cancelled."
Despite the cold and rain, crowds gathered at Buckingham Palace, where the notice of his death was displayed, as well as outside the Royal Exchange, waiting for an announcement to be read.
The new queen had returned from an official visit to Kenya on 7 February and was formally proclaimed queen on 8 February at a St James's Palace ceremony. On the day of her father's funeral the Queen, along with the Queen Mother and Princess Margaret, travelled in a carriage following the King's coffin. It was draped in the royal standard and topped with powerful symbols of monarchy including the imperial state crown.
As military detachments lined the route, the coffin processed through London and was then put on a train from Paddington to Windsor.
When George VI's mother, Queen Mary, died just over a year later in March 1953, her body also lay in state at Westminster Hall, with the BBC reporting that 120,000 people filed past. Her funeral service at St George's Chapel, Windsor was attended by about 1,500 people and it was also broadcast on BBC radio.
A memorial service was held at St Paul's Cathedral for about 4,000 mourners as Mary was laid to rest next to her late husband King George V in Windsor. 
Queen Mary was 85 when she died, but the next major royal ceremonial funeral was for someone less than half her age, following a death that rocked the royal family and the world. When Princess Diana was killed suddenly on 31 August 1997 in Paris, at the age of 36, there were no funeral plans already in place and no preparations for how to deal with the sudden outpouring of grief.
Just hours after the announcement, thousands of flowers had already piled up outside Kensington Palace as preparations for a funeral modelled on existing plans for the Queen Mother's service began. Prince Charles flew to France to retrieve Diana's body, while prime minister Tony Blair gave his famous speech that coined the now iconic description of the "people's Princess".
And just how much Diana meant to the public was clear, as distraught mourners watched her coffin being driven to St James's Palace, where her body lay until her funeral on 6 September.
As controversy memorably grew over the fact that no flag was flying at half mast at Buckingham Palace to honour Diana (tradition dictates that the royal standard flies only when the Queen is in residence), so too the flowers and gifts and messages kept coming, until a blanket of tributes covered huge swathes of Kensington Gardens and the streets outside Buckingham Palace.
When the Queen returned to London she viewed the tributes, and on the eve of the funeral made one of the most memorable speeches of her reign, beginning: "What I say to you now, as your Queen and as a grandmother, I say from my heart."
The Queen also agreed that the union jack would be flown at half mast from the palace on the day of Diana's funeral, which began the tradition of the flag being flown from royal residences when the sovereign is away. 
While much pomp and pageantry accompanied Diana's Westminster Abbey funeral, which was attended by 2,000 people, it was the personal tributes that resonated the most. More than a million people lined the route, many throwing flowers, as Diana's coffin, followed by 15-year-old William and 12-year-old Harry, made its way to the abbey.
Less than five years later, on 9 April 2002, the Abbey would host another service similar in size but this time many years in the planning. Following the Queen Mother's death aged 101 at her Windsor home, Royal Lodge, her body was taken to London where she lay in state at Westminster Hall. As an estimated 200,000 people filed past to pay their respects, family members paid personal tributes, with Charles describing her as "quite simply the most magical grandmother".
Her four grandsons held a vigil at her coffin the night before her funeral, and the Queen described how she was "deeply moved" by the outpouring of grief. Following the funeral service, as the coffin returned to Windsor where the Queen Mother was to be buried alongside her husband, the BBC reported that it was "delayed as it slowed for the thousands of people who had turned out to see the procession".
The spring of 2002 also saw another funeral, for Princess Margaret, the Queen's sister, who had died just seven weeks before the Queen Mother but did not have a public-facing funeral.
Margaret had a private funeral on 15 February at St George's Chapel, attended by about 450 mourners. The Guardian described it as a "quiet farewell", although noted that hundreds of well-wishers gathered in the town of Windsor to pay their respects. Following the service, her coffin was taken to Slough crematorium in line with her wishes to be cremated.
Margaret's ashes were initially placed in the royal vault following her cremation, and were moved to be interred with her parents in their final resting place of the King George VI Memorial Chapel. 
On Saturday, Prince Philip will join family members at rest in Windsor following a funeral service which has been extensively adapted to account for the pandemic. What would have been a grand ceremonial event, in line with the Queen Mother's in terms of scale, will now be much more low-key. Just 30 guests have been invited, consisting of immediate family, three relatives representing the German side of his heritage, and his close friend the Countess Mountbatten of Burma. All guests will wear masks, except during the procession behind the coffin, and social distancing will be observed. 
The Queen will sit alone, and many may find the sight of the 94-year-old widow particularly poignant, especially considering the challenges that the twilight of her reign has brought. She approved every aspect of Philip's new funeral arrangements, including the decision that royals would wear suits not military uniform. It will be a very different send-off to the one involving hundreds of guests that was meticulously planned for many years. 
But, with design on the customised Land Rover beginning some 18 years ago, it's clear that Prince Philip always intended to put his own stamp on this most final of royal traditions. 
Join our new commenting forum
Join thought-provoking conversations, follow other Independent readers and see their replies