The Independent's journalism is supported by our readers. When you purchase through links on our site, we may earn commission.
Sleepy: The £8 body lotion that insomniacs are swearing by for a good night's sleep
'Smelling Sleepy even helps my anxiety'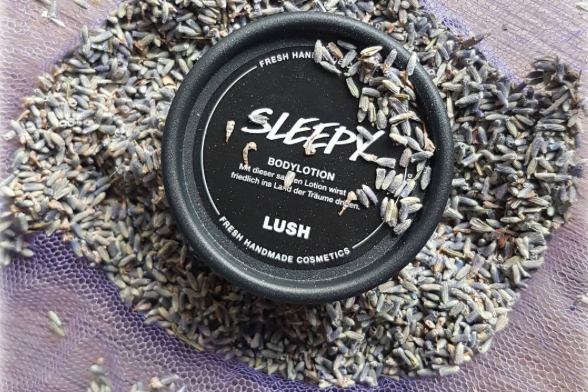 Social media users are hailing a high-street body lotion as 'magic', after claiming that it is the secret behind their good night's sleep.
Do you struggle to nod off at night no matter how tired you are? Well, you're not alone, because a shocking one in three of us suffer the same weary torment.
But, not getting enough kip has far more serious implications than a set of tired peepers, it can also lead to weight gain, heart disease and even shorten your life expectancy.
That being said, aside from staring at your phone screen until the early hours, what can you do?
Well, according to the internet a trip to your local Lush store is in order because you need to get a pot of their 'Sleepy' body lotion.
Originally launched last year as a limited-edition holiday exclusive, Lush has now made the miracle cream a permanent product due to the demand.
On the store's website, the product has received more than 60 reviews with one fan even claiming that the lotion had helped calm her anxiety.
Overnight Sleep Masks
Show all 7
"I used to take anxiety medication for 11 years and had to stop recently which was pretty terrible, but I found that using and smelling Sleepy can help my anxiety.
"It's such a relaxing scent and I love using it."
Similarly, on a Reddit thread praising the benefits of Lush products, one person described it as 'magical, beautiful, and intoxicating,' while another added, "As someone with incurable and not so common chronic illnesses which result in chronic pain and insomnia because of the pain.
"Sleepy lotion is the one product that can actually help me through the worst of my nights."
So, what is in this product that makes it so effective?
Described by Lush 'dreamy body lotion,' Sleepy is infused with a combination of gentle oatmeal and calming lavender flower – an ingredient associated with winding down.
But, it's not just an old wives tale because the benefits of lavender are supported by both the NHS and National Sleep Foundation.
While the former suggest applying it to your pillow or putting it in your bath before bedtime, the National Sleep Foundation insists that it has been shown to 'decrease heart rate and blood pressure, potentially putting you in a more relaxed state."
Unsurprisingly, there are a whole host of other products hailed by beauty editors and super-fans alike to help you get a good night's kip including This Works Deep Sleep Pillow Spray - which uses 100 per cent natural essential oils of lavendar to relieve tension and insomnia - and Elemis' Sleep Bath & Shower Oil - a luxury elixir that helps restore mind and body, one relaxing bath at a time.
Join our commenting forum
Join thought-provoking conversations, follow other Independent readers and see their replies