BREAKING THE INTERNET
The biggest question posed by Succession's most miserable couple
The question of whether Tom and Shiv really love one another has gripped viewers for four seasons of 'Succession'. But do we actually want their relationship to end, wonders Jessie Thompson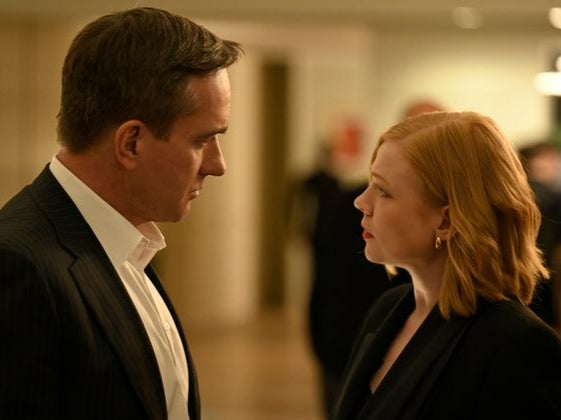 Succession's fundamental mystery is also a practical one: who will come out on top? Over four seasons, the HBO drama about a vicious media dynasty has given us scenes of explosive betrayal and embarrassing jockeying but, ultimately, it's about which character will be able to smugly change their Twitter bio by the final episode. Another question, though, fascinates by its very nature. In a show about the very un-abstract concept of hierarchy, it is distinguished by its unquantifiability – by how very emotional it is. Shiv and Tom: do they really love each other?
What's more, why did they get married? And why aren't they divorced yet? Can they find a way to have a healthy, functional adult relationship, especially with a child on the way? Or, individually, will either of these insufferable, miserable and deeply compelling people ever find peace? And perhaps, more than anything, what do we actually want for them? As Jesse Armstrong's superlative series readies for the final stretch, Tom Wambsgans and Shiv Roy's relationship has entered its death throes. How do you come back from asking, when your wife tells you she's pregnant, "is that even true?" It is, surely, over. Which is something that they, like us, can't quite accept – but eventually must. The show's most compelling dynamic is, conversely, the one we most want to end. No one's cortisol levels can sustain this amount of permanent elevation.
She is the kind-of-smart nepo baby whose formidable media tycoon father trained her to compete against those she loves. He is the grasping, nouveau riche executive who can't quite believe he can afford nice things (or that someone like Shiv Roy actually married him). In the hands of lesser actors, they might have simply been insufferable brats, but Sarah Snook and Matthew Macfadyen elevate their doomed-from-the-beginning marriage to something more like a Greek tragedy. Snook's Shiv is all sceptical, narrowed eyes, surveying beadily from above her expensive turtle necks, and dishing it out but bruising easily when Tom returns her rancour. Macfadyen, meanwhile, manages to make Tom an uneasy mix of being charming, unctuous and totally pathetic, his booming laughs and bravado sometimes betrayed by his eternally sad eyes.
Shiv and Tom's was not an auspicious start: he proposed while Logan was unconscious in hospital, she had an affair and then asked for an open relationship on their wedding night (oh, and Kendall killed someone). Like every one of the Roy siblings, their work at Waystar Royco seems to be merely an instrument in their war of attrition against one another. When he betrayed her at the end of series three, tipping Logan off about the Roy kids' plan to overthrow him, it was the only power he had after years of walking in her shadow. "I wonder if the sad I'd be without you would be less than the sad I get from being with you," he told her, bleakly capturing the catch-22 of toxic relationships.
Shiv and Tom had briefly united for some "orgasm Olympics" this series ("aww," thought some; "a terrible idea," thought others), an inevitability, perhaps, given she was grieving her father at regularly scheduled intervals. But in the Edward Albee-esque balcony scene in episode seven of this series, a brutal reckoning saw the pair draw metaphorical blood, showing that their reunion, with its games of "bitey" and strange, scorpion-shaped gifts, was simply a brief, surreal interlude. Shari Springer Berman and Robert Pulcini, directors of the "Tailgate Party" episode in which the scene took place, suggested the bluntness of the dialogue made it hit harder. "They go there in a way that people in Succession don't really – saying directly what they mean." Finished, spent, Shiv gets to the crux of the matter, and the point of no return: "I don't like you. I don't even care about you."
In "Tailgate Party", Shiv and Tom joined the hallowed ranks of unhappy couples that we love to watch destroy one another. All share one essential quality: their relationships depend upon colluding in – and hiding behind – mutual fictions. Shiv and Tom's seems to be the idea that she could love him. She – perhaps not for want of trying – simply can't, because she wasn't raised to value vulnerability. In Revolutionary Road, April and Frank Wheeler, two disgruntled suburbanites, nurture the belief that they are special people, full of untapped potential. "You were just a guy who made me laugh at a party once, and now I loathe the sight of you," she spits in one of their showdowns. "You are an empty hollow shell of a woman!" he shouts back.
Succession season 4 finale preview
In The Sopranos, Tony and Carmela pretend as though he can be a normal father, providing for and protecting his family, despite his mob career. "You knew the deal," he tells her in the "Whitecaps" episode, one of the couple's most breathtaking arguments, which saw both James Gandolfini and Edie Falco win an Emmy. She – like Shiv and her pregnancy revelation – searches for a stinging haymaker and tells Tony she was in love with his glossy-haired enforcer Furio. And, of course, in Who's Afraid of Virginia Woolf? Martha and George's booze-soaked marriage revolves around the game of their made-up child.
In Succession, the child is this season's Chekhov's gun. Shiv's fertility has long been an obsession for Tom – "I think I'm most horny when you're fertile," he told her, while she once warned him, "it's important that the host chamber is willing". But the pair are rugged individualists, and excepting a few occasions when Shiv has tried to help Tom (such as saving him from being Logan's "blood sacrifice"), they have never been a partnership or a team. Parenthood, though, requires a different approach, and a child is reality; the end of the fictional world they have been holding one another in. And it has consequences – as Scarlett Johansson shouts at Adam Driver, near the end of Marriage Story: "I can't believe I have to know you for the rest of my life!"
'Succession' airs in the UK on Sky Atlantic and NOW from 2am on Mondays
Join our commenting forum
Join thought-provoking conversations, follow other Independent readers and see their replies